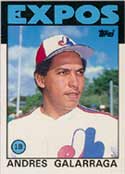 The "Big Cat" went deep, Maddux shows no signs of wearing down, a young man name Kapler is already a fan favorite in Texas and the Yankees begin the season with a "W." Gee, that's odd! There were a lot of great stories on America's opening day for the 2000 baseball season and collectors have already taken notice. Let's take a look around the big leagues.
In Atlanta, Andres Galarraga hit a home run in first game back since 1998 when he was diagnosed with cancer. He received a standing ovation from the Atlanta fans and made a few nice defensive plays to confirm that he is back to old form. Collectors should take notice because Galarraga has accumulated very solid career numbers and, if he can play a few more seasons of solid baseball, he will be very close to Hall of Fame consideration. His 1986 Donruss #7 rookie card, probably his best rookie card, will benefit from a productive season from the slugging first baseman.
Galarraga's home run was part of a back-to-back job that included an Andruw Jones blast. Jones, who most think could be the next great all-around superstar, may have a breakout season which will mean big gains for Jones cards. His 1995 Bowman's Best #B7 is very popular with collectors. Atlanta's ace, Greg Maddux, made his own noise by blanking the Colorado Rockies for several innings before the bullpen finished the job. Maddux continues his march towards Hall of Fame credentials and his 1987 Donruss rookie card #36 remains a collector favorite. Could this guy possibly do any more?
Another star who inhabits the 1995 Bowman's Best set from that same year is Montreal Star Vladimir Guerrero. You can find him at #B2 in the set and boy did he make an impression on opening day. Guerrero smashed two homers, one coming off Dodger ace Kevin Brown, in an opening day slugfest at Olympic Stadium. This guy has tremendous ability and I 'm sure he won't remain in Montreal for too long. Look for a blockbuster trade surrounding this great talent in the next few years.
Gabe Kapler made waves in his Texas Rangers debut at the Ballpark in Arlington by drilling two homers himself and making a few very powerful throws from right field on defense. Kapler made the Texas fans forget about the departure of Juan Gonzalez real fast with his outstanding performance. Kapler's best rookie card is probably the1998 Bowman Chrome #125 card. Kapler's cards should really get a boost from a potential postseason berth by the Rangers. The American League West is wide open and Texas might be the favorite.
Kapler's teammate, catcher Ivan Rodriguez, showed the fans why he was selected as the league's MVP in 1999 by connecting on two homers himself. Ivan's resume is phenomenal for a backstop and, if he keeps piling up numbers like this, he may be the first catcher in baseball history to reach 3000 hits someday. Hopefully, Ivan's knees can withstand the test of time. His 1991 Bowman #272 is one of Ivan's most popular rookie cards so keep your eye out for movement on this card.
There were several other great stories on opening day. The New York Yankees got a great performance out of Orlando Hernandez, the St. Louis Cardinals received the same from newly acquired pitcher Darryl Kile, Tony Batista hit a game-winning homer for the Toronto Blue Jays and the Tampa Bay Devil Ray pitchers tossed a shutout. Tampa Bay threw a shutout? Unfortunately, Ken Griffey Jr.'s debut was washed out after a 6-inning tie in front of his home crowd but that game will be made up in its entirety tonight. In addition, Mark McGwire had to sit out the first game with a bad back and Tony Gwynn had to leave the game after being struck on the elbow by a fastball.
Well don't get down McGwire and Gwynn collectors. Neither injury is considered serious and that's why we play 162. It's a long season and a lot of exciting things will be happening so keep your eyes glued to those box scores. After watching certain cards soar in price, you will be glad you did.