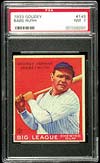 Homeruns have always captivated me. Whether it was hitting them as a player in college or watching tape measure blasts on television, it was always the feat I enjoyed the most. A homerun can stir a crowd into a frenzy or silence them quickly as the player takes his victory lap around those bases. I would rather see a player strike out three times and win the game with a homerun than watch one slap four meaningless opposite-field singles any day. Many baseball fans feel the same way.
Let us look at the two sluggers most responsible for starting this fascination with the long ball. It all began with The Babe and The Beast.
Babe Ruth and Jimmie Foxx, both legendary Hall of Famers, were the original bashers. Ruth, arguably the greatest player in the history of the game, changed baseball from a game of hit and run to a game of hit and trot. Foxx, though not as nearly as popular as Ruth, was baseball's first great right-handed power hitter. Together they terrorized pitchers for more than 20 years with their power to change a game with one swing.

Babe Ruth's Record
First, let's look at Ruth and the cards which bore his image. It is difficult for someone of my generation to understand how truly great Ruth was. His numbers are amazing. He hit 714 homeruns, had a .690 career slugging percentage (#1 all time) and batted .342 for his career.
However, other statistics help put Ruth's legend into perspective. In 1927 Ruth hit 60 homeruns, more homeruns that year than 12 entire teams! In order to do that today someone would have to hit about 150 homers! Ruth was passed by Hank Aaron for career homeruns, Aaron had 755 to Ruth's 714. Did you know, however, that Ruth had approximately 4000 fewer at bats than Aaron? This is a difference of about eight full seasons.
One more amazing fact about Ruth is that he was an excellent pitcher. Ruth won 94 games, had a winning percentage of .671, a career ERA(earned run average) of 2.28, never lost a World Series game, and had a career World Series ERA less than 1.00.

Babe Ruth, Superstar
I could go on for pages listing Ruth's accomplishments, but his greatest accomplishment may be that he saved the game of baseball itself. When baseball was at its worst point following the Black Sox Scandal, Ruth put people in the seats and provided the game with its first real superstar. He could do what other players simply couldn't and he did it with unmatched style. To understand what it must have been like to watch Ruth play against the rest of the league in the 1920s and 30s, you would probably have to combine Mark McGwire, Roger Clemens, Tony Gwynn and a lot more swagger.

Babe Ruth Sportscards
Obviously Ruth will always be one of the most popular players, if not the most popular player of all-time. Ruth's image is also found on some of the greatest sportscard sets of all-time, not to mention some of the toughest. After putting these facts together it is easy to see why Ruth cards should be excellent items for the future. Finding Ruth cards in any grade can be a difficult chore, but finding them in PSA NM 7 or better would be a major accomplishment.

Below is a list of Ruth's most desirable cards:
1915 M101-5 Sporting News (rookie)

1932 U.S. Caramel #32

1933 Goudey #53, #144, #149, and #181

1934 Goudey Sports Kings #2

1935 Goudey

1948 Leaf #3

Each of these cards is difficult to obtain in high-grade and offers tremendous potential. The most desirable card of the bunch is, without a doubt, the 1933 Goudey #53. Although it is not his rookie card, which is the extremely rare 1915 M101-5 Sporting News issue, it is part of one of the most beautiful sets of all-time. The Goudey exhibits awesome colors and the #53 Ruth card shows his classic swing. This is by far the most difficult of the four Ruth cards in the set followed by numbers 149, 181, and 144 respectively.
The 1933 Sport King Ruth is also highly sought after, and even though it is a part of "non-baseball" set, some feel it may be his most attractive card. This is the second card in the set and the 1948 Leaf Ruth, which is another extremely difficult issue, is the #3 card in that set making them condition rarities in PSA NM 7 or better. The 1932 U.S. Caramel Ruth is a little more obscure than the Goudeys but is still difficult, as it is the last card in the set.
The 1935 Goudey Ruth, which features Ruth with three others, is the most inexpensive and might be the most difficult of the bunch because of the colored borders, which are prone to chipping. However, this issue is probably the least desirable because Ruth shares the card with three other players and it is less popular of a set overall. Ruth does have less expensive cards which may represent bargains, such as early 1960s Fleer and Topps issues, but these were issued long after his playing days.
The bottom line is that you can't go wrong with any Ruth cards. In fact, if you put Ruth's legend beside the fact that he appears in such popular and difficult sets, his cards are undervalued at current market levels and might have the best potential in the hobby for future gain. Just pull out your PSA Population Reports and you will see that there are not many high-grade Ruth cards to go around. Ruth was as fascinating a person as he was a player and his legend will never die. Babe Ruth will always be the symbol of baseball.

Jimmie Foxx's Record
Now let us turn our attention to the other half of this power duo. Jimmie Foxx, nicknamed the "The Beast" because of his imposing presence, hit 30 or more homeruns for twelve consecutive seasons. He finished with 534 homeruns, slugged .609 lifetime, compiled a career .325 batting average and won three MVP awards in his career. Hall of Fame pitcher and teammate Lefty Grove once said of Foxx, in one of my favorite baseball quotes, "He wasn't scouted, he was trapped!" Though overshadowed by Ruth, Foxx became very popular with the fans because of his ferocious swing and likeable personality. Foxx, like Ruth, generated excitement and was able to bring fans to the ballpark.

Foxx Sportscards
Foxx can also be found in several desirable yet difficult sets. Below is a list of his most desirable cards:

1932 U.S. Caramel #23

1933 Delongs #21

1933 Goudey #29 and #154

1934 Goudey #1

1934-36 Diamond Star #64

1938 Goudey #249 and #273

1940-41 Playball #133 and #13
Foxx appeared on other cards during and after his career, but the ones listed above are the most popular. Each of these issues is extremely difficult to find in high-grade, as the Ruth cards are, and represent excellent potential. Foxx's most intriguing card is the 1934 Goudey #1 card.
Over the years, much has been made about the significance and difficulty of #1 cards. The 1933 Goudey Bengough and 1952 Topps Pafko, both in very popular sets, have been the two most talked about #1 cards. The famous PSA 10 Pafko sold for $83,870 a couple of years ago. Interestingly enough, neither Pafko nor Bengough were Hall of Famers, or even stars for that matter. In contrast, the 1934 Goudey Foxx is not only the #1 card in a great set, it is a card of a Hall of Famer and one of the greatest hitters of all time. If you are lucky enough to find one in PSA 7 or better, I would give the card serious consideration.
Unfortunately, many of Foxx's cards are difficult to obtain high grade. The 1933 Delong would be one that immediately comes to mind. A beautiful but virtually impossible card to find in PSA 7 or better, the Delong represents a real challenge. The same can be said for the 1933 Goudeys with the #29 being slightly tougher to come by than #154 of the same set. The two 1938 Goudey Foxx cards are slighty less expensive than the 1933 versions because they are less difficult to find and the 1933 Goudey set, again, may be the most attractive ever produced.
The Diamond Star and Playball issues are the least expensive. The Playball cards are affordable because they may be the easiest cards to find in high grade; however, the 1941 Playball set is a collector favorite because of its colorful beauty. The Diamond Star cards, a very attractive issue which is similar in style to the Goudeys, could be a great deal more valuable if Babe Ruth and Lou Gehrig were included in the set but, unfortunately, they weren't. Even though the Playballs and Diamond Stars may not be as tough as others on the list, they are still incredibly tough cards to find in high-grade. All you have to do is pull out your PSA Population Reports and check out how many have been graded PSA 7 or better. Not many! Both issues can be found at reasonable prices and represent excellent values.

The Challenge of Homeruns
Homeruns are what fans come to see at ballparks around the country because people are fascinated by the extraordinary. To hit a baseball 400 feet is a spectacle! Every year you see the lucky fan who gets a shot at making a million-dollar free throw, three pointer, or field goal and many times the fan makes it or at least comes close. This is never the case with a baseball homerun challenge.
Two years ago at Dodger Stadium, three persons were given several chances to hit a homerun for one million dollars. Not one person could even hit the ball in fair territory. The best swing occurred on a foul tip to the backstop! Mike Piazza, a great power hitter, was shut out two years in a row during the homerun challenge before the All-Star game. This is a player who has hit balls 500 feet during games and he couldn't do it during batting practice! The average person comes to the ball park to see something they can only dream of doing; they come to see the homerun.
Babe Ruth and Jimmie Foxx are the two men who changed the game by sending drives over the fence with frequency and strength never seen before. They paved the way for such greats as Aaron, Mantle, Jackson and McGwire. They also brought fans back to the game. It is a challenge to find high-grade cards of either Ruth or Foxx, but if you were lucky enough to find one, I would grab it as soon as possible. At today's prices, a card of either player in PSA 7 or better is a great value.