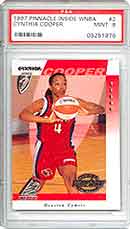 WNBA fans can now submit collectible trading cards to Collectors Universe PSA, the world's largest and most respected third-party grading service through an e-tradingcards/PSA co-branded website. Collectors can also go to the WNBA e-trading cards site to search for cards they may be interested in purchasing.
The advantage of being able to check the authenticity of cards directly through the site, will allow collectors to buy WNBA cards with complete confidence, sight-unseen over the Internet. PSA graded cards are encapsulated in a tamper-evident holder which is sonically sealed with a certification tag which can be verified through the co-branded site.
Sportscard dealers, collectors and leading auction firms have supported and relied upon PSA's services since 1991.