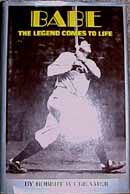 This article features a list of great baseball books, both fiction and non-fiction. I've weeded through hundreds of them over the years just so you could read the cream of the crop without having to get bogged down in the mediocre ones. What about the bad ones? There are no bad ones! This is baseball!

Fiction:
The Great American Novel by Philip Roth. This is the story of the Ruppert Mundys, a baseball team without a home, and the Patriot League in which they played from 1898 to 1945. I guarantee that you will laugh until it hurts. What a book!
Bang the Drum Slowly by Mark Harris. If you liked the movie, then kick the emotion meter up about 20 notches, add some incredible insight that was missing in the film, and enjoy a remarkable novel.
The Iowa Baseball Confederacy by W.P. Kinsella. This is the author that brought us Shoeless Joe, which was made into the movie Field of Dreams. Well, that book was nothing compared to this gem about a 2,000-inning baseball game between the world champion 1908 Chicago Cubs and a team of Iowa All-Stars.
For Love of the Game by Michael Shaara. The Pulitzer Prize-winning author of The Killer Angels, upon which the movie Gettysburg was based, tells a coming-of-age story about a great pitcher's final game and the dilemmas he faces.
Baseball's Best Short Stories edited by Paul D. Staudohar. Damon Runyon, Ring Lardner. James Thurber, P G. Wodehouse, Ernest Thayer -- they are all here with their best efforts. An outstanding anthology of baseball stories.
The Universal Baseball Association, Inc.: J. Henry Waugh, Prop. by Robert Coover. This is the riskiest book on the list, because some people are going to hate it. If you're as obsessed with baseball as I am, you may find out things about yourself that you didn't want to know. All things considered, you'll probably think it's great.
The Celebrant by Eric Greenberg. Oops, confession time. I haven't read this one, but I'm going on the STRONG recommendations of two friends who say this is a great novel about the days of Christy Mathewson.
The Natural by Bernard Malamud. The movie it's not. This is a much darker tale than just Robert Redford running around the base paths amid exploding lights, but it is a remarkable one.

Non-Fiction:
Ball Four by Jim Bouton. This book came out nearly 30 years ago, and it was a "big shocker" at the time. Today, it's tame as a kitten compared to some of what's being written, but it's still so good, so funny, and so honest.
The Boys of Summer by Roger Kahn. The Brooklyn Dodgers of the 1950s, complete with their dreams, both realized and lost. The bitter reality of baseball over 40 years ago, along with its great charm, magnificently written.
Summer of `49 by David Halberstam. The Yankees against the Red Sox. DiMaggio against Williams. The ultimate pennant race. Take a trip back 50 years to the another glorious era.
Babe: The Legend Comes to Life by Robert W Creamer. Superbly researched and eloquently written, this book makes you realize that, as big as the Babe is today, he was B-I-G to the tenth power in his day. The apotheosis of Babe Ruth? Sure, but he's worth the accolades and worship.
Well, that's my list, although I'm certain I left out at least one great one. I hope that these books will make those long flights to the card shows a little more enjoyable for you.