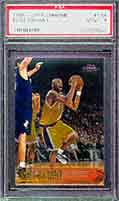 Many NBA fans have already anointed Toronto Raptors star Vince Carter as the "next Michael Jordan." Carter put on a dazzling display at the Slam Dunk contest during All-Star weekend in February. He opened more eyes by scoring 51 points in his first nationally televised appearance later in the year. But before anybody calls Carter the next Jordan, they might want to check with the man himself.

"Vince doesn't play defense," Jordan told the Chicago Sun-Times in March. "Kobe can play both ends. Right now he's a better all-around player. And he's only 21? The kid hasn't even touched on his greatness." Kobe is, of course, Los Angeles Lakers All-Star Kobe Bryant. While it's doubtful anyone will ever eclipse Jordan's accomplishments, Bryant may be the closest thing to the next Jordan.
Bryant has been popular with collectors since he entered the league almost four years ago. Bryant's 1996-97 Finest Refractor rookie books for $750 in Gem Mint 10 in the May issue of the Sportscard Market Report. His 1996-97 Flair Showcase Legacy rookie is listed at $600 in the same condition. Other Bryant rookies are around the $100 level, but they won't be for long if Bryant continues to escalate his game as he has this season.
While Bryant has not yet clinched Hall of Fame status, his autograph prices are already there. A signed Bryant basketball is valued at $175, according to the April Sportscard Market Report (SMR), the same price as basketballs signed by Hall of Famers Kareem Abdul-Jabbar and Oscar Robertson, $25 more than a ball signed by one of Bryant's bosses - Jerry West. Not bad for a player who would otherwise be getting ready for the NBA had he gone on to play in college.
Sure, Carter can light up the scoreboard. And he is a nightly highlight show on sportscasts. But Bryant does those things, too. Throw in some tenacious defense, and it might not be long before Bryant is the most dominant player in the league. At 21, he has more years than most to work on it. Bryant went straight from high school to the NBA. SAT scores weren't a problem. Bryant had the grades and ability to attend any college he desired. But the chance to play in the NBA was too good for Bryant to pass up. Basketball is in his genes. His father, Joe "Jellybean" Bryant, was a veteran of eight NBA seasons with the Philadelphia 76ers, San Diego Clippers and Houston Rockets.
Bryant was a four-year starter at Lower Merion High School in Pennsylvania. He shattered the Southeastern Pennsylvania scoring record with 2,883 points. Along the way, he passed another pretty good high school player from the area, Wilt Chamberlain. Bryant was Mr. Everything for Lower Merion, garnering USA Today and Parade Magazine Player of the Year honors, among others.
Predicting how a 17-year-old will develop in the NBA isn't easy, but Lakers general manager Jerry West liked what he saw during pre-draft workouts. Although the Lakers weren't in position to select Bryant in the 1996 NBA draft, they were able to swing a trade. Los Angeles sent center Vlade Divac to the Charlotte Hornets in exchange for Bryant, whom the Hornets had taken with the 13th pick.
West, well known as an astute talent evaluator, was right on the mark with the teen-ager. Bryant contributed as a rookie, scoring in double figures 25 times and averaging 7.6 points per game. He also showed off his athleticism by winning the Slam Dunk contest. Bryant made a big jump in his second season, becoming a key part of the Lakers as the team's sixth man. Bryant's scoring average more than doubled to 15.4 ppg. He also became a fan favorite, getting voted in as a starter for the All-Star Game.
At 19 years, 5 months, Bryant was the youngest All-Star in NBA history. The previous record was held by former Lakers star Magic Johnson, who was 20 years, 5 months. Bryant continued to progress in his third season. He was the only player on the team to start all 50 games and increased his scoring to 19.9 ppg. The Lakers thought enough of his progress to award him a six-year contract extension However, Bryant wasn't always meshing with his teammates. He was a regular on highlight reels and his scoring increased. But in the eyes of some teammates, he put himself before the team on occasion. He often tried to do too much on the court.
But an amazing transformation has occurred this season. Bryant has become a playmaker. He still will unleash a flashy move, but now he picks his spots.
"He doesn't take every situation as a personal challenge," Lakers forward Rick Fox told The New York Times earlier this season. "... No longer is he taking it to a level that at times became detrimental to the team. Flat-out, he's picking and choosing his opportunities a lot better and making us more dangerous."
Bryant has also made big strides on defense. It's the reason Jordan considers Bryant a better player than Carter at this stage. Already this season, Bryant has shut down stars like Ray Allen, Allen Iverson and Latrell Sprewell.
If the Lakers win the NBA title, as they are favored to do, it will mean more exposure for a player already among the league's most popular. But Bryant isn't resting on his laurels. After Jordan's praise about his defense, Bryant said one of his goals is to make the NBA All-Defensive team and eventually become Defensive Player of the Year.
"I'm very proud of it, I take pride in it," Bryant told the Los Angeles Daily News, regarding Jordan's comments about his defense. "It pushes me even more. It tells me that I'm improving. ... It's cool, I guess, to get recognition like that. It just shows that I'm heading toward the right direction."
More...

Vince Carter
Toronto's In-Vince-Able Carter Touted as Next Jordan, 3-20-00

Lakers
Watching the Lakers: Then & Now 3-31-00
Shaq Attack -- O'Neal Reaching for NBA Title and Respect, 2-24-00
George Mikan: Basketball's First Great Center, 1-15-00
'Chairman of the Boards Outlived by Immortal NBA Career, 10-13-99

Michael Jordan
Jordan Returns to Basketball...the Front Office, 1-21-00
Jordan Plotting Another Comeback? Is He Joking?, 11-30-99


Head to Head:

Kobe Bryant Rookies-- 1996-97

vs.

Vince Carter Rookies-- 1998-99

Card No.

Description

MT 9

Gem MT 10

 

Card No.

Description

MT 9

Gem MT 10

 
 

KEY:

 
 
= Tied sportscard values, or no equivalent
 
 
 
 
 
 
 
 
= Kobe Bryant's Values are higher -- head to head
 
 
 
 
 
 
 
 
= Vince Carter's Values are higher -- head to head
 
 
 
R23
Bowman's Best (R)

30

125

 
 
105
Bowman's Best (R)

20

60

R23
Bowman's Best Refractor (R)

85

200

 
 
105
Bowman's Best Refractor (R)

60

135

R23
Bowman's Best Atomic (R)

275

550

 
 
105
Bowman's Best Atomic (R)

100

225

BP10
Bowman's Best Picks

20

70

 
 
 
N/A
 
 
BP10
Bowman's Best Picks Refractor

50

110

 
 
12
EX Century Dunk N' Go Nuts

18

45

BP10
Bowman's Best Picks

75

165

 
 
4
EX Century Generation E-X

12

50

30
E-X2000 (R)

70

375

 
 
89
EX Century (R)

25

110

30
E-X2000 Credentials (R)

175

475

 
 
89
EX Century Credentials (R) (89)

250

425

74
Finest (R)

50

170

 
 
230
Finest (R)

30

90

74
Finest Refractor (R)

275

725

 
 
230
Finest Non-Protected

35

100

 
N/A
 
 
 
 
230
Finest Refractor

100

245

 
N/A
 
 
 
 
CC14
Finest Court Control

20

55

 
N/A
 
 
 
 
CC14
Finest Court Control Refractor

65

150

 
N/A
 
 
 
 
M1
Finest-Mystery Finest

30

65

 
N/A
 
 
 
 
M1
Finest-Mystery Finest Refractor

55

110

 
N/A
 
 
 
 
25
Flair Showcase Row 3

20

100

31
Flair Showcase Row 2 (R)

20

100

 
 
25
Flair Showcase Row 2

25

110

31
Flair Showcase Row 1 (R)

25

110

 
 
25
Flair Showcase Row 1

30

120

31
Flair Showcase Legacy (R)

300

575

 
 
25
Flair Showcase Legacy

110

225

31
Flair Showcase Row 0 (R)

70

150

 
 
5
Flair Showcase Class of '98

35

75

203
Fleer

12

65

 
 
105
Fleer Brilliants (R)

30

110

13
Fleer Lucky 13

13

65

 
 
105
Fleer Brilliants Blue (R)

30

110

3
Fleer Rookie Sensations

30

80

 
 
105
Fleer Brilliants Gold (R)

275

425

 
N/A
 
 
 
 
105
Fleer Brilliants 24K Gold (R)

400

625

 
N/A
 
 
 
 
4
Fleer Brilliants Illuminators

15

45

281
Hoops

12

65

 
 
 
N/A
 
 
3
Hoops Grant's All-Rookies

50

155

 
 
 
N/A
 
 
3
Hoops Rookies

10

45

 
 
 
N/A
 
 
137
Metal

15

125

 
 
 
N/A
 
 
181
Metal-Precious Metal

60

140

 
 
134
Molten Metal (R)

30

100

5
Metal-Cyber Metal

10

45

 
 
34
Molten Metal Fusion (40)

225

450

3
Metal-Freshly Forged

12

50

 
 
34
Molten Metal Fusion-Titanium (250)

55

125

15
Metal-Metal Edge

12

50

 
 
 
 
 
 
55
Skybox Premium

13

85

 
 
234
Skybox Premium

40

250

55
Skybox Premium-Ruby

50

140

 
 
234
Skybox Premium-Star Ruby

375

725

3
Skybox Premium-New Edition

15

50

 
 
2
Skybox Premium Fresh Faces

10

40

R3
Skybox Premium Rookie Review

40

85

 
 
 
 
 
 
134
SP

40

180

 
 
95
SP Authentic

10

35

PC18
SP Holoviews

20

80

 
 
FC27
SP Authentic First Class

10

35

 
N/A
 
 
 
 
2K5
SP Authentic NBA 2K

18

50

 
N/A
 
 
 
 
215
SPX Finite (R) (2,500)

400

2300

 
N/A
 
 
 
 
215
SPX Finite Radiance (R) (1,500)

200

1200

 
N/A
 
 
 
 
215
SPX Finite Spectrum (R) (25)

600

2600

RS11
Stadium Club Rookie Showcase

15

50

 
 
 
N/A
 
 
R12
Stadium Club Rookies 1

10

60

 
 
 
N/A
 
 
 
Stadium Club Members Only

80

400

 
 
 
N/A
 
 
138
Topps (R)

12

75

 
 
5
Topps (R)

15

85

138
Topps-NBA 50th (R)

15

95

 
 
 
N/A
 
 
13
Topps Draft Redemption

25

80

 
 
 
N/A
 
 
YQ15
Topps Youth Quake

25

65

 
 
 
N/A
 
 
138
Topps Chrome (R)

250

1000

 
 
199
Topps Chrome

90

250

138
Topps Chrome Refractor (R)

715

2300

 
 
 
N/A
 
 
15
Topps Chrome Youthquake

80

300

 
 
 
N/A
 
 
19
UD3

15

75

 
 
118
UD Encore (R)

25

125

52
Ultra (R)

22

150

 
 
106
Ultra (R)

45

275

52
Ultra Gold (R)

75

225

 
 
106
Ultra Gold (R)

80

250

52
Ultra Platinum (R)

150

400

 
 
106
Ultra Platinum (R)

300

600

3
Ultra Fresh Faces

30

80

 
 
 
N/A
 
 
2
Ultra Rising Stars

25

65

 
 
 
N/A
 
 
58
Upper Deck (R)

15

85

 
 
316
Upper Deck (R)

35

300

142
Z-Force

12

70

 
 
316
Upper Deck Bronze

250

550

3
Z-Force Zebut

30

80

 
 
65
UD Ionix

25

150

22
SPX

14

70

 
 
120
Upper Deck Black Diamond

40

200

22
SPX Gold

18

75

 
 
75
Upper Deck Ovation

25

150

8
1997-98 E-X2001

10

50

 
 
 
N/A
 
 
8
1997 E-X2001-Credentials

450

700

 
 
 
N/A
 
 
 

*values as listed in Sportscard Market Report (SMR) - April 2000