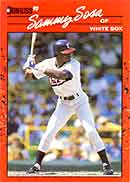 Trade talk. Free agents. Spring training. Opening day.
We're talking baseball season.
But this is no ordinary season. With an opening day in Tokyo this year, Major League Baseball (MLB) sent a message: sports fans everywhere deserve a chance to witness American baseball up close and personal. This week, the first regular season games outside of North America were played in Japan.
One of the biggest protests came from home run hero Mark McGwire, who loudly grumbled about opening the season in Japan. Even though MLB wanted the St. Louis Cardinals to play in Tokyo, it soon became apparent that McGwire would not hop on that plane for a 16-hour flight. He complained that MLB didn't care about the players and owners just wanted to make more money.
So MLB selected Big Mac's competitor in the 1998 home run race…Sammy Sosa and the Chicago Cubs to face off with the New York Mets. Both teams seemed to welcome the international exposure and extra compensation to play the season opener in Japan, in addition to a few exhibition games against Japanese teams.
Cubs' heavy hitter Sammy Sosa is already well-known in Japan. In 1998, Sosa visited Japan during the American All-Star tour and became highly visible. He became an ambassador of baseball and won the adoration of many fans. His participation in charity appearances, interviews and commercial endorsement contracts in Japan have made him as recognizable as Japan's heavy hitter Hideki Matsui of the Yomiuri Giants.

Asian Players in the Majors
Baseball was first introduced in Japan in 1872. When an All-American team visited in 1931, this attracted plenty of attention, which led to the start of professional baseball in Japan.
Americans may be familiar with Far East players like Hideo Nomo, Hideki Irabu, Chan Ho Park, and Kazuhiro Sasaki, who have made the trek across into American baseball.
The gesture to make the Cubs and Mets the ambassadors of baseball has also highlighted other needs. MLB is well-aware that Latin America is not the only source for international players. Given the need for fresh pitchers and replacements for injured players, moving opening day to Japan certainly gives America's favorite pastime heavy attention.
Japanese and Korean pitchers have been recruited by American scouts, but it has taken great effort. Aware of the lure of American baseball contracts, governments have limited participation abroad in the majors. Japanese players must play nine years for their professional team before they are eligible for free agency. Korean players have to fulfill their country's mandatory military commitment.
The All-Star Games, World Series, and many regular games are broadcast in Japan and Korea, so it was a treat for Japanese fans to see Mike Piazza with the New York Mets. Piazza also participated in an All-Star tour of Japan after the 1996 season. He is particularly well-known by Japanese fans as Hideo Nomo's catcher while playing for the LA Dodgers.

Collectors View
Japanese fans indicate an appreciation of the openess of American players. Fans of Japanese players do not usually get player autographs. Japanese players traditionally do not sign autographs, so when a player like Mike Piazza autographed souvenirs for children, this was unusual.
For American fans, the early opening day may have been missed on television due to the time difference. Some still woke up to an extra early breakfast and sleepily viewed the proceedings as early as 2:00 am, but who knows what impact this change in location will bring to the world of baseball.
It may lead to an expanded interest in American baseball players, which may parallel the appreciation international fans have for basketball. When you look at how the National Basketball Association (NBA) has become more popular because of the Olympics and the exhibition games, you can also see another trend. There is a growing number of international players who are playing college basketball. There was a time when this was limited to players from Eastern Europe, but now players from around the globe are playing.
How will this impact baseball? Right now, we can simply look at how players born in Latin American and other countries have influenced the game and the growing legions of baseball fans.