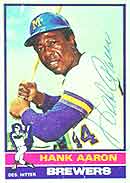 By Bill McIntosh
Originally published in April 1999


Baseball Cards Can Simplify the Autograph Collector's Quest

Baseball cards are versatile, which may explain why they have been so popular for so long. For openers, they serve as small reference books. If you want to know how many home runs Mark McGwire hit in his rookie year, you can consult the back of any Mark McGwire baseball card. They are also attractive display pieces when thumb-tacked to the wall or wedged into the mirror of your dresser. They can be used for gambling by "flipping" them in a winner-take-all competition. They create motorcycle-like sounds when clipped with a clothespin to the spokes of a bicycle. They have become rare collectibles to be cherished and protected in plastic holders. And, perhaps best of all, they are great for autographing.
Baseball cards are easy to transport to a ball game for in-person autographs, and they fit in regular 33-cent-stamp envelopes with no problem for through-the-mail collecting. They are attractive, and easier to find than 8x10 photos of players. They are also much cheaper than 8x10s.
Perhaps the most unique thing about signed baseball cards is that each of a player's cards is "time-stamped." While a ball signed by Hank Aaron looks very much like all the other balls he has autographed, a signed 1954 Aaron rookie card is entirely different from a signed 1976 card marking his final year as an active player. Regardless of when the rookie card actually was signed, it connects us to a young Aaron bursting with potential, while the '76 issue shows us an aging Aaron taking his last bow. Roger Maris' 1961 card will always remind people of his 61 homers, just as Mark McGwire's 1998 cards will be special because of his 70 round-trippers.
Some baseball cards work better than others for obtaining autographs. About one-third of the Topps baseball card sets issued from the 1950s through the 1980s featured printed signatures on the front. While these are a great aid in determining authenticity (yet another use for baseball cards!), they make it harder for the player to find enough room to sign. Also, having a printed signature and a real autograph on the same card may not be as aestethically-pleasing to collectors.
An autograph on a baseball card sometimes fades over time. This may be due to the glossy coating on many cards. For some reason signed cards from 1975 to 1977 seem to be especially prone to fading. Even more problematic are the new UV-coated cards that have dominated the market in recent years. These super-glossy cards can be terrible for autographs because the ink will not adhere properly. To avoid this problem, before getting the card signed rub it down with an eraser to take the shine off. Better yet, rub it down with baby powder. For those who want to collect signed cards of today's players without worrying about UV coating, Fleer produced a nice set of cards without UV coating in 1996. This set is very popular with autograph collectors.
If a card is signed in dark ink, or with a Sharpie, chances are it will not fade over time. Many cards that were signed 40 years ago still look great today. A dark, bold signature on a baseball card can be a thing of beauty. The value of a signed card isn't just the value of the card plus the value of the player's autograph. For example, an unsigned 1973 Topps Willie Mays card is worth $30 in near mint condition. Mays' autograph is worth about $25 on a plain index card. But a signed 1973 Willie Mays card is not worth $55. In fact, it is only worth about $40.