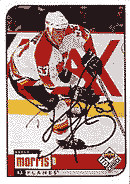 By Robbie Beach
It is not a misconception or a cliché about Canada: Hockey really is a way of life north of the border. I live in New Brunswick, a Canadian province on the East Coast, and I can say with authority that hockey is a national obsession.
Whether the passion stems from memories of playing the game on a frozen pond with childhood friends, or the Saturday evening tradition of watching the Montreal Canadiens or Toronto Maple Leafs on Hockey Night in Canada, hockey is treasured from coast to coast. Not surprisingly, hockey autographs are among the most popular and sought after collectibles of Canadian memorabilia hounds.
Personally, I like to collect players' autographs through the mail, a hobby I have enjoyed for several years. Hockey players have a reputation for being perhaps the most accommodating sports figures when it comes to signing autographs through the mail, and my experiences bear that out. I'd like to share some of them with you.
Class Acts
We often hear horror stories about professional athletes and their attitudes toward signing autographs. However, there are some outstanding signers out there. Here are two classy National Hockey League stars who went above and beyond to sign for me.
Joe Nieuwendyk
A huge reason for the Dallas Stars' 1999 Stanley Cup victory - Joe Nieuwendyk - has always set a tremendous example on and off the ice. With timely goals and veteran leadership, Nieuwendyk won the Conn Smythe Trophy as the most valuable playoff performer. Before being dealt to Dallas, he helped the Calgary Flames win an NHL championship and later became team captain.
While he was in Calgary, I sent Joe a hockey card and was rewarded with a very thoughtful response. He sent me an autographed card, but not the same one I mailed him. Enclosed was a handwritten note that read, "Sorry, but your original card was smudged too bad. Hope this one will take its place." Not only did he replace the card, but he also included a beautiful signed action photo.
Steve Yzerman
One of the most popular figures in hockey, Steve Yzerman captained the Detroit Red Wings to Stanley Cup triumphs in 1997 and 1998, while adding to what will certainly be a Hall of Fame career. I have heard and read complaints about attempts to get Yzerman through the mail, but recently I found him to be very gracious. I sent Steve a card that was fairly glossy, but figured a Sharpie could handle it. I had been sending the cards in thin, clear plastic sleeves to protect them a little better while in transit. When Steve signed the card, he slipped it back into the sleeve, but the wet autograph smudged. Since it was my fault for sending it in the sleeve (something I no longer do), I felt badly about writing to him and asking him to sign again. I really did want his autograph, though.
A month earlier, a similar thing occurred with a request I sent to Marty McSorley of the Edmonton Oilers. So I wrote to him and Yzerman explaining what had happened. In less than three months, Steve produced a perfect signature on the second card I sent him. About four months later, Marty did the same.
Having recently hoisted the coveted Stanley Cup and having been named winners of the Conn Smythe Trophy, both Nieuwendyk and Yzerman are proof positive that sometimes nice guys really do finish first.
Euro-Signers
Over the past few seasons, I have received many responses from North American players. During the 1998-99 season alone, I obtained signatures from Derek Morris and Jarome Iginla of the Calgary Flames, Doug Weight (Edmonton Oilers), Vincent Damphousse (San Jose Sharks) and Mike Modano (Dallas Stars), all of whom were either born in Canada or the United States. While I have found that the majority of North American-born players are responsive, they also account for my largest percentage of unsuccessful requests.
However, my success rate with European-born players is much better. Jozef Stumpel (Los Angeles Kings), Alexei Yashin (Ottawa Senators), Tommy Salo (Edmonton), Olli Jokinen (New York Islanders) and Sami Kapanen (Carolina Hurricanes) are among my most recent successes. My favorite signature is Kapanen's, which looks slick and refined like one of his great on-ice passes. My good fortune with European-born NHLers began several years ago when I obtained the 'graphs of three top snipers - Quebec Nordiques sensation Mats Sundin (now a Toronto Maple Leaf) and former 76-goal scorer Alexander Mogilny of the Buffalo Sabres (now with the Vancouver Canucks).
I also got the signature of current Florida Panthers superstar Pavel Bure when he was beginning his career in Vancouver. I didn't have a Bure card at the time, so I sent him a small black and white photo I had cut out from a TV Guide and mounted on a piece of cardboard, which he was nice enough to sign. A Bure autograph through the mail would likely be a greater challenge today. I don't know whether it has been good timing or just the right selection of players, but I have had only one European non-response to date.
Photographs
Even if a player is willing to give his autograph through the mail, he may not always want to put it on a hockey card. The collectible status of hockey cards can make some players reluctant to put their signatures on them.
St. Louis Blues standout Al MacInnis is the most recent winner of the Norris Trophy, given annually to the best defenseman in the NHL. When he was a member of the Calgary Flames, I sent Al a card and got a signed action photo instead. He returned my card unsigned, but I was more than happy with the photo. The same thing happened when I sent a card to Canadian favorite Wendel Clark during one of his tenures with the Toronto Maple Leafs. He also opted to send an autographed photo and return the card unsigned, which I appreciated.
Recently, it seems that some of the bigger stars have been letting their teams handle their fan mail and autograph requests. More and more, I receive team envelopes containing the unsigned card I sent, a form letter and an autographed photo. The letter usually has the player's name on it, stating that he receives such a volume of mail that he cannot respond to each request personally.
Rather than sign each card, these players prefer to sign a stack of photos in advance and have the team send them out instead. While I usually enjoy getting signed photos, a couple of recent ones left me a little suspicious. However, I have no doubt about the authenticity of my latest gem, a signed photo of New Jersey Devils goaltender Martin Brodeur. The signature looks to be the real deal, which is a thrill because Martin is one of my true favorites.
Final Tips
With the amount of coverage hockey gets in my country, it's hard for Canadians not to collect some form of hockey memorabilia. Collecting hockey autographs through the mail has been very rewarding and has yielded many great experiences, and only a handful of bad ones.
No matter what you hear or read about your favorite player's signing habits, there is only one way to know for sure, and that is to pick up a pen and find out for yourself. As a Mark Messier fan, I knew his reputation as an impossible signer. Still, I gave it a shot and received a nice action photo for my trouble. Even though the signature on the photo appears to be an autopen, it is still a nice image of a great player that I would not have received otherwise.
Unfortunately, that won't happen with all rejections. Conversely, just because I had success with certain players doesn't mean that everybody who writes to them will receive the same response. Player signing habits sometimes change over time, making them better or worse when you send your autograph request.
My personal philosophy has always been that it is better to know for sure than to wonder, "What if?" Therefore I have sent requests even when I knew my chances for a favorable response were slim.
When I send out cards, I usually take an inexpensive duplicate from the same set and mark on it with a Sharpie so I know whether or not a player will be able to sign it. I also like to test and make sure that fresh autographs will not smudge too easily on certain cards. The last thing I want in my mailbox is a ruined signature.
Finally, if you are an American hockey fan who has a favorite player on a Canadian team, you might want to know this. When sending a self-addressed stamped envelope to Canada, a 55-cent Canadian stamp is currently required to return a small regular-size envelope to the United States. However, our rates do increase on a fairly regular basis, so check before you mail.
Hockey has certainly come a long way from its humble beginnings. It is no longer viewed primarily as a Canadian pastime, and the NHL is trying to become a global attraction. Recently, contract disputes and huge salaries have sprung up around the league. Hockey players generally have been good signers in the past. Let's hope that money never changes that.
NHL Autograph Contact List

Atlanta Thrashers
One CNN Center
13th South Tower
Box 1053766
Atlanta, GA 30303

Nashville Predators
501 Broadway
Nashville, TN 37203

Boston Bruins
One Fleet Center
Suite 250
Boston, MA 02114-1503

New York Islanders
Nassau Coliseum
Uniondale, NY 11553

Buffalo Sabres
Marine Midland Arena
One Seymour H. Knox III Plaza
Buffalo, NY 14203

New York Rangers
Madison Square Garden
Two Pennsylvania Plaza
New York, NY 10001

Calgary Flames
Canadian Airlines
Saddledome
P.O. Box 1540, Station M
Calgary, Alberta T2P 3B9
CANADA

Ottawa Senators
1000 Palladium Drive
Kanata, Ontario K2Y 1A5
CANADA

Carolina Hurricanes
5000 Aerial Center Parkway
Suite 1000
Morrisville, NC 27560

Philadelphia Flyers
1 CoreStates Complex
Philadelphia, PA 19148

Chicago Blackhawks
United Center
1901 W. Madison St.
Chicago, IL 60612

Phoenix Coyotes
1 Renaissance Square
2 N. Central, Suite 1930
Phoenix, AZ 85004

Colorado Avalanche
Pepsi Center
1000 Chopper Place
Denver, CO 80204

Pittsburgh Penguins
Civic Arena
66 Mario Lemieux Place
Pittsburgh, PA 15219

Dallas Stars
StarCenter
211 Cowboys Parkway
Irving, TX 75063

St. Louis Blues
Kiel Center
1401 Clark Ave.
St. Louis, MO 63013

Detroit Red Wings
Joe Louis Arena
600 Civic Center
Detroit, MI 48226

San Jose Sharks
San Jose Arena
525 W. Santa Clara St.
San Jose, CA 95113

Edmonton Oilers
11230-110th St.
Edmonton, Alberta T5G 3G8
CANADA

Tampa Bay Lightning
401 Channelside Drive
Tampa, FL 33602

Florida Panthers
110 N.E. 3rd Ave., 2nd Floor
Ft. Lauderdale, FL 33301

Toronto Maple Leafs
Air Canada Centre
40 Bay St., Suite 300
Toronto, Ontario M5J 2X2
CANADA

Los Angeles Kings
Staples Center
111 S. Figueroa St.
Los Angeles, CA 90015

Vancouver Canucks
General Motors Place
800 Griffiths Way
Vancouver, B.C. V5K 3N7
CANADA

The Mighty Ducks of Anaheim
2695 E. Katella Ave.
P.O. Box 61077
Anaheim, CA 92803

Washington Capitals
MCI Center
601 F Street N.W.
Washington, DC 20001

Montreal Canadiens
Molson Centre
1260 Rue de la Gauchetiere W.
Montreal, Quebec H3B 5E8
CANADA

Expansion Teams

Hall of Fame Players

Columbus Blue Jackets
JMRC Hockey, Ltd.
150 E. Wilson Bridge Road
Suite 230
Worthington, OH 43085

Professional Hockey
Hall of Fame
30 Young Street BCE Place
Toronto, Ontario M5E 1X8
CANADA

Minnesota Wild
Piper Jaffray Plaza
444 Cedar St., Suite 2000
St. Paul, MN 55101