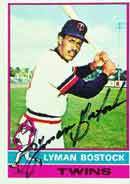 In Search of Signed Card Rarities

Some sets contain cards that are incredibly hard to find. Typically, these are the cards of players who died tragically in the midst of their careers. Hall of Famer Roberto Clemente died in a plane crash on Dec. 31, 1972 while on a mercy mission to his native Nicaragua following a devastating earthquake. A 1972 Topps card autographed by Clemente is therefore very rare because he only signed that card for about nine months. Signed Clemente cards sell for $250 and up.
Even more rare is a 1993 baseball card signed by Steve Olin. Olin died in a tragic boating accident on March 22, 1993 during spring training. That leaves only two or three months between the time the 1993 cards were issued and Olin's death. A collector trying to complete a 1993 set will have a difficult time locating such a rare card, and likely will have to pay about $400 for it.
Other players who died in their prime include Chico Ruiz, Lyman Bostock and Thurman Munson. Ruiz died Feb. 9, 1972. His 1971 card is especially rare, and typically runs about $175. Bostock was just beginning a stellar career when he was murdered on Sept. 23, 1978. His cards sell for about $35. Yankee catcher Munson died in a 1979 plane crash. Signed Munson cards sell in the $150-$250 range. His signed 1979 card is a rarity.
While these rare cards can command high prices, most autograph collectors focus their attention on the cards of baseball's superstars. Right now cards autographed by Mark McGwire are in great demand. McGwire dislikes signing autographs for a fee at sports card shows, so his signed cards are not plentiful. They currently sell for $125 and up. Sammy Sosa and Ken Griffey Jr. are right behind Big Mac in popularity, and their autographed cards go for about $50 each. Last year's home run race also sparked interest in cards signed by Roger Maris (d. 1985), which typically sell in the $150-$400 range, depending on the card.
If you are interested in adding autographed baseball cards to your collection, check with autograph and baseball card dealers, since both are likely to sell them. Many advertise in Sports Collector's Digest (700 E. State St., Iola, WI 54990). Another great source is Autographed Baseball Cards Unlimited (331 E. Constitution Drive, Gilbert, AZ 85296), which has a huge selection of signed cards and a reputation for integrity.
If you want to write to players directly, Jack Smalling's Baseball Address List ($16.50 to 2308 Vanburen, Ames, IA 50010) is indispensable. It provides addresses for most living players, from the obscure to the superstar. Keep in mind that most Hall of Famers and current stars will not sign through the mail for free. Try some of the lesser-known players, who may appreciate being remembered. By the way, if you run into Lou Ortiz, let me know. I have a 1955 Topps card I want him to sign!

Bill McIntosh is a psychology professor at Georgia Southern University, and a freelance writer.
Originally published in the April 1999 issued of Autograph Collector, reprinted with permission.