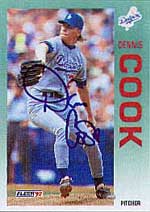 by Robbie Beach
originally published in the May 2000 issue

The first baseball season of the new millennium is upon us, so I wanted to share with you some of the players who were nice enough to sign for me through the mail last season. So without further ado, here are six members of my 1999 Good Signers All Star Team.
Richie Sexson
DH/1B, Cleveland Indians
I wrote to Richie early last season, feeling that he would be a star very soon. He signed the baseball card I sent him and returned it in just two weeks. I'm glad, because he ended up having a monster 1999 season.
Richie had shown great promise in limited action prior to 1999, but for some reason the Indians still had doubts about his long term potential when spring training rolled around. They even signed Wil Cordero to be their designated hitter, a role that would have gone to Sexson. As a result, Richie's name was mentioned in trade talks.
Then fate stepped in. Cordero went down with a lengthy injury, giving Sexson a spot in Cleveland's powerful batting order. Richie made the most of his opportunity, and became too hot to remove from the lineup, even after Cordero had healed. He went on to blast 35 home runs and drive in 115, making him one of the great offensive surprises of 1999.
Address: c/o Cleveland Indians, 2401 Ontario St., Cleveland, OH 44115
Kenny Lofton
OF, Cleveland Indians
A teammate of Sexson in 1999, Lofton has been one of baseball's most electrifying speedsters and best all-round players in the 1990s.
Kenny's greatest season was 1996, when he batted .317 with 210 hits including 35 doubles, 14 home runs and 67 RBI. He also stole a whopping 75 bases and was a leading candidate for American League MVP honors.
While the 1999 season wasn't as productive for Kenny by his standards, he was nice enough to autograph the baseball card I sent him. However, a shoulder injury suffered in the playoffs looks like it will sideline him for much of the 2000 season.
Address: c/o Cleveland Indians, 2401 Ontario St., Cleveland, OH 44115
Rusty Greer
OF, Texas Rangers
Is it his closely cropped red hair? Is it the way he makes acrobatic catches in the outfield on a regular basis? Whatever it is, Rusty Greer is popular with fans everywhere and one of my personal favorites. Because of his popularity, I didn't know what my chances were of getting him to sign the card I sent him. However, Rusty came through, returning his autograph to me in just over two months.
As great as he is in the outfield, Rusty is an even bigger asset at the plate. He hits for average, has good power and delivers in the clutch. He might even steal the odd base. Rusty plays the game the way it should be played, and isn't afraid to mess up his uniform to win.
Address: c/o Texas Rangers, 1000 Ballpark Way, Arlington, TX 76011
Dustin Hermanson
P, Montreal Expos
Because of the Expos' dismal economic situation during the 1990s, the media spent most of its time dwelling on the impending doom of the franchise. This negative press, combined with the thousands of empty seats at Olympic Stadium, would be enough to drive any Expos player up the wall, but the team's pitching ace Dustin Hermanson hasn't let it get him down.
Dustin won 14 games in 1998 despite the club's struggles, and probably was the most overlooked 14-game winner in a long time. Had he pitched for a team like the Yankees, he likely would have won even more games and been heralded as the best young pitcher in baseball.
Battling injuries and a losing record in 1999, Hermanson showed what a great competitor he is late in the season when he outpitched the incomparable Greg Maddux, beating the first-place Braves in a key game at Atlanta.
I sent Dustin a 1996 card from his first season with the San Diego Padres. Not only did he sign it, but he also hunted down a card of himself in an Expos uniform, signed it and sent me that, too. A warrior on the mound and a gentleman to his fans, Dustin Hermanson will always be tops with me.
Address: c/o Montreal Expos, 4549 Pierre-de-Coubertin Ave., Montreal, Quebec H1V 3N7, CANADA
Matt Anderson
P, Detroit Tigers
Who had the fastest recorded pitch of the 1998 season? It was Matt Anderson, who was clocked at a blistering 103 mph on the radar gun. That was all I needed to send the young fireballer a baseball card, which he graciously signed.
Anderson, 23, was the first overall pick in the 1997 draft and wasted no time getting to the major leagues. In 30 minor league relief appearances, Matt posted a microscopic 0.66 earned run average and soon found himself with the Tigers, where they used the rookie in 42 games in 1998.
Matt also spent the 1999 season in the Tigers bullpen. Because of his blazing fastball, it is reasonable to assume that the Tigers will try to mold him into their closer of the future. If his early successes are any indication, he could become one of the most dominant young closers in baseball.
Address: c/o Detroit Tigers, 2121 Trumbull Ave., Detroit, MI 48215
Dennis Cook
P, New York Mets
When it comes to experienced and reliable relief pitchers who can be counted on to get their team out of a tough situation, 37-year-old lefty Dennis Cook of the Mets is the best at what he does.
After tours of duty with several major league clubs, Dennis became a vital member of the 1997 Florida Marlins team that won the World Series. However, when the Marlins started dumping salaries, Cook was dealt to the Mets. For the past two seasons, Cook has been New York's middle relief specialist and a big reason why we almost saw the Mets in the World Series last year.
Dennis has been a favorite of mine for years, so I sent him a 1992 card from his days as a member of the Los Angeles Dodgers. He kindly signed it and sent it back in short order.
Address: c/o New York Mets, Roosevelt Avenue and 126th Street, Flushing, NY 11368
Those are just some of the players who were generous enough to fit me into their busy schedules last season. Now it's time to get my pen and stamps ready in search of more autographs during the 2000 season.
Robbie Beach is a sports enthusiast based in Codys, New Brunswick. He can be reached in care of Autograph Collector.
Courtesy Autograph Collectors Magazine