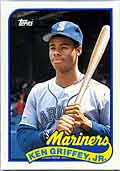 Ken Griffey, Jr. wanted to go home. When Griffey first told Seattle management that he wanted out of the Pacific Northwest, he gave general manager Pat Gillick a list of four teams to which he would accept a trade. That number dwindled to two, and eventually, down to just one: Cincinnati, his boyhood home. Gillick's hands were tied. He could either move Griffey now, guaranteeing something in return, or he could do nothing, let Griffey play the year in Seattle, and lose the slugger to free agency at the end of the season. The deal was made and Griffey became a Red.
Adding Junior to the Cincinnati mix bolsters an already strong team. Although the Reds lost slugger Greg Vaughn to the Tampa Bay Devil Rays, they picked up former Colorado Rockies outfielder Dante Bichette to fill his slot. And with former National League MVP Barry Larkin at shortstop, as well as young stars Sean Casey and Pokey Reese, the Reds are a strong candidate to win the N.L. Central.

Collectors Watch
What does this mean to collectors?
Many see the trading period as an exciting opportunity for their favorite players to get a fresh start. Others bemoan the player's move to a mediocre team. In any case, the free agent shuffle has led fan loyalty to follow whatever team their star player joins. In addition, long-standing admirers of a local team may grow to appreciate a new player, thus validating a collector's enthusiasm for a particular player when impressive results are posted.
For example, take Ken Griffey, Jr. and Dante Bichette.
Although Ken Griffey, Jr. is recognized as an all-around star player in his own right, his move to the Cincinnati Reds means much more than just a move home. Followers of Griffey's chase of Hank Aaron's career home run mark know that he'll make the Hall of Fame some day. If the Reds win the World Series, that simply enhances Griffey's resume and reinforces the importance of Griffey collectibles.
Dante Bichette's move to the Cincinnati Reds is also a move that has collectors applauding. The Colorado Rockies have had a rather mediocre team and Bichette's move to a nationally recognized team should spotlight his playing ability.
Trades that bring more attention to a player are moves that collectors anticipate. As hoped, collectors see their favorite player improving a career and adding value to their collections in the process.

Heading Home
Here are a few other players also chose to return home this off-season. While Griffey asked to leave Seattle, first baseman John Olerud chose the opposite route. Olerud opted to depart the pennant-contending New York Mets for a chance to play in Washington state, where much of his family still lives and where he played high school and college baseball. Orel Hershiser signed a one-year deal with the Los Angeles Dodgers, the team with whom he won a Cy Young award in 1988. And Joe Girardi took his New York Yankees World Series rings back to the Chicago Cubs, the team that gave him his first start in the majors.
The move to take Olerud out of big media town New York leaves a lot in the air. The Seattle Mariners are in a weak division, so Olerud's new team will be a contender for the American League. But some say that if Alex Rodriguez moves, this may shake up the team's chances. With a young team and a fairly inexperienced coaching staff, Olerud's new team has potential but it won't be the same as being with the Mets.
Fans of Orel Hershiser really like this solid player. Although he isn't going into the Hall of Fame, he is a fan favorite and has many avid collectors who have followed the career of this veteran pitcher. Since some of Hershiser's best years were with the Dodgers, his return will be a great match. A solid player who is joining a solid team, this trade is one that fans see as possibly the veteran pitcher's last shot to have a winning season.

Early Off-season Trades
Many uniform changes happened early in the off-season via trade. The Texas Rangers sent two-time American League MVP Juan Gonzalez to the Detroit Tigers for a package of players, including Justin Thompson and Gabe Kapler. Gonzalez bolsters the Tigers power-production numbers while Thompson provides the Rangers with a top-of-the-rotation starter.
Collectors of Juan Gonzalez collectibles will be watching his move from the Rangers to the Tigers. Gonzalez is an outstanding player but he is joining the Detroit Tigers who are slated to finish bottom of their division. Yet with a new ballpark, fans will be packing the stadium to watch the games and sharp attention will be on Gonzalez. New fans may arise in Detroit and Gonzalez may post impressive results, but collectors of his cards may not see a significant boost from the move.
On the other hand, the Texas Rangers traded Gonzalez for outfielder Gabe Kapler and left-handed pitcher Justin Thompson. These players are moving on to a solid team in a weak division, so more positive attention will be placed on their performance which may benefit collectors.
The Atlanta Braves shipped Ryan Klesko and Bret Boone to San Diego in exchange for Reggie Sanders and Quilvio Veras. Sanders and Veras take over the top two spots in the Braves order from Boone and the departed Gerald Williams and provide an increase in on-base percentage and run production.
Finally, Houston sent ace pitcher Mike Hampton and outfielder Derek Bell to the Mets for pitcher Octavio Dotel and outfielder Roger Cedeno. The Mets hope that Hampton can be the difference in their quest to unseat the Braves at the top of the N.L. East.
Other notable changes include the additions of third baseman Vinny Castilla to the Devil Rays lineup and Chuck Finley to the Cleveland pitching staff. With Castilla and Vaughn joining Jose Canseco and Fred McGriff in Tampa, the Devil Rays boast an intimidating lineup of power hitters. By signing Finley in Cleveland, the Tribe adds veteran leadership and a proven big game pitcher.

Very Recently Traded
On March 23, Jim Edmonds finally got the answer to rumors of his trade. Talk of trading Edmonds was rumored to move him to Oakland, Seattle or New York. Interviews with Anaheim Angels general manager Bill Stoneman quoted him as saying either he wouldn't trade Edmonds or he would have to be "overwhelmed." The answer came yesterday when the Anaheim Angels finally traded center fielder Jim Edmonds to the St. Louis Cardinals for 18-game winner Kent Bottenfield and second baseman Adam Kennedy.

Management Changes
Perhaps the biggest off-season moves were made by the Baltimore Orioles and the Chicago Cubs. The Orioles hired former Indians skipper Mike Hargrove, while the Cubs brought in Don Baylor as their new manager. For two teams coming off disappointing seasons, a change in management may turn out to be the best remedy.

See Related Stories...
Head to Head -- Baseball's Wild Wild West
Mariners Trade Griffey To the Reds