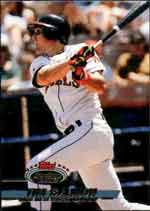 Let's take a look at the key players of the Angels, A's, Mariners and Rangers, comparing them with each other, to see how each team stacks up for the 2000 season.
American League West
ANAHEIM ANGELS 1999 record: 70-92

Key additions: RHP Tom Candiotti, LHP Kent Mercker, RHP Kent Bottenfield

Key losses: LHP Chuck Finley, OF Jim Edmond
Pitchers: With the loss of Finley, who signed with the Cleveland Indians as a free agent, this is the Angels' biggest question mark heading into the season. Anaheim is relying on veterans Tim Belcher, Kent Hill and new addition Kent Bottenfield to anchor a staff that had a lot of holes last season. Bottenfield was brought over in the Jim Edmonds trade to provide stability to the pitching staff. Belcher is not expected to be available until early May as he recovers from elbow surgery. The team is hoping youngsters Brian Cooper, Ramon Ortiz and Jarrod Washburn show they're ready to step up and pitch in the big leagues. However, Washburn was battling a strained rib cage muscle through much of spring training. That could open the door for Candiotti or Mercker. Collectors should keep an eye on Ortiz, who has been compared to Pedro Martinez by some. The bullpen should be strong as long as closer Troy Percival isn't bothered by a shoulder problem that forced him to undergo offseason surgery.
Infielders: Young Ben Molina figures to be the starter at catcher, though he may split time with Matt Walbeck. Molina is strong defensively, but still must show he can hit at the big-league level. The Angels are set at the corners with Mo Vaughn at first base and Troy Glaus at third. Although most players would have been thrilled with Vaughn's numbers from 1999 -- .281 average, 33 home runs, 108 RBIs - they were somewhat disappointing for the former Red Sox star. In his first full major-league season, Glaus showed flashes of greatness. With more consistency and fewer strikeouts he could be an All-Star and the prices of his cards will continue to spiral upward. While Gary DiSarcina is entrenched at shortstop, second base is up in the air. It appears Scott Spezio has the inside track, but Justin Baughman and Pat Kelly could also be in the mix.
Outfielders: The Angels outfield is solid with Garret Anderson, Darin Erstad and Tim Salmon. The loss of Jim Edmonds who had long been the subject of trade rumors, will now keep Anderson out of the designated hitter role. Collectors couldn't get their hands on enough Erstad cards after an outstanding 1998 season. But he struggled mightily last year. The Angels need Erstad to rebound to his '98 form, as do collectors who invested in his cards. As long as Salmon stays healthy, he should thrive in the cleanup spot.
Prospect to watch: Ortiz. The young right-hander could eventually become the Angels' top starter if he is able to overcome a history of elbow problems.

OAKLAND A'S 1999 record: 87-75

Key additions: OF Jeremy Giambi, LHP Mike Magnante
Key losses: RHP Jimmy Haynes, 2B Scott Spezio
Pitchers: Veteran Kevin Appier, who has always pitched well in Oakland, figures to be the No. 1 starter. The A's appear to have found a gem in Tim Hudson, who went 11-2 as a rookie last season. If he doesn't suffer a sophomore slump, he should grab the attention of collectors despite playing in small-market Oakland. Gil Heredia, Omar Olivares and Mark Mulder will probably round out the rotation. The bullpen could be a question mark. Jason Isringhausen, once one of the New York Mets brightest prospects, enters the season as Oakland's closer. Isringhausen looked strong in the role after coming to the A's in a trade last July, but still must show he can get the job done for a full season.
Infielders: Like the Angels, the A's appear strong at the corners with Jason Giambi at first and Eric Chavez at third. Giambi cards could be a good investment as he tends to get overlooked with all of the great first basemen in the league. Giambi had a monster 1999 season with 33 home runs and 123 RBIs. Chavez is already popular with collectors, but will have to improve on his rookie campaign to remain so. Ramon Hernandez looks like he'll be the starter at catcher over A.J. Hinch. Randy Velarde will start at second and look to duplicate a strong '99 season in which he had 200 hits. Miguel Tejada will be the shortstop.
Outfielders: The A's are solid in left and right with Ben Grieve and Matt Stairs. Grieve finished strong after a poor first-half in 1999. Stairs was one of three Oakland players to hit more than 30 home runs and joined Giambi and Jose Canseco as the only A's players to put together back-to-back 100 RBI seasons. Center field could be a weakness. The A's didn't get much production out of their center fielders last season. Ryan Christenson and Rich Becker, who each struggled at the plate in 1999, are battling it out for the starting spot. However, Oakland general manager Billy Beane has long been an admirer of the Angels' Edmonds and could try to make a deal. John Jaha had a career year in '99 and the A's are hoping for similar results from their DH in 2000.
Prospect to watch: LHP Barry Zito. Although Zito may not make an impact this year, he has quickly climbed the organizational ladder and impressed with with his curve ball.

SEATTLE MARINERS 1999 record: 79-83

Key additions: OF Mike Cameron, 1B John Olerud, LHP Arthur Rhodes, RHP Aaron Sele, RHP Brett Tomko
Key losses: 3B Russ Davis, OF Ken Griffey Jr.
Pitchers: The Mariners look like they may have a formidable rotation. Veteran left-hander Jamie Moyer and free agent Sele head the list. RHP Freddy Garcia had 17 wins as a rookie in 1999, but struggled in spring training. Garcia's cards can still be had relatively cheap, but that won't be the case if he duplicates his success of 1999. Second-year pitchers John Halama and Gil Meche could figure into the mix, along with Tomko, who was acquired in the Griffey trade. Collectors should keep an eye on Meche, who the Mariners expect to develop into a top-notch starter. The bullpen, long the Mariners' Achilles heel, could be much improved with the addition of Rhodes and Kazuhiro Sasaki.
Infielders: The Mariners should be strong all around with the addition of Olerud at first to go along with returners Alex Rodriguez at shortstop, David Bell at second and Carlos Guillen at third. Veteran Dan Wilson is expected to start at catcher. Collectors know all about Rodriguez, arguably the best player in baseball. He should have extra incentive in 2000 because he becomes a free agent at the end of the season. Guillen must stay healthy after suffering a season-ending injury just five games into the 1999 season.
Outfielders: The Mariners are hoping right fielder Jay Buhner is healthy after a couple of injury plagued seasons. Buhner spent the offseason working out at Safeco Field and started strong in spring training. Cameron has the unenviable task of replacing Griffey in center while left field is up in the air. Speedy Brian Hunter was the front-runner entering spring training, but he had a poor on-base percentage in 1999 and has not entrenched himself as the starter. Don't be surprised to see Seattle general manager Pat Gillick trade for a left fielder.
Prospect to watch: LHP Ryan Anderson. A hardthrowing, 6-foot-10 southpaw, Anderson has been compared to Randy Johnson. Anderson will probably spend the season in the minors, but could get a look at some point. Some of his cards, including the 1998 Bowman's Best Atomic, are already valued at more than $100 in Gem Mint 10.

TEXAS RANGERS 1999 record: 95-67

Key additions: OF Gabe Kapler, LHP Kenny Rogers, LHP Justin Thompson
Key losses: OF Juan Gonzalez, RHP Aaron Sele, 3B Todd Zeile
Pitchers: Although the Rangers lost Sele in free agency, Rick Helling is back. However, Texas is counting heavily on Thompson, who was acquired in the Gonzalez trade. Despite his talent, Thompson has been slowed by injuries the past couple of seasons. Esteban Loaiza, Darren Oliver and Rogers round out the rotation. The Rangers should have one of the strongest bullpens in baseball, led by closer John Wetteland. They also have Jeff Zimmerman as a set-up man.
Infielders: The Rangers have two of the best in first baseman Rafael Palmeiro and catcher Ivan Rodriguez. After an MVP season in 1999, Rodriguez cards are on the rise. Royce Clayton is solid at shortstop, but there are questions at second and third. Luis Alicea and Frank Catalanotto will likely platoon at second. With the departure of Zeile, Texas is looking to Mike Lamb at third, although Catalanotto could also see time there should Lamb struggle.
Outfielders: The Rangers are set in left with Rusty Greer. Although Greer doesn't get the headlines like Palmeiro and Rodriguez, he does a little of everything, from driving in runs to stealing bases. With Gonzalez gone, the Rangers are looking to highly touted Ruben Mateo and Kapler to step up with big seasons. Both already have collectors clamoring for their cards. Kapler has more speed and plays better defense than Gonzalez, but it will be tough for him to produce as well offensively.
Prospect to watch: Mateo. His numbers weren't anything special in 1999, but the Rangers are hoping for a breakthrough season in 2000. So are collectors, who could spend upward of $200 for some of his rookie cards in Gem Mint 10.

See related story...
Old Faces, New Places -- Baseball Players Traded