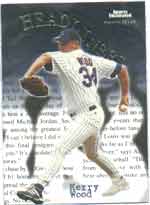 Kerry Wood burst on to the national scene as a rookie for the Chicago Cubs in 1998.
Collectors were quick to jump on the bandwagon, figuring the 20-year-old phenom was destined for greatness.
However, Wood-mania went by the wayside in 1999. Wood missed the entire season after undergoing reconstructive surgery on his right elbow last April. There is reason for optimism as the 2000 season approaches. After a year of rehab, it looks like Wood will be ready to join the Cubs' starting rotation in June. If he shows even a glimpse of the form that made him the National League Rookie of the Year in 1998, collectors will again be scrambling for Wood cards and memorabilia. He wasn't even supposed to be in the big leagues when he made national headlines in May 1998.
Wood was the fourth player selected in the June 1995 draft. He spent three seasons in the minors, and was expected to play a fourth there, before injuries to other players necessitated his call to "The Show." In just his fifth major-league start, Wood made history by tying the single-game strikeout record with 20 Ks against the Houston Astros. The mark matched the record set by Roger Clemens, who did it in 1986 and 1996. Wood was practically unhittable, with the Astros' lone hit coming on a third-inning single off third baseman Kevin Orie's glove. Wood finished the season 13-6 with a 3.40 ERA and 233 strikeouts in 166 2/3 innings. Those numbers came despite the fact that he missed all of September with a strained elbow ligament. However, the injury foreshadowed the Cubs' worst nightmare the following spring.
After just one spring training start in 1999, Wood was diagnosed with a torn elbow ligament. The injury required surgery, which sidelined him for the entire year.
But the 6-foot-5 Texan appears ready to put his injury troubles behind him. With a horde of national media in attendance, Wood went through his first formal throwing session in mid-February and put a smile on the face of new manager Don Baylor in the process. The hard-throwing right-hander threw only fastballs and changeups, but he showed the type of heat that caused hitters fits in his rookie season.
During the Cubs game against the Chicago White Sox last Saturday (March 18), Wood pitched with strong velocity. However, doctors have advised Wood to ease off the sliders and curveballs. Although Wood no longer will have the slurve in his repertoire because of the strain it put on his elbow, some believe Wood still expects to be snapping off curveballs with regularity in the future.
And though the Cubs are expected to proceed with extreme caution, it's certain that collectors are gearing up for Wood's return. Despite his absence from the diamond in 1999, Wood's cards still hold significant value. After all, he's only 22.
Wood's 1997 Bowman rookie in Gem Mint 10 books for $40 in the March 2000 issue of the Sportscard Market Report. His 1997 Topps Stars in the same condition is also valued at $40, while a Gem Mint 10 1997 Bowman Chrome rookie goes for $60. An autographed Wood photo lists for $40, while a single-signed Wood baseball goes for $50 and a bat is priced at $125. If Wood's comeback is anything like his rookie year, collectors will want to start getting their hands on his cards and memorabilia before those prices go up.
See related stories...
Kerry Wood, major-league baseball's next great pitcher?