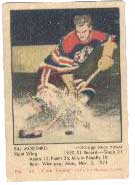 With the arrival of new NHL hockey teams and the media coverage given to games and players like retired Wayne Gretzky, the collecting world is starting to take hockey cards and memorabilia much more seriously.
Unfortunately, few people realize the significance behind the sets and the amount of history of the game that they hold. Let's take for example the cream of the crop: the 1951-52 Parkhurst hockey set. The colored cards measure 1-3/4" x 2-1/2" and include a biography of the player. Also, this 105-card set has over 75 (YES - that's 75!) rookie cards, some of which are the most remembered names in hockey.
Some rookie cards in the 1951-52 Parkhurst set include:
Maurice "Rocket" Richard, famous for being a feisty player who made major headlines in the 1954-55 season. After being suspended by the NHL for misconduct during a game and banned from playing in that years playoffs, fans of Montreal took to the streets in what was to be known as the "Richard Riot." Today, we have the Richard Trophy that is awarded to the player who scores the most goals each season.
Gordie Howe, the most prolific goal scorer in hockey history into who was only out scored by Hall of Famer Wayne Gretzky. Although he won the Hart Trophy for most valuable player and the Art Ross Trophy for top scoring each four times he is best known for staying loyal to a single team for quarter of a century. He was able to play in games with both of his sons and played top-flight hockey into his fifties.
"Boom Boom" Geoffrion brought to hockey one of the most feared shots - the slapshot.
Terry Sawchuk with numerous records to his name: most games appeared in, most minutes played, most shutouts and many more.

Other memorable rookie cards in this set includes:
"Terrible" Ted Lindsay (4 Cups), Bert Olmstead (5 Cups), Red Kelly (4 Cups), and Alex Delvecchio (3 Cups). Others you may also recognize are Tom Johnson, Doug Harvey, Bill Gadsby, Harry Lumley, Bill Mosienko, Marcel Pronovost and Alan Stanley.
This set also includes what I believe to be one of the most treasured cards in hockey history. Most Toronto fans could tell you about Bill Barilko and his goal on April 21, 1952 in Toronto, which brought his team to victory over their Montreal rivals to win the Stanley Cup. Sadly, Barilko, a young Toronto defenseman many considered to be the next Eddie Shore, died tragically in a plane crash while on a fishing trip the following summer.
Known for being the first set of modern hockey cards, this set is by far the rarest and most sought after hockey modern day sets. These cards are difficult to find in any shape let alone NM-MT shape.
Not many people realize that these cards were sliced with a paper trimmer (most likely with a dull blade!) and then loaded into cement mixers to collate the cards. This is why you have so many diamond-cut cards as well as soft corners. True mint cards are just so rare. Also, due to the stock of the cards, discoloration (browning) is very common in the cards. This discoloration process is almost as hard to stop as finding mint cards.
So folks, if you ever get a chance to see--or better yet own--some of these cards you should consider yourself fortunate. Personally, I have seen and handled only one complete mint set in my many years of collecting.
Crazy Canuck's gives this set his highest rating of five stars. *****
Until next time, happy collecting!
1951-52 Parkhurst Hockey

Sportscard Values
 

Rookie Cards

NM 7

NM MT 8

MT 9

3

Butch Bouchard (R) (HOF)

100

165

350

4

Maurice Richard (R) (HOF)

1500

2225

4300

5

Bert Olmstead (R)(HOF)

100

165

350

7

Tom Johnson (R)(HOF)

90

165

350

14

Boom Boom Geoffrion (R)(HOF)

500

775

1550

15

Gerry McNeil (R)

225

300

500

19

Jim Henry (R)

100

175

300

26

Bill Quakenbush (R)(HOF)

100

170

350

37

Bill Gadsby (R)(HOF)

95

175

350

48

Doug Bentley (R)(HOF)

100

165

350

49

Bill Mosienko (R)(HOF)

100

165

350

55

Red Kelly (R)(HOF)

260

400

800

56

Ted Lindsay (R)(HOF)

260

400

800

61

Terry Sawchuk (R)(HOF)

925

1550

3200

63

Alex Delvecchio (R)(HOF)

300

475

800

66

Gordie Howe (R)(HOF)

2050

3860

6100

68

Marcel Pronovost (R)(HOF)

80

165

350

70

Harry Watson (R)(HOF)

80

165

350

72

Howie Meeker (R)

125

200

325

76

Al Rollins (R)

100

160

325

80

Fern Flaman (R)(HOF)

80

160

350

81

Max Bentley (HOF)

80

155

325

86

Teeder Kennedy (R)(HOF)

180

275

475

94

Allan Stanley (HOF)

145

225

400

104

Chuck Rayner (R)(HOF)

100

185

350

105

Jim Conacher (R)

215

535

1000

Source: March 2000 Sportscard Market Report