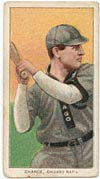 Professional baseball in Chicago is as old as professional baseball itself, going back over 125 years to the 1871 Chicago White Stockings. Having Chicago's baseball greats depicted on sportscards is an age-old tradition, too, as anyone with an 1887 Allen & Ginter card of Cap Anson can attest.
Here are some of the all-time Chicago greats — the players and their cards:
Cap Anson—Anson was a player-manager for the Chicago White Stockings (the first White Stockings, who later became the Cubs) and is considered the greatest star of 19th century baseball. He was the first man to garner 3,000 hits, and he hit over .300 in 24 different seasons. He led the Cubs — er, White Stockings — to five pennants in seven years between 1880 and 1886. His 1887 Allen & Ginters baseball card is the most valuable card of the set, with a March 2000 Sportscard Market Report (SMR) value of $21,000 in PSA-Mint 9 condition.
Luis Aparicio—The first player from Venezuela to make it to the Hall of Fame, Aparicio was a little man off the field, but a giant when it came to fielding and stealing bases. He won nine Gold Gloves, and led the American League in stolen bases for nine consecutive years. He played for the White Sox from 1956-62, then returned for 1968-70. His Topps rookie card (1956) in PSA-Mint 9 condition is valued at $1,375.
Luke Appling—He was known as "Old Aches and Pains," but he managed to play 20 years as the White Sox' shortstop, and was elected to the Hall of Fame in 1964. He hit .388 in 1936, the highest batting average by a shortstop in this century, and won another batting title in 1943. Look for Luke in the 1934 Goudey baseball set, where his card in PSA-Mint 9 is valued at $1,900.
Ernie Banks—Let's play two! Was there ever a more popular player than Ernie Banks? He ranks right up there with Ruth, Gehrig, Mantle, McGwire, and Clemente when it comes to the short list of players that the fans really love. Over 500 career home runs, five grand slams in one season, back-to-back MVP awards, and 106 RBI at age 38! It's no wonder he's called "Mr. Cub." This Hall-of-Famer's 1954 Topps rookie card is valued at $7,500 in PSA-Mint 9 condition—if you can find one.
Mordecai "Three Finger" Brown—Brown won the most famous game in Cubs' history, the makeup game from the Fred Merkle "bone head" play of 1908. Called in to relieve in the first inning, he outdueled Christy Mathewson for a 4-2 Cubs' victory. He pitched for the Cubs from 1904-1912 before jumping to the Federal League. His PSA-graded Mint 9 cards from the 1911 T-206 set are valued at over $3,000.
Frank Chance—"These are the saddest of possible words, Tinker to Evers to Chance." So began Franklin P. Adams's famous poem about three Cubs who made it to the Hall of Fame. Why were the words so sad? Because the three were constantly turning double plays to help defeat Adams's beloved Giants. Chance made it to the Hall of Fame mostly because of his managerial skills. He led the Cubs to four pennants and two World Series wins in his first six years, and that includes the 116-win season of 1906. His three T-206 cards are all valued at well over $2,000 each in PSA Mint 9 condition.
John Clarkson—Where's John Clarkson when the Cubbies really need him? He was 53-16 for Chicago in 1885, then won 36 and 38 in the next two years. What happened in 1888? He was sold to Boston! Ouch! His card from the Allen & Gintners set will cost you $7,500 or more in PSA-graded Mint 9.
Eddie Collins—He played about half of his career for the White Sox, and about half for the Philadelphia Athletics. He also managed the White Sox for two years. He had speed, he could field with the best of them, and he banged out over 3,300 hits in his 25-year career. He's in the T-205 set of 1911, the 1932 U.S. Caramel set, the 1933 Goudey Baseball set, and others! In PSA-graded Mint 9, his cards start at $3,000 or more.
Gabby Hartnett—The Cubs won four pennants with the great Hartnett behind the plate. He appeared in five All-Star games, and would have been in many more except for the fact that there were no All-Star games for much of his career. Cubs fans will always remember him for the "homer in the gloaming" that won the 1938 pennant. The 1933 Goudey Baseball set features Gabby as card #202, and it will set you back $2,300 in PSA-graded Mint 9.
"Shoeless Joe" Jackson—The name says it all. In PSA-graded Mint 9 condition, his 1915 Cracker Jack Baseball card is valued at $62,000 (or more).
Ted Lyons—If the Cubs' fans loved Ernie Banks with a passion, then what do you call the emotion that the White Sox' fans felt for Ted Lyons? Mega-passion? Whatever, this incredibly popular pitcher won 260 games for the White Sox, and at the end of his career he pitched only on Sunday so the maximum number of fans could see him play. In Mint 9 condition (PSA-graded, of course) his 1934-36 Diamond Stars Baseball card costs $1,250.
Did we miss your favorite Chicago player? Are you saying what about Kiki Cuyler, Andre Dawson, Carlton Fisk, Nellie Fox, Stan Hack, Billy Herman, Ferguson Jenkins...and that only takes us halfway through the alphabet? Well, that's the thing about Chicago and sports. In the city of Bulls and Bears and Black Hawks and White Sox and Cubs, no one can ever get it all said.

Note: Sportscard Market Report (SMR) March 2000 price guide values were used for this article.