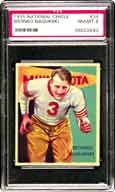 The gridiron greats of yesteryear are available today by Superior Sports Auctions. Some of the most spectacular and scarce examples of football cards ever offered will be in the Superior sale on March 8-9, 2000.
National Chicle
Two of the hobby's most expensive cards, Bronco Nagurski and Bernie Masterson, are up for auction by Superior Sports Auctions. The Nagurski card (Lot 54) is considered the key to the classic 1935 National Chicle set and viewed by some as the T206 Honus Wagner of football cards.
The last card of the '35 National Chicle set features Masterson. This card is especially difficult to find in high grade because of the wear and tear the last card in a set usually experiences. Lot 55 features Masterson in PSA NM-MT 8.
The first card of the '35 National Chicle set features Dutch Clark. The top card in a set is also difficult to find in high-grade. However, a PSA NM-MT 8 example is in this sale (Lot 52).
Early College Football Cards
Some of the first football cards ever issued are available in the Superior auction. The 1888 N162 Goodwin Champs Capt. Beecher, Yale Football card (Lot 691) is part of a popular set that was the forerunner of the "Sport King" theme released from Goudy 45 years later. The 1894 N302 Mayo's Cut Plug featuring Thomas Trenchard is one of the rarest cards from this set featuring college football performers (Lot 692).
Football Legends
1955 Topps All-American cards of Red Grange, Jim Thorpe, and the Four Horsemen are among the many lots in this auction that feature football heroes of yesteryear. The Red Grange card is one of the keys to the '55 Topps All-American set. The legendary "Galloping Ghost" is still remembered today. A PSA Mint 9 example is available of this college football icon (Lot 59). Jim Thorpe's performance for Carlisle Indian school created a mythic aura around this incredible athlete. A PSA Mint 9 example from the set is available (Lot 60). The legendary Four Horsemen (Elmer Layden, Jim Crowley, Harry Stuhldreker and Don Miller) contributed to the great Notre Dame football heritage. A PSA Mint 9 example is for sale (Lot 61).
Gridiron Greats
The 1933 Goudey Sport King set is among the favorites for set builders. Red Grange is showcased in a PSA NM 7 example from this issue (Lot 51).
Also offered are Bowman rookie cards of the late Tom Landry that feature the great coach during his playing days. Many examples of other greats, such as Otto Graham and Jim Lansford, are up for auction in an incredible football section. Graham's roster of NFL Championship games and World Titles elevate his name to one of the gridiron greats that make this Hall of Fame legend a household name among American football fans.
The Jim Lansford card is considered by many collectors as the key to the 1952 Bowman Large set. It is notoriously condition-sensitive, since it was the bottom right hand card on the sheet. Many collectors find it difficult to find cards centered, since this is often found off-center. Collectors searching for a wide selection of Lansford cards may want to see what Superior has in their auction.
Several cards featuring the legendary Norm Van Brocklin are available in both the large and small Bowman card issues.
Some of the lots in the Superior auction include full sets and partial sets of football cards. This includes 1894 Mayo's Cut Plug cards, 1935 National Chicle Football, 1950 Bowman Football, 1952 Large Football, 1955 All-American Football, and other sets.
Bidders may participate by telephone, Internet, mail and fax in the Superior Sports Auction's March 8-9, 2000 sale. Visit the Superior Sports Auctions website for details.