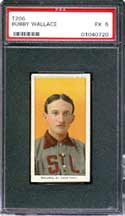 What do Stan Coveleski, Elmer Flick, Chick Hafey, Jesse Haines, Jim O'Rourke, Bobby Wallace, and Ross Youngs have in common? Believe it or not, they're all members of the Baseball Hall of Fame, and they didn't get there because they were umpires or baseball executives. These great players earned their way to Cooperstown on the field.
Here's a brief look at the careers of these not-so-well-known superstars of yesterday.
Stan Coveleski -- This outstanding pitcher made it to the majors in 1912 for a few games, then returned in 1916 at age 27 to begin his career in earnest. After a 15-13 record in his first full season, he won 19 games the following year and then rattled off four consecutive 20 wins seasons. In 1920 he won three World Series games while compiling an ERA of 0.67. He was traded to the Washington Senators in 1925, and led the league in winning percentage with his 20-5 record.
Elmer Flick -- He won the American League batting title in 1905 with an average of .308. That's not too impressive until you learn that the league average was only .241. That kind of thing will happen when the pitchers are Addie Joss and Ed Walsh and Cy Young. As a National League star in 1900 he hit .367, but no batting title was in store for him due to Honus Wagner's .381. Cleveland was offered none other than Ty Cobb in an even swap for Flick, but the Ohio team was "too smart" to accept the offer.
Chick Hafey -- This slick-fielding outfielder with a great arm could also hit. His batting average was over .300 for five consecutive seasons with the Cardinals, including a batting title in 1931. Even with those credentials, when he asked for a raise he was traded to Cincinnati.
Jesse Haines -- He was known as "Pop" because he was still pitching at age 45. Haines won over 200 games while pitching for the Cardinals, including three 20-game seasons. He also pitched a no-hitter in 1924. In 1927 he pitched 25 complete games and hurled six shutouts, both of which led the league. Trivia question: Who did Grover Cleveland Alexander relieve in the 1926 World Series when he came in and struck out Tony Lazzeri with the bases loaded? Who else? Jesse Haines.
Jim O'Rouke -- His amazing career stretched from 1872 through 1904 and that includes catching a game at age 52! After averaging .317 in the National Association, O'Rouke and his team joined the newly formed National League and he hit over .300 eleven times. He was a player-manager for a time, then a manager and an umpire. He topped off his love of baseball by becoming a minor league president.
Bobby Wallace -- He was the highest paid player of his day, with a lucrative $32,500 five-year contract at the dawn of the 20th century. That's over $6,000 a year! He was the first American League shortstop admitted to the Hall of Fame, even though he started out his career as a pitcher in the National League and then became a third baseman. His lifetime batting average was a modest .268, but his great fielding kept him in the majors for 25 years.
Ross Youngs -- His great career was shortened by illness, and he died at age 30, but John McGraw insisted that he wouldn't trade Youngs for Babe Ruth! In his ten seasons he posted a lifetime batting average of .322, and out-hit the Babe .375 to .118 when they met in the 1922 World Series.
Who were they? Some of the greatest players in the history of the game!