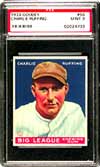 Cards that are given the elusive grade of Mint 9 or Gem Mint 10 from PSA are some of the most hunted cards in the hobby, simply due to the fact that people want to own the best example of a card that they can find. While NM-MT 8 cards are also highly sought after, the quest for perfection in a card, just like in so many other aspects of our lives, is what drives collectors to place stratospheric values on these scarce pieces of the fabric of our lives.
In the March 8 & 9, 2000 sale, Superior Sports Auction is happy to help collectors satisfy their intense hunger for spectacular, fully original Mint 9 and Gem Mint 10 cards. Over 100 individual pre - 1970 cards in the Mint grade, are being offered, most of which will simply blow you away! From the 1910s - 1969, every era is captured by Mint mania.
Specific Mint 9 cards include:
1932 U.S. Caramel Bill Dickey card
1933 Goudey card of Hall of Fame pitcher "Red" Ruffing
1949 Bowman Warren Spahn
1954 Topps cards of Yogi Berra and Ernie Banks
1955 Topps Sandy Koufax rookie
1957 Topps cards of Yogi Berra, Al Kaline, Ernie Banks and Roy Campanella,
1961 Topps Mickey Mantle
1962 Topps of Ernie Banks and Roger Maris,
1965 Topps Steve Carlton (in both PSA 9 and 10!)
1965 Topps Ernie Banks (PSA 10)
1966 Topps Mickey Mantle
numerous PSA 9 cards of the great Roberto Clemente
tons of Mint 1950's Football, basketball and hockey cards
...and so, so, much more!
If you like the very best in high grade, Mint sports cards, then you owe it to yourself to check out this auction. It's easy to participate and you can make bids online, via telephone or through the mail. Please on the Collectors Universe Superior website for details on How to Bid, and on Current Auction for a complete listing of lots. If you have specific questions feel free to call Superior Sports at (231) 922-9862 or send an email to Superior Sports.