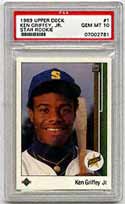 The much awaited and ballyhooed Ken Griffey, Jr. trade to the Cincinnati Reds finally became a reality on February 10. Though other previous star trades may have amounted to more money, few would argue with the potential impact a star like Griffey might have on baseball in the years to come -- and now that he's home with dad, collectors will be watching with great anticipation.
What next?
Collectors Universe will keep you informed. In the meantime, we put together some of the more notable baseball deals in the last century...


Big Bang Baseball Trades

December 15, 1900

Christy Mathewson

New York Giants give up pitcher Amos Rusie for Mathewson.
April 12, 1916

Tris Speaker

Boston Red Sox trade Speaker for Sad Sam Jones, Fred Thomas, $55,000 -- to Cleveland Indians.
January 3, 1920

Babe Ruth

Boston Red Sox trade the Babe for $125k, plus $300k loan to Red Sox owner Harry Frazee -- to New York Yankees.
December 20, 1926

Roger Hornsby

St. Louis Cardinals trade Hornsby for Frankie Frisch, Jimmy Ring -- to New York Giants.
December 12, 1933

Lefty Grove

Philadlephia Athletics trade Grove along with Rube Walberg and Max Bishop for Bob Kline, Rabbit Warstler and $125k -- to Boston Red Sox.
December 11, 1941

Johnny Mize

St. Louis Cardinals trade Mize for Ken O'Dea, Bill Lohrman, Johnny McCarthy, $50k -- to New York Giants.
December 9, 1965

Frank Robinson

Cincinnati Reds trade Robinson for Milt Pappas, Jack Baldschun & Dick SImpson -- to Baltimore Orioles.
April 2, 1976

Reggie Jackson

Oakland Athletics trade Jackson, Ken Holtzman & Bill Van Bommell for Don Baylor, Mike Torrez, Paul Mitchell -- to Baltimore Orioles
June 15, 1977

Tom Seaver

New York Mets trade Seaver for Pat Zachry, steve Henderson, Doug Flynn & Dan Norman -- to Cincinnati Reds.
December 5, 1990

McGriff/Alomar

Toronto Blue Jays trade Tony Fernandez and Fred McGriff for Roberto Alomar and Joe Carter -- to San Diego Padres.
August 31, 1992

Jose Canseco

Oakland Athletics trade Canseco for Ruben Sierra, Bobby Witt, Jeff Russell & unknown sum of $$ -- to Texas Rangers.
July 31, 1997

Mark McGwire

Oakland Athletics trade McGwire for T.J. Mathews, Blake Stein and Eric Ludwick -- to St. Louis Cardinals.

May 15, 1998

Bonilla/Piazza

Florida Marlins trade Bobby Bonilla, Gary Sheffield, Charles Johnson, Manuel Barrios & Jim Eisenreich for Mike Piazza and Todd Zeile -- to Los Angeles Dodgers.
November 2, 1999

Juan Gonzalez

Texas Rangers trade Gonzalez, Gregg Zaun, Danny Patterson for Francisco Cordero, Frank Catalanotto, Alan Webb, Justin Thompson, Gabe Kapler and Bill Haselman -- to Detroit Tigers.
February 10, 2000

Ken Griffey, Jr.

Cincinnati sends the Seattle Mariners right-hander Brett Tomko, CF Mike Cameron, and minor leaguers Jake Meyer and Antonio Perez, in exchange for Griffey (who will be paid $112.5 million for 9 years with a 10th year club option).