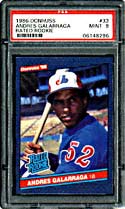 Sports fans often enjoy following the trials and tribulations of athletes both on and off the field. This week's story is a continuing saga of struggle and perseverance. As headlines showcase other players failing drug tests, making offensive comments during interviews, and seeking lucrative contracts, it is refreshing to focus on a player whose happy ending is just beginning.
Braves first baseman Andres Galarraga returned for spring training last Friday. Nicknamed "Big Cat" while in the Minor Leagues, Galarraga wore a smile larger than a Cheshire cat's which signaled relief and joy.
When Galarraga left the game 18 months ago, no one knew when he would come back. One year ago from the day of his return to Braves camp, February 18, 1999, Galarraga had heard the bad news from doctors that he had cancer in a vertebra in his lower back.
The news echoed a reminder to him of time in another camp in 1992, when his father Francisco died from pancreatic cancer. Now a 38-year-old father with three daughters, Galarraga had to make some big adjustments to his life on the field by leaving it. He sadly missed the Braves game in the World Series against the Yankees. Instead, his real-life battle focused on healing: consultations, chemotherapy and radiation for the non-Hodgkins lymphoma.
The chemotherapy ended in August, radiation treatments stopped in September. Galarraga started working out in October. He has a batting cage at his home in Florida. By December, the cancer was gone and the bone started getting stronger.

"When I met Andres Galarraga in 1998, he was at a private signing and autographed some items for PSA/DNA," Collectors Universe representative Jason Micheletto said. "What amazed me is how friendly and gracious he was. Having met a number of athletes during autograph signings, my meeting with Andres really stuck in my mind as very impressive because his attitude was very upbeat and positive."

When the first baseman played two years ago for Atlanta, he hit 44 home runs and batted .305. During this week's training, Braves manager Bobby Cox was surprised to see three-quarter swings. Many wondered what condition Galarraga would be in upon his return. If Galarraga can return to the same 1998 performance level, watchers predict that he'll be put into the cleanup hole and boost the Braves lineup. Some are concerned about Galarraga's back and whether he can stay off the disabled list during the season. Opening Day will probably begin with Galarraga as first baseman, once again.
Galarraga signed with the Atlanta Braves on November 20, 1997. Before that, he played for the Colorado Rockies starting in 1992. His performance at first base and at the plate has been impressive.
Some of Andres Jose Galarraga's accomplishments:
Winner of the National League Gold Glove award at first base 1989-90.
Led N.L. first basemen with 1,528 putouts, 1,658 total chances and 154 double plays in 1996.
Led N.L. first basemen with 1,432 total chances and 129 double plays in 1995.
Holds Colorado Rockies all-time record for most home runs (131).
Led N.L. in being hit by pitch with 10 in 1987 and tied for lead with 13 in 1989.
Led N.L. with 329 total bases in 1988.
Hit three home runs in one game (June 25, 1995).
Collected six hits in one game (July 3, 1995).
Career major league grand slams: 7
Won the N.L. batting championship with a .370 average, the highest for a right handed hitter in the last 40 years (1993).
Won two consecutive RBI championships (1996, 1997)
Only active player in the major leagues to win the three stats of the triple crown (hr,ba,rbi)


Known for his big smile, Galarraga's positive attitude is infectious. Braves general manager John Schuerholz expressed his appreciation for the "Big Cat" and his positive attitude. News of other players, like John Rocker, has tinged the Braves image by association. It is no wonder that the entire Braves camp celebrated Galarraga's return.



Andres Galarraga Cards

Current SMR Values

NM-MT 8

MT 9

GEM-MT 10

1986 Fleer #647

5

15

50

1986 Donruss #33

5

15

45

1986 Donruss Rookies #7

4

10

35

1986 Fleer #647

5

15

50

1986 Fleer Update #44

5

10

50

1986 Topps Traded #40

5

10

45

1986 Topps Traded Tiffany #40

8

20

75

* source: February 2000 Sportscard Market Report (SMR)