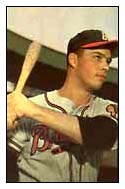 Name: Edwin Lee Mathews
Date of Birth: October 13, 1931
Position: Third base
Teams: Boston(1952), Milwaukee (1953-1965) and Atlanta Braves (1966), Houston Astros (1967) and Detroit Tigers (1967-1968)
Years Played: 17
Exclusive Club: 500 Home Runs
Elected into Hall of Fame: 1978
Eddie Mathews is perhaps the least known of all the members of the 500 home run club. This is despite the fact that Mathews clubbed over 500 bombs and had the reputation as a hard-nosed, intense player.
If you are one of the most prolific home run hitters in baseball history and you played with reckless abandon, you'd think that you would receive a tremendous amount of attention. However, Mathews had one major problem. He was on the same team as the all-time home run champion Hank Aaron! Anyone would get a little overshadowed if Hank was in the same lineup. As Lou Gehrig was to Babe Ruth, Eddie Mathews was to Hank Aaron. Mathews may have been overshadowed, but his accomplishments speak for themselves.
Mathews, a 10-time all star, belted a total of 512 homers. What is even more impressive is that he hit 500 homers, despite the fact that he retired at age 36. Most players climb into the 500 home run club at a later age, but Mathews suffered a shoulder injury that shortened his career. The premature end to his career was much like Mickey Mantle's. Who knows how many homers these guys could have hit if it weren't for their injury.
Mathews was also part of the most prolific home run duo of all-time. Mathews, along with teammate Hank Aaron, combined for 863 homers as teammates. Many people would probably guess that this honor would go to Babe Ruth and Lou Gehrig, but the Brave's duo is on top.

The Tenacious Teammate
When listening to former coaches, teammates and opposing players, they all seem to share the same sentiment about Mathews. If you were involved in a bar fight, you would want Eddie on your side. In perhaps one of the most famous brawls in baseball history, Mathews showcased his tough side. In 1960, during the first game of a doubleheader with the Cincinnati Reds, Mathews showed us great quickness and power but it had nothing to do with baseball. Frank Robinson, oddly enough another 500 home run club member, was warned by Mathews for sliding into bases with his cleats high. Mathews threw up only one flare and, the next time it happened, Robinson was mauled.
While legging out a triple, Robinson came at Mathews with his cleats up high again and the rest is history. Mathews delivered a combination that Marvin Hagler would have been proud of. In an instant, right after one of Robinson's cleats drilled Mathews in the head, Mathews turned Robinson's head into a punching bag and landed several shots to his face. Battered, bruised and bloodied, Robinson continued to play, despite continual bleeding from both eyes. Mathews was ejected from the game, but it was clear that nobody messes with Eddie Mathews. As you might imagine, Robinson never slid into Mathews with cleats high again.
Eddie Mathews will remain an interesting study. He looks like a schoolteacher, but he is a legendary tough guy. He seems to be the most obscure member of the 500 home run club, yet he's part of the most prolific home run duo of all-time. Some of his cards seem underrated and some are so expensive that you would have to take out a second mortgage on your house just to pay for one of them. It may seem confusing, but the mystery behind Eddie Mathews simply adds to the interest in him as a player. His importance as a player, on the other hand, is without question. As a member of one of baseball's most exclusive clubs, Mathews will always be a significant figure in baseball history.

The Cards
As mentioned earlier, Eddie Mathews has some very undervalued cards and some tremendously important ones that might put a serious dent in your wallet. Many of the cards that feature Mathews are among the most popular sets in the hobby. Mathews was a part of the baseball era that brought us great stars like Mickey Mantle, Willie Mays and Hank Aaron. Mathews was also part of the baseball card era that started with the legendary 1952 Topps set and carried through to the colorful 1960s Topps sets.
Let's take a look at some of Eddie's best cards.


Two Dozen Eddie Mathews Cards

1

1952 Topps #407

2

1953 Bowman #97

3

1953 Topps #37

4

1954 Bowman #64

5

1954 Topps #30

6

1955 Bowman #103

7

1955 Topps #155

8

1956 Topps #107

9

1957 Topps #250

10

1958 Topps(w/Aaron) #351

11

1958 Topps #440

12

1958 Topps AS #480

13

1959 Topps #450

14

1960 Topps #420

15

1960 Topps #558

16

1961 Topps #120

17

1962 Topps #30

18

1963 Topps #275

19

1964 Topps #35

20

1964 Topps Stand-Up

21

1965 Topps #500

22

1966 Topps #200

23

1967 Topps #166

24

1968 Topps #58
Examining the Details
Eddie's first card, the last card in the 1952 Topps set, is his most important and most valuable card by far. In fact, you could easily assemble every other card from Eddie's career in mint condition for a fraction of what a NM-MT 1952 Topps Mathews would cost alone! As many of you know, the 1952 Topps set is one of the most popular in the hobby. In addition, the last card in any set commands a major premium due to the scarcity of high-grade examples. Thank the rubberbands for that! Consider the fact that this card is a rookie card of one of the members of the 500 home run club and, in conclusion, it makes for a very desirable issue.
Bowman did not produce a rookie card for Eddie in 1952, but did include him in their 1953 set, which still remains very popular today. This is one of those rare instances where a Bowman card actually commands a higher premium than its Topps counterpart. There are a few reasons behind the discrepancy. First, the 1953 Bowman Color set is extremely popular with collectors. Second, the 1953 Topps Mathews was double-printed. Third, the Bowman issue is very challenging in high-grade.
On the other hand, the 1953 Topps Mathews is no slouch. The black borders on the bottom are easily chipped and very susceptible to wear. The Topps Mathews is also a part of a very popular set and is a very attractive card. This Topps issue is a real affordable alternative to the Bowman issue. You can probably purchase a high-grade example at about one third the cost of the Bowman version. Topps may have won round 1 but Bowman definitely wins round 2.
In 1954, Topps and Bowman produced Mathews cards. From this point forward, Topps regained the upper hand. Because of the wonderful colors and set popularity, the 1954 Topps Mathews has the edge when it comes to demand. Unfortunately, Bowman failed to include key rookie cards of Ernie Banks, Al Kaline and Eddie's teammate Hank Aaron. Oops! The 1954 Bowman set is very collectible as well. That set included a Mickey Mantle card and the Topps set did not, but overall, the Topps set remains more popular. Again, the Bowman example may represent an affordable alternative.
In 1955, Topps produced one of Eddie's most eye appealing cards. The 1955 Topps set is filled with great color and great players. Rookie cards of Clemente, Killebrew, and Koufax highlight the Topps set. Bowman failed to include these three rookie cards and they also left out Ted Williams.
The Topps Mathews card has great blue, red and yellow color. The card really jumps out at you! The 1955 Bowman Mathews, while very difficult in high-grade, is not quite as popular as the Topps counterpart. The Bowman set is not only lacking the star power found in the Topps set, but it also lacks the visual appeal of the Topps version. The 1955 Bowman cards basically take the form of a little brown television set. The brown borders make finding mint examples virtually impossible. Both cards are very affordable, but the Topps issue commands a higher premium.
In 1956, Bowman ended its 8-year run and Topps came out with another great set. The 1956 set, which looks very similar to the 1955 set, is highly collectible. The 1956 set lacks the awesome eye appeal found in the 1955 set, but it still has nice eye appeal with great star power. One thing to look for with the 1956 cards, in general, is the variance in picture quality. Some cards will come with deep colors and great gloss, while others have a very faint and dull picture. Make sure you are selective in your purchases.
In 1957 and 1958, Mathews appeared again in the Topps sets. Both seem very underrated because of the difficulty of the issues. The 1957 set is one of the more popular sets, while the paper stock quality on those 1958's make them tough. In that 1958 set, Mathews appears with the other half of the most prolific home run duo in baseball history, Hank Aaron. The card is entitled "Braves Fence Busters" and it is a really interesting card and extremely affordable. Little did Topps know that these two would make history years later.
From 1959 to the end of his career, Mathews appeared in some great sets. When you consider how great a player he was, these cards are ridiculously cheap. Just check the Sportscard Market Report , his cards seem like steals at current levels! The 1960s Topps sets are filled with very affordable examples of his cards. A few of his more interesting cards from this era are his 1962, 1963 and 1965 Topps cards. The 1962 Topps Mathews is great because of the general difficulty in finding nice examples. The tough, easily chipped brown borders make it hard to locate high-grade cards. The 1962 Topps card captures Mathews in a batting pose that really shows up well against the dark borders.
The popularity of the 1963 Topps and the difficulty in locating high-grade examples make the '63 Topps Mathews another keeper. The colored bottom borders are very easily chipped and reveal microscopic wear. The 1963 Topps cards have an advantage over the 1962s in that they have superior eye appeal due to the coloring. Instead of solid brown borders, the 1963s have bright colored bottom borders mixed in with white upper and side borders. These cards have wonderful visual appeal. This set also has a couple of great Hall of Fame rookie cards in Pete Rose and Willie Stargell.
The 1965 Topps issue is also one of the better cards from the 1960s bearing Eddie's face. The set has great coloring with nice photography to compliment the front of each card. Finally, in 1968, Mathews was featured on his last card. The last card of any major leaguer is always popular because you can see the player's final career numbers on the reverse.
That is the end of the Mathews file. As you can see, there are some great opportunities for collectors of 500 home run club members as many of Eddie's cards are phenomenally cheap. Eddie Mathews, as time goes on, will remain a popular name with baseball fans because of his outstanding baseball achievements and membership in one of baseball's most exclusive clubs. His legendary drive and competitive fire only adds to one of baseball's best sluggers. Don't be fooled by his gentle appearance, Mathews was one of baseball's most intense competitors. He will remain a baseball legend.