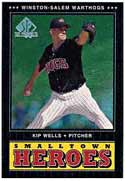 Rookie performance overall impacts the price of the card and the mood of the collector. The trouble with collecting rookie baseball cards is that instant euphoria may lead to severe depression down the road. The good thing about collecting rookie baseball cards is that collectors may also gain instant euphoria and a valuable card if a rookie prospect really hits the big time.
Winning a rookie-of-the-year award can lift the value of a rookie card, especially if that rookie goes on and becomes a star. Just ask any collector who was lucky enough to invest in a 1982 Cal Ripken, Jr., 1987 Mark McGwire or a 1993 Mike Piazza card. All three were named rookies of the year in their respective freshmen seasons and have gone on to post hall-of-fame numbers.
But for every Ripken, McGwire or Piazza comes a promising rookie who turns out to be a bust, possibly leaving the card about as valuable as the cardboard it was printed on.
Jerome Walton helped lead the Cubs to the National League East title in 1989 and hit in 30 consecutive games enroute to winning the NL rookie of the year award. He never matched those totals and went from team-to-team, later winding up as a bench player. Joe Charboneau was the talk of baseball when he won rookie of the year honors for the Cleveland Indians in 1980. But within three years, he was out of baseball and known more for being able to drink milk through a straw in his nose than his hitting achievements. Pat Listach of the Brewers looked like a sure bet for stardom after being named AL rookie of the year in 1992, but within three years he was a reserve struggling to stay in the game.
Last year's cover boy was J.D. Drew of the Cardinals, formerly listed as a can't-miss-rookie-card bonanza. Injuries kept him out of the lineup for part of the first half of the season -- he also earned a quick demotion to the minors -- and he never was a contender for top rookies.
It is with that in mind, collectors hope this year's crop of rookies have begun spring training with hopes of being more of the mold of a Ripken or McGwire, rather than a Walton or Charboneau.
THIS SEASON'S PROMISING ROOKIES
Some have already had a taste of the major leagues -- there are strict regulations established by baseball for what is considered a rookie (limits on number of at-bats or innings pitched).
Two left-handed pitchers head the list. Rick Ankiel, who made his Major League debut last August for the Cardinals, is rated as the top pitching prospect in the National League. At age 21, Ankiel figures to be the Cardinals' fifth starter on an improved starting pitching staff. Ankiel was brought along carefully by the St. Louis organization, which has seen its share of promising rookies (Matt Morris, Alan Benes) felled by arm injuries.
In the American League, Matt Riley of the Baltimore Orioles is considered the top young pitcher. Scouts forecast that he will be a fifth starter for the O's. Like Ankiel, Riley is young, only 20, and will not be rushed into the rotation.
Kip Wells could be a challenger to Riley for top pitching honors. The Chicago White Sox pitcher was a first round draft pick just two years ago and rose through the farm system quickly, eventually going 4-1 with an impressive 2.25 ERA in a short stint with the varsity last year. Wells could be as good -- if not better -- than 1998 rookie of the year Kerry Wood of the rival Chicago Cubs, who missed all of last season with elbow problems.
Catchers like Piazza rarely make a dent as a rookie because of the defensive demands and the need to control the pitching staff. Ben Petrick of the Colorado Rockies batted .323 during a September run in the majors last year and could move past veteran Brent Mayne as the every day backstop. But Petrick needs to work on his throwing and that could cause him to be a part-time player until later in the year.
His teammate, Edgard Clemente, is one of several players who carry a well-known pedigree into this season and could be a rookie factor. Clemente, son of the late Hall of Fame player Roberto Clemente, has a great arm but hasn't proven himself as a major league hitter.
Jerry Hairston of the Orioles is a prime second base candidate, unlike his father who was an outfielder. Tony Armas of Montreal, who shares the same moniker as his heavy hitting father, is a pitcher for the Expos and is pegged to start the season at AAA ball. But a quick start could give him a promotion to the majors for the young Expos' starting staff.
Toronto thought enough of rookie Vernon Wells to send Shawn Green packing in a trade to the Dodgers. Wells, just 21, will be given the chance to earn the starting spot in the spring. He is considered the Jays' best prospect.
Unlike the aforementioned rookies, it is much tougher for a rookie to immediately fit into a club that made the playoffs and won its division title last year. That is the prospect that faces Erubiel Durazo of the Arizona Diamondbacks and Ed Yarnall of the New York Yankees. Durazo has already been penciled in to start at first base for the veteran team, due mostly to hitting .329 with 11 homers in a short stint last year for the Dbacks.
The two-time defending champion Yankees are looking to Yarnall, a southpaw, to be a fifth starter on a proven rotation that features Roger Clemens, David Cone, Andy Pettite and Orlando Hernandez. Talk about pressure for a rookie!
Likewise, Ruben Mateo of the Rangers will be given the starting centerfield spot on the defending AL West champion club. Mateo and fellow rookie third baseman Mike Lamb are being counted on to fill the offensive holes left by the trading of Juan Gonzalez to the Detroit Tigers during the off-season.
RISK AND REWARD: THE STARS AND THEIR FORMATIVE YEARS
Card collecting always involves watching players carefully throughout their careers. Not every rookie player immediately starts out with impressive statistics. For example, even Sammy Sosa did not start off as a superstar when he first began his career. After his first 5-6 years, Sosa really started to blossom. Now he is the home run hitter we watch today.
Even the best of players will encounter injuries or have poor seasons, but many collectors know that this also presents buying opportunities. For collectors who follow a player with a poor season, this may be a unique opportunity to purchase rookie cards at a good price. Many of these young players who were injured during one season may heal and improve the next. So if these young rookies get back on track, this may produce some promising results later for watchful collectors.