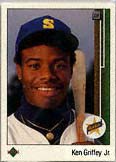 Now they can call it "Home Run Central."
The Cincinnati Reds' acquisition of hometown favorite Ken Griffey, Junior, has transformed the National League Central from a two-man war into a three-man battlefield for home run supremacy in the Major Leagues.
All of this in a short, three-year span.
Prior to the mid-1997 season, home run haven Wrigley Field was Sammy Sosa's address, although the slugging Cubs' outfielder only put up some impressive, but not eye-popping numbers since taking the "el" uptown from Comiskey Park in the early 1990s.
Then in July of that year, the St. Louis Cardinals, seldom known for having home run sluggers on their roster, gambled and acquired Mark McGwire from the Oakland A's with the hope of making a pennant run. The run never took place, but the Cardinals surprised many collectors by signing Big Mac to a long term contract, thus preventing him from testing the free agent waters and signing with a bigger market team.
No one has to tell a collector what happened in 1998. Or 1999 for that matter. Wrigley Field and Busch Memorial Stadium were the places to be for collectors who wanted a chance at an historic home run ball (or an autograph from one of the two sluggers).
Enter Griffey into the mix.
The American League home run champ will settle into Cinergy Field (formerly Riverfront Stadium), although that will soon give way to a new ballpark downtown. Reds' executives, who swung the deal for the former Seattle outfielder, were aware of Griffey's wishes to come back to his hometown and move closer to his current residence of Orlando, Fla. They also knew acquiring Griffey would boost attendance at their new ballpark when it opens in a couple of years.
The long-term contract with the Reds also means Griffey won't be wearing his Seattle uniform on any new trading cards. So collectors worldwide will be watching prices of his rookie card and other early career cards throughout Griffey's next decade.
His first-year card with the Reds wearing jersey No. 30 (he couldn't pry No. 24 away from soon-to-be-hall-of-famer Tony Perez, whose number 24 is being retired this year) will probably be saved by many fans and collectors, who believe Griffey will break Hank Aaron's home run record. If Griffey's past history is an indication, Griffey will also eclipse the Reds' record for most homers by a left-hander (Ted Kluzewski's 49 set in 1954) or George Foster's overall club record of 52 established in 1977 as a part of the Big Red Machine.
The trade also means the Sosa-McGwire mano-a-mano that occurred 12 times in each of the past two years will be expanded. Sosa-Griffey, McGwire-Griffey and Sosa-McGwire will occur 36 times this season. Translated for collectors, this means more memorabilia of the trio will be available as they compete against each other for home run supremacy in the National League. It also means additional sellouts at Wrigley and Busch when the Reds come to town, plus new-found capacity crowds at Cinergy when Sosa and McGwire come calling.
What it may mean, however, is that those teams will go to greater lengths to pitch around the sluggers knowing that one swing could make a difference in a close game.
Yet, acquiring a superstar home run slugger doesn't necessarily translate into increased chances of post-season play or added visibility for potential collectibles.
McGwire's acquisition by the Cardinals is the latest example. St. Louis believed that trading for a home run hitting first baseman would solve their offensive woes and make them more competitive in the National League Central. Since acquiring McGwire and his 156 homers over that span, the Redbirds have played BELOW the .500 mark. It isn't McGwire's fault, the Cardinals pitching has been suspect.
When the Cubs acquired Sosa from the White Sox for George Bell, they had already won a division title in 1989 and seemed ready to be a regular contender. But since Sosa's acquisition, the Cubs have finished over .500 just twice. They are a combined 60 games under the .500 mark over the last six seasons, including a dismal 28 under .500 last year when Sosa posted his second consecutive 60-home run plus season.
The Reds will be an interesting story. Unlike the Cardinals and Cubs, Cincinnati has been a contender for most of the past six seasons. This includes last year when they were the surprise of the National League with a 96-67 record. Only a one-game playoff loss to the New York Mets prevented Cincinnati from reaching the league championship series. Adding Griffey to the mix will certainly improve the Reds' offense, just like Sosa did for the Cubs and McGwire did for the Cardinals. But Griffey can't pitch and the Reds, like the Cubs and Cards, will contend only if their starting pitching gets healthy -- and competitive.
Still, the good news for Griffey collectors is that he will face the Chicago and St. Louis pitching staff a total of 26 times, instead of facing the likes of the Yankees and Red Sox -- and Pedro Martinez -- in an equal amount of games last year. The bad news is Griffey will have his first chance to face a former teammate -- Randy Johnson -- when the Reds and Arizona Diamondbacks first meet this season.


Home Run Heroes - Griffey, Sosa, McGwire

Sportscard Values -- SMR, Feb. 2000

Ken Griffey, Jr. -- Reds

Description

NM MT 8

MT 9

GMT 10

1988 Minor League Platinum #1 (Best, SB A)

400

800

5,600+

1989 Score Young Superstars #18

25-

60-

400-

1989 Score Traded #100T

20

60

350

1989 Scoremasters

15

30

250

1989 Topps Debut #46

15

38

325

1989 Topps Traded Tiffany

150

300

1,500

1989 Topps Traded

15

30

225

1989 Upper Deck #1

125+

300+

2,100+

1989 Bowman #220

20

55

1,000+

1989 Bowman Tiffany #220

325

750

5,000+

1989 Donruss #33

18

60

1,650+

1989 Donruss Baseball's Best #192

25

60

1,650+

1989 Donruss Rookies #3

20

55

1,500+

1989 Fleer #548

18

50

775+

1989 Fleer Glossy #548

150

400+

4,000+

Sammy Sosa Cards -- Cubs

1987 Minor League Sammy Sosa

110+

375+

3,200+

(ProCards, Gastonia A) #1789

1990 Bowman #312

10

30

350

1990 Bowman Tiffany #312

75

225

1,600

1989 Donruss Baseball's Best #324

15

75

1,500+

1990 Donruss #489

8

30

375+

1990 Leaf #220

50

150

750

 
Mark McGwire -- Cardinals
 
1985 Topps Tiffany #401 Olympic

435

810

7,200+

1982 Minor League, Anchorage

250

425

1,650+

1985 Minor League, Chong, Modesto A #17

300

800

2,500

(misspelling "McGuire" instead of McGwire)

1985 Minor League , Chong, Modesto A #17

200

450

1,500

1986 Minor League (Huntsville, AA) #33

45

95

675

1986 Minor League #3 (Djennings, SL All Stars AA)

25-

70-

350-

1987 Leaf #46

15

30

425+

1987 Fleer Update #76

10

25

350