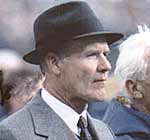 Tom Landry, coach of the NFL's powerhouse Dallas Cowboys for three decades, died Saturday, February 12, at Baylor University Medical Center. This terrible news comes about a week after the tragic death of NFL star Derrick Thomas. The famous coach, known for his stoic look during his coaching tenure, was 75.
Landry, coach of the Cowboys for nearly 30 years, led his team to five Super Bowls during that time. He came away with two victories in those five chances. Landry's 270 victories place him third on the all-time victories list. Don Shula and George Halas are the only two coaches with more victories.
Landry, before taking the head coaching position with Dallas, was a defensive back for the New York Giants from 1950-1955. Despite a solid NFL career, Landry will always be remembered for his coaching. Event though Landry got off to a horrible start, going 0-11-1 in his first year as head coach, he began a streak of 20 consecutive winning seasons after 6 years at the helm. During this streak, Landry led the Cowboys to 13 division titles. Both of these marks are almost unimaginable. The level of consistency was astounding.
NFL commissioner Paul Tagliabue, in a statement, made Landry's impact clear. "Tom Landry's familiar presence on the Dallas Cowboys' sideline for the decades represented the NFL at its best," said Tagliabue. "He will always rank as one of the all-time great coaches and as an architect of one of the most successful teams in sports history. He will be remembered for many special reasons, including his record as a coach, the innovations he brought to the game, and the personal integrity he displayed."
Landry collectibles, especially sportscards, have enjoyed solid demand over the years. His face appears in some of the most popular football sets in the hobby. Landry's rookie card, #20 in the 1951 Bowman set, is the second most valuable card in the set behind the Norm Van Brocklin rookie. Landry's rookie lists for $475 in near mint, $900 in near mint-mint and $2450 in mint condition according to the February issue of the Sportscard Market Report.
Other Landry cards are included in the 1952 Bowman Small, the 1952 Bowman Large and the 1955 Bowman sets. All three cards rank amongst the most valuable cards in each respective set. Early Bowman football cards are very popular with collectors and all of Landry's cards are keys.
There is no question, evidenced by the outpouring of love since his passing, that Landry will be missed by many. He seemed to have just as powerful an impact as a person as he did as a head coach on the field. Many former players give Landry credit for shaping them as individuals on and off the field. For his positive influence on others and incredible coaching record, Landry should continue to have a strong following in the hobby.