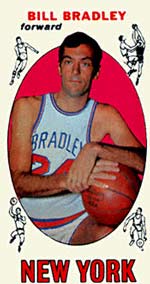 con't from page 1 -- Athletes Get Into Politics...
Three months ago, it did appear that Bradley, rather than Sen. John McCain, the Republican insurgent candidate from Arizona who threatens to overtake early favorite George W. Bush on the GOP side, would be the one to triumph as the underdog winner. Polls showed Bradley ahead of Gore in New Hampshire even among independent voters. But a combination of factors -- Gore's revitalization of his campaign staff, Bradley's health problems with an irregular heart beat (similar to what current Boston coach Larry Bird is battling) and more independents drifting toward McCain Bradley's campaign could begin to show the first signs of trouble.
Ironically, Bradley was as low a profile member of the high profile Knicks during his playing days. Though he now signs for any autograph seeker while on the road campaigning, Bradley kept away from all such endeavors during his playing days.
Earl "The Pearl" Monroe, Walt "Clyde" Frazier, Willis Reed and Dave DuBusschere reveled in the spotlight, playing in the NBA's biggest market, and drew endorsement and card show deals that were impressive for the era in which they played. Bradley, probably aware those types of events would hurt a political run, kept to himself and out of the spotlight (and media's way). Bradley was voted to the all-star team just once during his decade in the pros in part because he was considered such a team player
Unintentionally, his stay out of the spotlight philosophy led to an increased value of Bradley autographed cards, jerseys or any other memorabilia. That is, until he needed that type of publicity to jump start his first run for the Senate in his adopted New Jersey nearly 20 years ago.
Bradley put up eye popping numbers in college, averaging more than 30 points per game, earning national player of the year honors. At Princeton, he was so clearly a cut above his teammates, that he single handedly carried them to a Final Four appearance in 1964.
Many believe he could have run up bigger numbers -- some suggest he could have been in the rarified air of say a Pistol Pete Maravich's numbers -- had he not been so diligent about passing to his teammates. To prove the point, all you have to do is look back at his college career. In his senior year, when he led the Tigers to the Final Four, he averaged 35 points per game, including 58 points in the consolation game of the 1965 tournament. So impressive was Bradley, that he was named the outstanding player of the Final Four, even though UCLA won the national championship.
After bypassing the NBA to take the Rhodes Scholarship, he joined the Knicks in 1967. The team was so eager to have him, that they patiently waited for Bradley after making him their first round draft choice two years earlier.
The NBA had a thing called a "territorial round" draft choice in those days. College stars in their nearby area would be "reserved" for that particular NBA team regardless of how they finished the previous year, because the NBA was hungry for gate attractions in those pre-Magic, Bird and Jordan days.
In 10 NBA seasons, he averaged 12 points per game, but averaged nearly four assists per game -- unheard of for a small forward in the pre-Jordan era. His single most impressive characteristic was his free throw shooting -- no surprise considering the required element of concentration, still a Bradley strength today. He hit 84 percent from the charity stripe -- regularly finishing among the top three in the entire NBA.
Politics was always on Bradley's mind though, and when he netted a victory in 1978 in New Jersey, he began a string of victories that mirrored his basketball successes. He isn't used to losing.
Obviously, a Bradley win in the Democratic convention this summer, let alone a election victory, would cause a run on all things Bradley. No former athlete with these types of athletic credentials has climbed so high on the political ladder. Dwight Eisenhower and Ford are considered the best two athletes to ascend to the presidency -- Ike played football at Army (and later golf seemingly every other day while in the White House) while Ford was a standout lineman at the University of Michigan. Pictures of both the Republican presidents during their college playing days have brought significant prices at auctions in the 70's and 80's.

Neither were professional stars.

A Bradley presidency might bring unheard of prices on the market for his collectibles --but don't shove those Jordan or Magic rookie cards to the back shelf just yet.


Athletes Who Became Politicians

Sportscard and Autograph Values

No.

PLAYER - POLITICIAN

EX5

EXMT6

NM7

NMMT8

MT9

Whizzer White

21

1955 TOPPS All American SP

20

35

60

125

425

Set Price (100)

1637

2698

4917

11700

30375

Jack Kemp

124

1960 FLEER (R)

75

125

225

450

1050

155

1961 FLEER

60

90

150

300

600

166

1961 TOPPS

40

60

110

270

550

79

1962 FLEER

70

110

200

400

825

24

1963 FLEER

50

90

160

350

975

30

1964 TOPPS SP

40

60

125

250

585

35

1965 TOPPS (R) SP

65

125

200

330

750

26

1966 TOPPS

45

75

135

275

550

Steve Largent

177

1977 TOPPS (R) (HOF)

30

55-

125

443

1978 TOPPS

18

35

100

Steve Largent Autographs:

HOF

3x5-A/P

Gum Card

Photo

Check

GLAC

LTR

SSJ

SSF

1995

15

20

30

unknwn

35

60

200

125