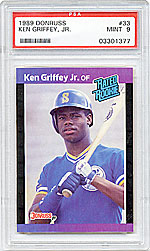 Junior is going home.
Seattle Mariners traded Ken Griffey Jr. this week in a four-for-one deal with the Cincinnati Reds. In a historic move, the Mariners traded the superstar on February 10 at the height of his career. In return, Seattle received pitcher Brett Tomko, outfielder Mike Cameron and two minor leaguers – infielder Antonio Perez and right-handed pitcher Jake Meyer.
With Griffey's free agent status looming next year, the Mariners had to act. Griffey had already rejected an eight-year deal with the Mariners worth $148 million. At the end of last season, he made his desire to leave Seattle public.
In November 1999, Griffey commented, "This has been an extremely difficult decision for me. I've only played for the Seattle Mariners since being drafted by them in 1987. The Mariners have always been great to me and my family. I want all Mariner fans to understand that my decision does not have anything to do with money or other issues. It is motivated solely by my desire to continue my baseball career playing on a team located closer to my family home here in Orlando, so that I can enjoy more time with my wife and young children."
When the Mariners tried to deal with the Mets so they would have the Mets trading promising right-hander Octavio Dotel, base-stealing center fielder Roger Cedeno and reliever Armando Benitez, Griffey vetoed it. Since Griffey was one of baseball's rare 5-and-10 players (five years with his team and 10 in the major leagues) at the end of the season, this enabled him to dictate the terms of his departure.
By December 1999, Griffey made it clear that he was only interested in the Cincinnati Reds. Although he could have made significantly more, and some say he could have hit the $200 million mark, Griffey chose the move away from Seattle to Ohio.
The first pick in the 1987 draft, Griffey had joined the Mariners as an 18-year-old straight out of high school. Today, Griffey at 30 years old is a 10-time All-Star and 10-time Gold Glove winner with 398 home runs and franchise records in almost every offensive category. Seattle celebrated baseball's favorite son throughout the years, yet with this move many Mariner fans are upset.
Mariner fans may fume, but sports cards and memorabilia collectors who have Griffey in the Seattle uniform should watch how this trade boosts values in their collectibles. Other home run watchers, who have invested in Griffey items and hope that he'll chase down Hank Aaron's record of 755 home runs one day, see the move as a step closer to making the dream a reality.
When the Seattle Mariners moved to their new stadium in the larger Safeco Field, some say the fences and the winds were less conducive to Griffey's home run chase. With Griffey's move to the Reds, Griffey enters an excellent hitters' ballpark that should help him make the record.
Reds fans are looking forward to some of the most exciting days since The Big Red Machine. After signing a nine year contract with the Reds for $116.5 million, Griffey gets to play for baseball's oldest team with a loyal fan base that treasures the game. The Reds have had such historic players, such Johnny Bench, Pete Rose, and Tony Perez. Griffey will play from 2000 to 2009, and the Reds will have an option for a 10th season.
This also moves one of the best players in franchise history into National League Central, where Mark McGwire and Sammy Sosa headline as homerun hitters. Watchers can't wait to see Griffey play against Sosa and McGwire during the season. But what makes Griffey different from these heavy hitters is that he's also one of the best center fielders around.
The trade also reunites Junior with his father, who currently coaches the Cincinnati team. Ken Griffey Sr. not only was a key part of The Big Red Machine in the 1970s, but he is a likely successor to become manager in a few seasons after 69-year-old Jack McKeon retires.
More history about Ken Griffey, Jr...
Informed Opinion--Seattle Can't Make Griffey Deal
Taking Superstar to a New Level