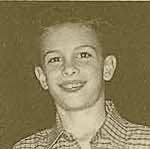 He can field like Derek Jeter. He can hit like Nomar Garciaparra. He has an arm like Roger Clemens. What's even more scary is that he is left-handed! All of this talent in one player, it's not fair! While other players go out on the town to party after the game, he is content sucking on a snow cone. He doesn't drink or smoke. Despite his unreal abilities, he still does his chores, goes to school everyday, does his homework and goes to bed at 9 p.m. every night. What could he be worth on the free agent market? $10,000,000? $20,000,000? Who knows?
Okay, maybe I am exaggerating a little, but 8 year-old Justin Sanders hopes that one day he will playing first base for the New York Yankees or Los Angeles Dodgers and smacking homers into the right field stands. For now, Justin is content playing for his local little league team and collecting the players he admires the most.
Justin, what players do you like to collect?
I like to collect Derek Jeter, Nomar Garciaparra, Roger Clemens and Tino Martinez. Derek Jeter is my favorite because he is a really good player and he plays for my favorite team the Yankees. I like old players too like Mickey Mantle, Sandy Koufax, Babe Ruth and Hank Aaron.
Do you follow any other baseball teams?
I like the Yankees the best but I also like the Los Angeles Dodgers. They have a really good team now with Shawn Green. I like Adrian Beltre too. I go to Shawn Green's hitting school. I met him and he is really nice.
Do you have any favorite cards?
I like the 1999 Bowmans, the Black Diamond cards and the SP series. My favorite card is the SP signature series Derek Jeter.
Why do you like PSA cards?
I like the holders, they're really nice. The holders are great because they protect my cards.
Justin, what do you want to do when you grow up?
I want to play first base for the Dodgers or the Yankees. I also want to collect cards for the rest of my life. I know I just started last year but it's a lot of fun.