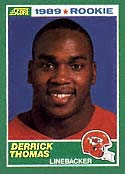 Derrick Thomas, one of football's most devastating linebackers, died suddenly on February 8 from a heart attack at Jackson Memorial Hospital while undergoing treatment for injuries sustained in a recent car accident which left Thomas paralyzed from the chest down. Thomas' death was shocking to everyone, including the medical team overseeing Thomas' rehabilitation.
"This is a total shock," said Dr. Barth Green, professor and chairman of neurosurgery at Jackson Memorial, "We had a medical team there within seconds, but there was nothing that could be done."
Thomas' unfortunate death seems to have finally brought some attention to the NFL's sack leader for the 1990's. Although a large man in his own right, Thomas beat opponents that were even larger, with speed and desire. Considered one of the greatest pass rushers of all-time, Thomas set a record for sacks in a game by dropping Dave Krieg of Seattle 7 times in 1990. He ranks ninth overall in NFL history with 126.5 sacks in his career.
Numbers alone can't sum up the impact Thomas had on the sport. For those who had the pleasure of knowing him, they will tell you he was an even better human being than he was a player. Thomas, a 9-time Pro Bowl selection, was named the NFL's Man of the Year for his community efforts and charitable contributions. Needless to say, Thomas was always a well-liked person.
His best rookie card, the 1989 Score card, is listed in the Sportscard Market Report (SMR) at $6 in NM-MT 8, $15 in Mint 9, $50 in Gem Mint 10, a small price to pay for this perennial all-star. As a defensive player, Thomas did not get the recognition that offensive players receive, which has resulted in affordable pricing.
In the NFL, unless you're a quarterback, running back or wide receiver, many football greats get overlooked. This seemingly illogical pricing pattern represents a wonderful opportunity for most collectors. Thomas, a sure bet for the Hall of Fame, is so undervalued that it seems ridiculous, especially since his impact was felt immediately upon his arrival in the NFL. He left a lasting impression with his tenacious defense as well as his generous nature.
It will be some time before we know exactly how Thomas's death will affect the hobby, but it certainly will have an immediate affect on all of those who knew him, and those who sought his cards in their admiration of his tremendous talent.