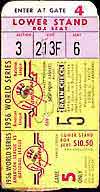 Pitcher Bob Grim's rookie season in 1954 established an incredible record. When Grim burst onto the scene, he posted an incredible 20 wins against only six losses. This outstanding season for the second place Yankees earned Grim the American League Rookie of the Year honors and established him as one of the premier young pitchers in the game. Yet Bob Grim's amazing rookie year also created lofty expectations based on that magical year, which he struggled with the rest of his career. Bob Grim stayed with the Yanks through the first part of the 1958 season and he evolved into a relief pitcher. Yet 1954 and Grim's rookie season continues to remain in the memories of many fans.
Superior Sports Auctions will offer Bob Grim's personal mementos of his career in their upcoming Spring 2000 sale. This will include his incredible 1956 World Series Championship ring, bats and balls from his playing days, plaques, a glove, and three incredible scrap books stuffed with photos and mementos from Bob's days as a Yank.
Bob Grim's personal momentos available through Superior Sports Auctions' next sale on March 8-9, 2000. To register for the auction or to receive a copy of the catalog, contact Superior Sports Auctions.