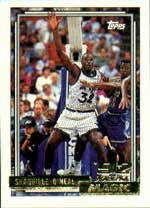 Most NBA prognosticators figured the Los Angeles Lakers would benefit from the hiring of Phil Jackson as their head coach. They just figured it would take the Lakers time to learn Jackson's system. Apparently somebody forgot to tell Shaquille O'Neal. O'Neal was well on his way to an MVP award after the first two months of the season, helping the Lakers become the dominant team in the NBA. When 1999 came to an end, the Lakers owned the NBA's best record at 25-5. They were practically unbeatable in December with a 14-1 record. Only the Sacramento Kings kept them from a perfect record for the month.
It was the first time the Lakers had won 14 games in a month since March 1986, and much of it was due to the play of the team's 7-foot-1, 315-pound center. O'Neal was among the league's top three in scoring, rebounds and blocks heading into 2000. On Dec. 29 against the Phoenix Suns, in his final game of 1999, O'Neal showed why the Lakers have quickly become one of the favorites for the NBA title.
O'Neal's totals in that contest would have been a decent two-game stretch for most players. The amazing numbers: 27 points, 19 rebounds, seven assists and five blocked shots. The Lakers had little trouble beating the Suns, 103-87. "We had a good month, we did what we're supposed to do," O'Neal told reporters after the victory. "We're on a mission, we're playing pretty good." O'Neal has been more than pretty good. He has been playing the best basketball of his career.
He's been a force in the NBA 1992, when he made his debut at age 20 with the Orlando Magic. Despite all the accolades earned in his first six seasons, including NBA rookie of the year and a gold medal in the '96 Olympic Games, O'Neal has been even better so far this season. He's been more productive than ever on the offensive end, but it's been his defense that has really attracted attention.
The Lakers as a whole are making life difficult for opponents with their improved "D."
"The Lakers are playing defense now," San Antonio Spurs coach Gregg Popovich told reporters after his team fell victim to the Lakers on Christmas Day, "That wins games for you and they play it like they are believing it now."
Although O'Neal tried not to overplay the win against the Spurs, it was big for the Lakers. San Antonio swept the Lakers in the second round of the playoffs last season. This time, O'Neal kept Spurs star Tim Duncan at bay, while providing his usual dose of offense with 32 points.
"He's more assertive, more aggressive on both ends of the court," teammate A.C. Green told reporters earlier this season, "It's almost scary how well O'Neal performed in the first 30 games of the season."
Just about the only area in which he has struggled has been at the free throw line, long his Achilles heel, O'Neal's free throw percentage after the first two months of the season was 44 percent, worse than any previous season finish.
On the other hand, he has hit some free throws when it really mattered. Two days before the Lakers' victory against the Suns, O'Neal made two clutch free throws in the final minute to help secure a 108-106 win over the Dallas Mavericks. Even though O'Neal has had his problems at the line, he hasn't let it get him down.
"I don't need to be an 80 percent shooter," he told reporters. "I don't live by percentages. I just want to hit them when we need them."
The other major criticism that has dogged O'Neal throughout his career has been his inability to win a championship. He never did it during his college career at Louisiana State and he couldn't quite do it during the early part of his NBA career with the Magic, despite making one trip to the finals.
Either way, the Lakers certainly believed he could bring them a championship when they signed him to a huge free agent contract before the 1996-97 season. Signing O'Neal continued the Lakers' tradition of stellar centers. It's a good bet that he will eventually follow George Mikan, Wilt Chamberlain and Kareem Abdul-Jabbar into the Hall of Fame.
Although O'Neal still is chasing his first NBA crown, his play in the first two months of the season has the Lakers and their fans feeling optimistic. O'Neal obviously believes good things are in store for L.A., during the summer, he chose not to exercise an option in his contract that would have allowed him to become a free agent. O'Neal always has been popular with collectors. His play in the early part of the season should draw more collectors to his cards and memorabilia. O'Neal's 1992-93 Fleer rookie was listed at $100 for a Gem Mint 10 in the February issue of the Sportscard Market Report. That value is second only to Michael Jordan. His '92-93 Hoops rookie is listed at $100 for a Gem Mint 10. Some of O'Neal's other rookie cards are valued even higher. A '92-93 Hoops Magic's All-Rookies card goes for $225. His '92-93 SkyBox rookie carries a $150 price tag.
When it comes to autographs, O'Neal is in the same class as other former Lakers greats like Abdul-Jabbar, Magic Johnson and Jerry West. O'Neal is a fairly tough autograph to acquire as he rarely makes show appearances. if you were thinking about purchasing any of the above, you might want to do it soon. The way O'Neal has been playing, the prices will only continue to rise.