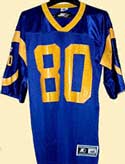 It's that time again. Every year you hear cases of it happening around Super Bowl time. Like clockwork, you'll read stories about counterfeit and unlicensed Super Bowl merchandise sold by unscrupulous sellers. Team jerseys, hats, t-shirts, sweatshirts, and footballs are popular purchases of Super Bowl fans who want souvenirs of their favorite team.
In 1998, the Green Bay Packers and the National Football League tracked down counterfeiters who tried to illegally make a buck off the team and the league. This year, replica St. Louis Rams jerseys have been uncovered during the playoffs. These jerseys featured the popular Kurt Warner No. 13 and Marshall Faulk No. 28.
With the excitement of the game, some fans discover that poor quality counterfeits are what they come home with. The National Football League understands this, which is one of the reasons why they are vigilant about pursuing sellers of counterfeit items. Since the NFL receives a fee for all items that have NFL team names or logos on them, they are concerned about unlicensed merchandise that is sold to fans who may not know the difference.
Here are some tips to detecting whether the NFL merchandise you've purchased is legitimate:
Examine Super Bowl items for a hologram sticker indicating it is a NFL product.
Look for the NFL Properties tag on the garmet or item
Be familiar with the team colors and logos. Mismatched or unusual shades of colors or the use of imperfect logos may be a sign of a counterfeit.
Items bearing slogans with crude of derogatory language are usually unlicensed. The NFL does not issue licenses for any items with this type of language.
Game-used Equipment
Counterfeiting has especially been a problem with game-used equipment. The NFL has decided to join forces with PSA/DNA (a Collectors Universe division) to put a halt to this kind of fraud. For this year's Super Bowl, footballs will be tagged by PSA/DNA.
Click here for more information about PSA/DNA and the Super Bowl.