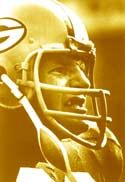 by Barry Shuck
One of the saddest facts of growing older is the realization that the heroes we idolized in our youth eventually must pass on. For football fans, perhaps the most alarming reality is that our heroes from the Lombardi era are slowly slipping away.
In 1997, the disheartening news was the loss of Green Bay Packer great Don Hutson. Then Ray Nitschke, who died of a heart attack in Naples, Fla. March 8, 1998. He was only 61.
Nitschke was a Green Bay Packer icon. A fullback at Illinois, he was selected by the Packers in the third round of the 1958 draft. The Packers converted him to a middle linebacker, and he anchored the Pack defense until his retirement in 1972. After the 1962 NFL Championship Game, he was named MVP, a rare honor for a defensive player. He was a major part of Packer teams that captured five championships, including the first two Super Bowls. Big Ray was a member of the NFL 75th Anniversary all-time team and was elected to the Pro Football Hall of Fame in 1978. In to day's collectibles world, all a player needs to be plastered on cardboard is potential. During Nitschke's day, you had to be one of the league's better athletes to be included in next year's football card set. No. 66 stood above the rest - usually looking down at a vegetable garden once called a running back.
"What you'll find is not so much the greatest interest in his trading cards, but more so for memorabilia that he autographed," said Brian Wentz, CEO of BMW Sportscards in Madison, Wis. "There (aren't many) great players that would give (back) to people like Nitschke did. In general, he was very visible."
Nitschke wasn't a great physical specimen, didn't hit dingers or sport a 1.25 goals per-game average. He couldn't slam dunk, throw 60-yard bombs or perform bicycle kicks.
He never wore a "do" or an earring. Any jewelry he wore had sentimental value. His longtime roommate, Carroll Dale, once set him up with a hairpiece salesman. The man didn't succeed, but talked Dale into getting a hair hat. Nitschke was the real deal, and his number was listed in the Green Bay telephone book until the day he died.
"Ray was fantastic and always loved people genuinely," Dale recalled. "Many times with the team, the buses would be late in leaving because he was signing autographs. He was a fan favorite and wanted to stay as long as he could."
It seems odd that one month a well-liked star athlete's autograph can be worth a paltry $20 and then jump 50 percent in value overnight. Mickey Mantle's signature jumped as much as 70 percent in one month before tapering off to a 35 percent average increase.
Nitschke's signature already has increased in value. Those who wanted to meet him in person suddenly are faced with the fact that Ray won't be signing any more autographs.
Ball Four Sports Collectables in Wauwatosa, Wis. had Nitschke as an autograph guest at numerous public and private signings. One thing that never ceased to amaze Ball Four President Steve Pemper was that most of the people who came to those signings were genuine fans rather than collectors.
"People could never get enough of him," Pemper said. "He enjoyed the fans and would take the time to have photos taken and talk. There is no way you could fake hours and hours of that."
"(His signature) won't double overnight like Mantle's did. Ray was very popular when he was alive and made a lot of autograph appearances," Wentz explained "Right now there might be an increase of about 40 percent in the short term."
Before Nitschke's death, a signed photo was worth about $20. Expect to see single-signed Nitschke items escalate initially over team-signed items.
People flocked to events where he was a guest signer. During the week prior to Super Bowl XXXI Ray appeared at the NFL Experience in New Orleans. At his booth in the apparel section, scores of people stood in long lines patiently waiting their turn.
As Nitschke stood in the doorway leading from the hospitality room, he gazed out at the line. "What are they selling out there?" he asked a nearby security guard. "You," the guard answered. To that Ray quipped, "Well, I guess I should've worn clean underwear!"
Nitschke loved being around people and never quite understood why they wanted his autograph. His line was always the slowest because he would talk all day. After meeting each fan, he felt like he had just added another friend to his long list.
He was the meanest guy you ever wanted to have a beer with.
"He was as good as anyone who ever played the middle linebacker position," said fellow HOFer Don Maynard. "He had such a competitive personality, and just got after it. But he was the exact opposite as a person."
Thirty-one Nitschke cards have been produced since his retirement. Most are included in HOF dedicated sets such as Swell and Enor, among others. The coolest set is the Goal Line Art series. These postcard-sized reproductions of paintings are not only gorgeous, but the matte background and larger format make them ideal for autographs.
Several football card insert sets have featured autographed Nitschke cards.
1995 Collector's Edge TimeWarp shows Nitschke bearing down on Natrone Means. A jumbo version was available in an autographed variation signed only by the retired superstar through a wrapper redemption. This year's Upper Deck Legends featured signed Nitschke cards seeded randomly in packs.
Probably the hottest Nitschke signed item is any vintage Packer yearbook, with the 1968 version featuring His Rayness on the cover being the most coveted. This has been selling well for $125.
Ray Nitschke was a ferocious ballplayer and a special human being. If you currently own an excess of signed Nitschke items, don't expect to get rich quick. Just remember that Big No. 66's generosity will always mean more to those who savor his memory.
Barry Shuck is a freelance writer specializing in sports collectibles. He can be reached in care of Autograph Collector.