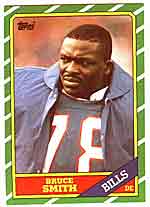 The year 1999 has been a topsy-turvy season in the NFL. Perennial playoff franchises like the San Francisco 49ers and Denver Broncos have struggled while teams with checkered post-season pasts, such as the Indianapolis Colts, have grown to power.
The football trading card market has had a similar turnaround. Rookies are still the desire du jour -- Edgerrin James, Ricky Williams, and Kurt Warner continue to have market success. But cards of previously forgotten players, like Marvin Harrison and Marshall Faulk, are also at the top of many collector wish lists. Before you stock up on these up-and-comers, however, check out the following great card buys of these potential Hall-of-Famers:
1981 Topps Art Monk Rookie (#194) Jerry Rice is number one on the all-time career receptions list; Art Monk is number two. Rice's 1986 Topps rookie is worth $70 in PSA NM-MT 8; Monk's rookie lists for $20. Rice is one of a kind, but Monk is also a legend and a certain HOFer.
1986 Topps Andre Reed Rookie (#386): Reed, the Buffalo Bills all-time leading receiver, was a key component in the Bills four AFC championships. At the start of this season, Reed had caught 889 passes for 12,559 yards, placing him third on the NFL's all-time receptions list. A Mint copy of this card can be bought for about $5 and is a steal.
1986 Topps Bruce Smith Rookie (#389): Smith is the rock that has grounded the Bills defensive line since his selection as the number one pick of the 1985 draft. A certain HOFer, Smith had 164 career sacks entering the season, placing him second all-time. You can pick this card up in PSA NM-MT 8 in the $5 range. As an added note, '86 Topps cards are condition sensitive -- the green borders are difficult to find untarnished -- making a Mint copy of this card an even more lucrative find for the price.
1989 Score Michael Irvin Rookie (#18): Although he's had off-the-field problems during his career, Irvin has compiled great numbers. He was an integral part of the Cowboys three Super Bowl victories, and for much of the '90s was one of the premiere wide receivers in the NFL. In PSA Mint 9, this card sells in the $15 range. By comparison, Cris Carter's rookie from the same set lists for nearly twice that amount. Carter's a great receiver, but not twice as good as Irvin.
1989 Score Derrick Thomas Rookie (#258): Along with Junior Seau of the San Diego Chargers, Thomas has been the most dominant linebacker in football for the last ten years. Thomas currently ranks sixth on the all-time sack list, third among linebackers. This card is a common find in the $1 bargain bins. For a possible HOFer, that's not a bad risk.
1993 Score Select Drew Bledsoe Rookie (#166): Bledsoe's statistics through 1998 are as follows: 21,981 total yards, 128 touchdowns, 55.8 percent completion percentage -- and he's only 27 years old. With Peyton Manning's emergence in Indianapolis, Bledsoe has almost been forgotten. He shouldn't be. His 1993 Upper Deck SP rookie, at around $50 in PSA NM-MT 8, is out of many collector's price range. This rookie card, from the unjustly ignored Score Select set, can be had for $10 or less in the same grade. Click here for more football card prices.