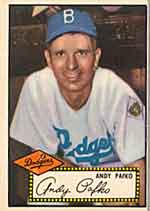 A sportscard collector walked into his favorite local card shop. No, this isn't the set-up for a joke, but the beginning of a story about one of the most exciting sportscards finds in recent memory.
For a year the collector had kept his eyes on an unopened pack of Topps baseball cards that the dealer kept locked inside his glass showcase. The price was prohibitive at $2,000—or so the collector thought. He offered $1,000, but the dealer refused. As the months passed, neither party would give an inch.
What did the pack contain? Would the collector find five common cards, perhaps crimped, out of focus, or badly off-center? Would he find a treasure valued at many times the original asking price? Finally, the collector had his chance to find out, as the dealer lowered the price to $1,000 and the sale was made.
The collector decided he would try to sell the pack unopened at a card show. Maybe he could find a buyer at the $2,000 price the dealer originally wanted. Before any such selling opportunity arose, though, curiosity got the best of the collector.
He opened the pack of Topps baseball cards. The first card was a common one, as was the second card. Why did I do this? the collector was asking himself as he turned to the third card. Suddenly he found himself looking at the #1 card in the set, a magnificent mint example of the ultra-rare 1952 Topps Andy Pafko.
The card was immediately sent to PSA for grading and encapsulation. The highest graded '52 Topps Pafko until that time was a NM-MT 8. The collector was certain that his card was better than that.
He was right! The collector became the owner of the only PSA GEM MINT 10 1952 Andy Pafko card in existence. This amazing card was sold for $83,870 at auction in 1998.
1952 Topps #1 Andy Pafko
PSA Grade Current Price
EX 5 $400
EX 6 $750
NM 7 $5,350
NM-MT 8 $35,000
MINT 9 $70,000