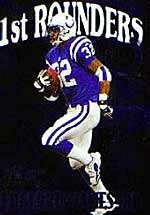 The Indianapolis Colts surprised just about everybody when they made running back Edgerrin James the fourth pick of the NFL Draft, ahead of Heisman Trophy winner Ricky Williams.
But heading into the final stretch of the 1999 season, the Colts certainly weren't having any second thoughts.
While Williams struggled with injuries and had trouble making an impact with the New Orleans Saints, James helped turn the Colts into a contender and was the leading candidate for Offensive Rookie of the Year. James missed three weeks of training camp and two preseason games because of a holdout, but a late start didn't hurt him on the field. After signing a seven-year, $49 million deal, James had less than a month to prepare for his first NFL game.
He opened the season with 112 yards rushing in a win over the Buffalo Bills, following that up with 118 yards in a loss to the New England Patriots. In the process, he became just the eighth running back to begin his career with back-to-back 100-yard performances.
The addition of James has helped the Colts form a triumvirate that is being compared to one of the best in NFL history. James, quarterback Peyton Manning and wide receiver Marvin Harrison have proven so devastating to opposing defenses that many are likening them to Troy Aikman, Emmitt Smith and Michael Irvin of the Cowboys, who led Dallas to three Super Bowl titles. But the key might be James. With Manning and Harrison in 1998, the Colts were 3-13. Adding James, they were 9-2 and in first place in the AFC East after 11 games of the '99 season. James surpassed the 1,000-yard mark after just 10 games. He led the AFC and was second in the NFL with 1,076 rushing yards after 11 games.
Not bad for someone who still could be playing college ball. James starred at the University of Miami where, among other feats, he set school records for single game rushing (299 yards against UCLA) and most career 100-yard games (14). He could have tried to become the first running back in school history with three straight 1,000-yard seasons, but family came before personal accomplishments so he bypassed his senior season in favor of the NFL.
"It's a big world out there and a lot of people don't know about (being poor)," he told reporters in Indianapolis after being drafted. "Growing up, I was one of those (who knew)."
James' mother worked in a high school cafeteria, earning less than $20,000 per year while raising six sons on her own. James spent summers in Georgia harvesting watermelons to earn money.
Now he will spend summers preparing for the NFL. His decision to leave school early has paid off on and off the field. He has been able to take care of his family and point the Colts toward a likely playoff berth. His selection ahead of Williams came as a surprise to just about everybody except the Colts' front office. Even collectors were more focused on Williams. After all, the Saints gave up every one of their draft picks to move up and select Williams after James.
But collectors have not taken long to appreciate James' talents and impact. Recent releases, including 1999 Bowman Football and SkyBox E-X Century Football, have included autographed cards of James.