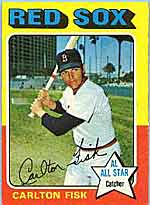 Editor's Note: for a related article about Tony Perez's Hall of Fame induction, click here.
Outside of the bars and taverns around Boston (and possibly some parts of Chicago), ask a fan or collector to name the greatest catcher of his generation and some interesting names will pop up.
Most in their 30's and 40's will instantly come up with the name of Johnny Bench. Older folks might point to Yogi Berra. Generation Xers will show you their Mike Piazza card. Mention the name "pudge" and talk about great catchers, and more people will think of Texas' Ivan Rodriguez, the reigning American League most valuable player from 1999.
It is thus ironic that Carlton Fisk gets elected to the Hall of Fame this week in his first time of eligiblity. Fisk's numbers are impressive if not dominant over his backstop rivals. He caught more games, 2,226, than any other catcher in history. He hit more homers than any other catcher in history, 351. He is the oldest catcher in major league history to hit at least 20 homers in a season when he turned that trick at age 39. He was the first player to win the American League rookie of the year award unanimously in 1972.
An 11-time all-star, he hit what many consider to be the most dramatic home run in World Series (some say all-time baseball) history with his dramatic shot in the 12th inning memorable sixth game of the 1975 World Series for the Boston Red Sox against the Cincinnati Reds (and Johnny Bench). His frantic waving of his arms to keep the ball fair is one of the century's top baseball photographic memorabilia.
Then why isn't Fisk talked about in the same breath with a Bench or Berra outside of New England?
There are various theories. Fisk never capitalized on his fame on the field, shunning endorsements, trade and autograph shows to keep his private life private. While Bench was a regular at many card shows, Fisk wasn't. While Berra was pitching "Yoo Hoo" chocolate soda and also mixing with the fans, Fisk wasn't.
Even to some Red Sox fans, Fisk is thought to be somewhat of a confederate. After 11 stellar seasons in Boston and enjoying popularity second only to Carl Yastrzemski, Fisk bolted out of beantown to sign a free agent contract with the other Sox team, the Chicago White Sox. Fisk wound up playing two more seasons, 13, with the White Sox than he did with the Red Sox, yet Chicago fans and collectors always considered him a Fenway Park transplant. It is part of the dichotomy of Fisk that he was raised in New Hampshire but lives in suburban Lockport, 20 miles away from Comiskey Park and 1,000 miles away from the green monster of Fenway.
Fisk didn't like to do interviews. It wasn't that he wasn't a good speaker or articulate. On the contrary, when he did give those short sound bite answers, they made more sense than the ramblings of most of his teammates. He just didn't see his role of anything beyond catching a baseball game.
You could hear part of that in his news conference Tuesday, saying , "I'd like to thank the Baseball Writers of America, I'm glad they got it right this time…" Subtle, but truly Fisk.
He also seldomly warmed up to teammates, preferring to keep a business-like relationship. Fisk was a no-nonsense type of player who didn't like showboating or the kind of antics that would make his rookie card or autograph worth more on the open market.
He once got into a fight with Deion Sanders, then a rookie with the Yankees, in 1990. He thought Sanders hadn't run out a foul pop up earlier in the game and yelled at Sanders, "There's a right way and a wrong way to play this game. Yankees pinstripes. Yankee pride."
This was at a player on the OPPOSING team. It was vintage Fisk who believed baseball was meant to be baseball, not showboating, endorsements or autographs.
Fisk was also methodical behind the plate. While most infielders and outfielders prefer the likes of a Greg Maddux or Steve Carlton who worked quickly and kept them on their toes, Fisk wanted each pitcher to think about his pitch. When PA announcers usually give game-time temperatures before baseball games, they gave the three-day forecast when Fisk was behind the plate.
"One of the things that made me strive to do better was my stubborness," Fisk conceded this week. "May be too dumb and stubborn to know better."
Fisk hasn't decided what hat he will wear for his induction into Cooperstown this summer, which will be of importance to collectors who either have the Red Sox or White Sox hat in their collectibles. The bet is, he will go with the Red Sox cap. Fisk's departure from the White Sox wasn't pleasant for either side: in 1998 when his number 72 was retired by Chicago (the number was for the year one of his children was born), Sox board chairman Jerry Reinsdorf was absent -- at Fisk' request.
His best season with the Red Sox probably was in 1977 when he hit 28 homers, drove in 102 runs and batted .315 and started the all-star game. Thought to be slowing down by critics, he came back and his 37 homers and drove in 107 runs for the White Sox in 1985.
Fisk will go into Cooperstown without having won a World Series ring. It was his misfortune to have played for two teams whose last World Series victories came in succeeding years, 1917 and 1918. It's too bad they didn't have Fisk.