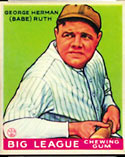 Collector:
Gary Mangin
High School English Teacher


Gary Mangin's collection can fit into the palm of your hand, even though most people wouldn't feel comfortable having these gems nestled there. Mangin is a baseball card collector, period. He has one Ruth, one Koufax, one Banks, one Mays, one Musial and one Aaron. They're all PSA Mint 9s, the only level of quality that Mangin will admit into his "Dirty Half-Dozen."
Slowly but surely, Mangin's collection has evolved from a stockpile of 1980s star cards into a select group of vintage standouts. Even though Mangin constantly tries to improve his collection, his focus remains consistent. He wants to collect the players that the average fan has no problem remembering.


eCollector: Gary, when did you start collecting baseball cards?
Mangin: I did collect a bit when I was younger in the early 1960s but it was nothing serious. I became semi-interested in collecting again when my son turned 10. I would go with him to baseball card stores when he started collecting. I noticed that Robin Yount, who was a popular player in the 1980s, was closing in on his 2500th career hit and he was still fairly young. I decided to buy some of Yount's cards because he seemed to be a lock for 3000 plus hits. It seemed like he even had a shot at 4000. I started to buy cards of other stars like Sandberg and Ripken. There were no high quality vintage cards available in the Phoenix area and it was frustrating because I really wanted to buy some old cards in nice shape. I was then introduced to mail order and PSA. PSA made the whole process o f buying cards through the mail easier.
eCollector: What do you try to focus on in your collection?
Mangin: Well, I started to sell off my semi-star cards fairly quickly and then began focusing on the major stars that I watched when I was a kid. Hall of Famers weren't enough for me because there are some Hall of Famers who the average fan doesn't recognize. I try to stick to the legends of the game. I also try to constantly narrow my collection by improving the qualify o f the cards. For instance, if I have a 1967, 1968 and 1969 Mickey Mantle that are all graded PSA Mint 9 but if I could trade them for one 1963 Mantle in a PSA Mint 9 I would do it.
eCollector: What are your favorite cards in your collection?
Mangin: I only have six so I guess all of them (laughs). I do actually have two favorites out of the six that I own. I really enjoy my 1962 Topps Hank Aaron PSA Mint 9; it might be the most stunning card I own. This card is special to me because I collected this card as a kid. I got to see Aaron play during his prime years and this card takes me back to that time. The other card that is a favorite of mine is my 1933 Goudey Babe Ruth #181. It's Babe Ruth and it's a PSA Mint 9! Ruth's story is just so compelling. It's the classic "rags to riches" situation which is very moving to me. Babe Ruth is just one of those guy that is so easy to like.
eCollector: What is it about PSA that intrigued you so much?
Mangin: There is just something pleasant and reassuring about the fact that a 3rd party has acknowledged the quality of you card. For example, if I write a poem, I may think it is great but I want someone else to think it is great as well. PSA provides that security. Also, by making distinctions between grades, PSA highlights how rare some of this stuff really is. In the past, dealers could grade their own inventory, which is a problem because of inherent bias. Now the bias factor doesn't come into play because a disinterested 3rd party has already objectively viewed the card.
eCollector: What are your collecting goals for the future?
Mangin: I want to continue with the same goals in mind. Although memorabilia sounds interesting, the cards are what do it for me. I would just like to build my collection with high profile Hall of Famers in top condition. These cards are scarce but I will keep trying.