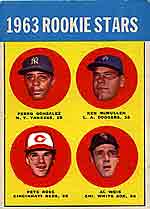 When a 1963 Topps Pete Rose #537 was submitted to PSA for grading, it caught the attention of PSA grading experts. Although this issue has been submitted many times, we have seen very few questionable authenticity issues.
Considered to be one of the first known modern counterfeits discovered, with roughly 10,000 of these fake cards manufactured, it is believed that less than 200 of these cards have actually made their way into the hobby.
This card's questionable characteristics include a black outline around Pete's white cap. There is no outline on a genuine card. The counterfeit card was manufactured on thinner card stock, making it transparent when held to a light. This cannot be achieved when looking at a genuine issue. The fake issue is also approximately 25% lighter than an original.
This card should also be examined for recoloring in the royal blue area of the card's corners. Using a 7x eye lens should aid you in determining if this card has been recolored.
Whether or not Pete Rose makes it into the Hall of Fame is anyone's guess. One thing is for sure-you should examine his card closely.