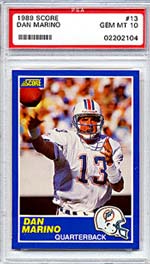 Don't throw away those Dan Marino rookie cards yet.

Miami @ Jacksonville

The grandfather of NFL active quarterbacks looked every bit the part achy old man in the first half of Sunday's playoff game at Seattle, struggling to pass for 85 yards as the Dolphins' offense struggled to hold it together. Fortunately for Marino and Miami, Seattle was having problems of its own offensively.
Reaching back into his fountain of youth, Marino showed flashes of the younger quarterback, the instincts and quick responses that will make him an automatic selection into the Hall of Fame when he retires. Marino successfully guided Miami to a 20-17 upset win over the Seahawks. Marino finished with modest numbers, 17 of 30 for 196 yards and one TD, but it was his 47th career fourth-quarter comeback that gave the sixth-seeded Dolphins a ticket to the AFC Conference semifinals.
Marino is the most experienced quarterback whose team is still alive in the playoffs. The locker-room talk is that he and Coach Jimmy Johnson are still privately feuding. Johnson lauded Marino's second half performance last week, knowing he is stuck with his veteran for the rest of the post-season. Marino's passes don't have the same zip they did when he entered the league back in 1984, the same year as John Elway, so the question is, does he have the drive to win his first-ever Super Bowl ring? Most Dolphins fans believe he does.
Now for the bad news.
Marino and company must face a Jacksonville team that is considered to be the team to beat in the AFC. They must face the Jags on the road, until last Sunday, a Marino-led team had never won a playoff game on the road. More sobering news for Marino collectors. No sixth-seed wild card team has ever gone on to win a second straight playoff game since the NFL expansion.
Jacksonville is led by southpaw Mark Brunnell, who many consider the Jags' best chance to get to their first-ever Super Bowl. The Jags are depending on his arm. Like Miami, Jacksonville's defense has been overlooked for most of the year, and should give Marino fits as he as he fights to have possibly his last shot at the Super Bowl. In my opinion, if Brunnell hasn't recovered fully from a late season leg injury, Marino and the Dolphins should be done for the year.
If that occurs, it will be an interesting off-season for Miami. Observers said had Marino lost last week, Miami would try to cut him loose during the off-season and that if they continue to win, he would look for a two-year deal to stay with the Dolphins.
So collectors, the question is, would Marino try to hook up with another team, opening up a world of possibilities for collectors.
Stay tuned.

Tennesse @ Indianopolis

It's doubtful that Jeff Fisher has another miracle play in his game plan when the Titans visit Indianapolis this week. Fans saw replay after replay of the last minute chicanery on a kickoff that propelled the Titans into the next round at the RCA dome.
The controversial play that gave Tennessee their winning touchdown obscured the fact that quarterback Steve McNair had a poor day, with just 13 of 24 for just 76 yards. Eddie George, as I forecast last week, was THE Titans' offense with 106 yards on the day. This weekend, he will again be matched up against top offensive rookie of the year Edgerrin James of the Colts. McNair will need to hit early to take some of the pressure off George.
Collectors know James' rookie card values have risen steadily this year, as have the card values of second-year quarterback Peyton Manning. Manning has the advantage of playing at home and more talented wide receivers. However, Manning, who is untested in this type of atmosphere, will be interesting to watch as he goes into his first-ever playoff game.
The key, however, will come down to the ground game. If George and the Titans have the bigger day, they'll go to the AFC championship. If James and the Colts go ahead early, Tennessee will head back to Nashville and watch the rest of the playoffs on TV.

Minnesota @ St. Louis

The NFC semifinals feature the more interesting matchups in the battle of domed stadium teams. The Minnesota Vikings overcame a slow start, but once Jeff George warmed up, he hit 12 of 25 for 212 yards. The key George stats were his three touchdowns without interceptions. Against the St. Louis Rams, the offensive showcase may make this the game of the year.
George has great receivers in Cris Carter and Randy Moss, who caught five passes for 127 yards against Dallas. St. Louis has the NFL's MVP, Kurt Warner, who threw over 40 touchdown passes in the regular season, and all purpose back and top offensive player of the year, Marshall Faulk. Warner and Faulk will likely become the darlings of collectors in trade and memorabilia shows once the season is over, but much of that star glitter could be tainted if they were to have an early playoff exit.
The keys are two-fold. Minnesota's defense is suspect at best and the Rams' defense is underrated, particularly when it comes to the turnover ratio, where the Rams were among the league's leaders. Warner, like Manning, is untested in the playoffs but he's at home. If the Vikings are able to put real pressure on Warner early, they will be able to survive a shoot- out. If Warner gets cranking to Faulk and Isaac Bruce, the Rams will give the city of St. Louis its first-ever post-season football win.

Washington @ Tampa Bay

While Minnesota-St. Louis will be a fans' delight, Tampa-Washington could be a yawner. The Bucs are the best defensive team among the final eight on the road to the Super Bowl. They reluctantly score points on offense, preferring to let defensive player of the year, Warren Sapp and the defensive line create turnovers and give them good field position. Kicker Martin Gramatica is the Bucs' best offensive weapon. Tampa's backfield duo of Warrick Dunn and Mike Alstott will grind out yardage and keep the ball out of Washington quarterback Brad Johnson's hands early.
If the Bucs take an early lead, look for Washington to abandon any type of running game and rely solely on Johnson, who was 15 of 31 for 174 yards in the win over a sagging Lions' team last week. However, Johnson threw two interceptions against Detroit, a far inferior defense than Tampa's. Best hope for the Redskins: get an early lead over Tampa which has struggled when they fall behind early with rookie quarterback Shaun King.
Best bet for the league championships: a battle of Central division foes. Jacksonville vs. Tennessee in a battle of AFC Central clubs and Tampa vs. Minnesota, an upset winner over the Rams, in a fight among NFC Central teams.


NFL Key Player SportsCards Values

Player

Card

NM MT 8

MT 9

Gem Mint10

Dan Marino

1984 Topps

$85

$210

$1400

Mark Brunnell

1993 SP #3

$25

$57

$350

Steve McNair

1995 SP #3

$8

$18

$200

Eddie George

1996 SP #5

$12

$30

$300

Edgerrin James

1999 Tops Chrome Refractor #145

$100

$225

$575

Jeff George

1990 Topps Tiffany #298

$5

$12

$40

Peyton Manning

1998 SP Authentic #14

$100

$325

$1875

Chris Carter

1987 Pro Set #314

$4

$10

$65

Randy Moss

1998 SP Authentic

$110

$375

$2000

Marshall Faulk

1994 SP Die Cut Foil #3

$12

$35

$550

Warrick Dunn

1997 Topps Chrome Refractor

$35

$70

$150

Kurt Warner*

(not currently rated)

 
 
 
Jevon Kearse*

(not currently rated)

 
 
 
Shaun King*

(not currently rated)

 
 
 
Brad Johnson*

(not currently rated)

 
 
 
Warren Sapp*

(not currently rated)

 
 
 

*Sports Market Report Watch: These players likely to earn rated values after NFL postseason.