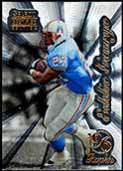 One year ago if you had gone on the internet and asked for takers on a Jake Plummer card, chances are, there wouldn't be many e-mail responses with significant offers for the card. The same thing goes for an autograph of Jamal Anderson or an Eric Moulds jersey.
The NFL playoffs have a funny way of catapulting previously unheralded stars into the limelight, inflating the worth of these stars so that collectors who may have stored some of their memorabilia behind a box of packed holiday ornaments ready for the attic scramble to dig them out and dust them off.
This year's playoffs, which begin this weekend, offer an unusual and potentially lucrative chance for collectors to make a quick killing on cards and memorabilia reflecting the emergence of some veterans and rookies alike. The reason this year is so unusual, is the fact that many of the regular partners in the NFL post-season dance are sitting on the sidelines, after struggling through a disappointing regular season, with the exception of the Vikings, Dolphins and Cowboys.
The San Francisco 49ers and Denver Broncos, who seemingly every year are in or on the verge of going to the Super Bowl, are home licking their wounds, reflecting on their dismal records.
The Packers, Bears, Steelers and Raiders, all teams that usually top the NFL merchandising charts, are also going to have to watch the playoffs on TV. Previously low profile teams like the St. Louis Rams, Tennessee Titans and Jacksonville Jaguars, all of whom didn't exist in their present cities or forms in the early 1990's are replacing the usual pigskin power houses.
As is usually the case in the playoffs, teams with the strongest defenses and running attacks, are the ones that advance the farthest. Last year, Denver used Terrell Davis to win a second straight Super Bowl, overpowering an Atlanta team led by Anderson. Both running backs were felled by injuries this year so neither team is a factor.
Occasionally a quarterback or wide receiver can play a key role. Plummer led the Arizona Cardinals to an upset win over Dallas last year, and Moulds set a playoff record for receiving yards in Buffalo's loss to Miami. These players' values for trading cards and other memorabilia, all skyrocketed as a result.
This year, there are several key players in each playoff qualifier to watch. Fans will tune in to see if they make a significant impact to lead their respective teams to the Super Bowl and inflate values for their autographs, cards, jerseys and other memorabilia.

NFC
Tampa Bay

Warren Sapp may be the best defensive player in the NFL. A continuation of the dominant Bucs' defense will likely rest on his performance. The running back tandem of Warrick Dunn and Mike Alstott has gotten little attention, but big games from these two are critical if the Bucs are to advance. Unheralded rookie Shaun King, not one of the elite quarterbacks in last April's draft, could vault into the spotlight if he gets hot under pressure, and if he leads the Buccaneers to the Super Bowl, he would be the first rookie quarterback ever to do so. Brad Culpepper (DT) will be returning from a foot injury, and veteran Paul Gruber will be sidelined, which may spell trouble for Tampa Bay's defensive line. Warrick Dunn (RB) and Jacquez Green (WR) will feel the pressure to perform
Minnesota

Jeff George was out of work one year ago. Now, the emerging quarterback could be the player to lead the Vikes to the Super Bowl. George has been long on talent, short on performance in the past. Still, the keys on offense will be receivers Randy Moss and Cris Carter when they square off against Dallas on Sunday in a classic contest for the NFC wild card spot. Will they be at the top of their game when it counts? Defensively, the Vikings have to hope that defensive stalwarts Chris Doleman and Robert Tate will emerge to lead a team that struggled early, but helped lead Minnesota to eight wins in their last 10 games. Even though Minnesota is ranked 26th defensively in the NFL, their offense could prevent the Cowboys from going to the next round.
St. Louis

If collectors haven't caught on to quarterback Kurt Warner yet, it may be too late, since 1999's NFL MVP is already hot on collector lists. The real key to the post season will be Marshall Faulk's (RB) ability as a top runner and receiver, rookie Torry Holt (WR) and second year Az-zahir Hakim (WR), to take some of the pressure off all-pro Isaac Bruce (WR). The Rams are a young team overall and have managed to avoid having key players on the injured reserves. They're definitely the team to beat going into the post season.
Dallas

No surprises here for collectors. If the three veterans, quarterback Troy Aikman, running back Emmitt Smith and defensive back Deion Sanders are healthy, the Cowboys can go far. Cornerbacks Kevin Smith and Kevin Mathis have been on the practice field this week gearing up for the contest against Minnesota on Sunday. If one or both are healthy enough to play, their presence could make the matchup between the two playoff savvy powerhouses an exciting game.
Detroit

Four straight losses into the playoffs, Detroit must hope Gus Frerotte, who ironically beat his former teammates December 5th to break the Lions' jinxed record against the redskins, will once again beat the Redskins at Washington on Saturday (where they've never lost to the Lions) while rookie quarterback Charlie Batch sits this one out with an injury to his thumb. If veteran wide receiver wide receivers Herman Moore, Germane Crowell, and Johnnie Morton and rookie running back Sedrick Irvin as well as Greg Hill (RB) put in good performances, the Lions have a shot. If they don't, it will be an early exit for the Lions.
Washington

Possibly the "Mystery Team" in the NFC. Quarterback Brad Johnson drew collectors' interest in the first month of the season after he had a few successful outings. Johnson tailed off in mid-season, only to come back to lead Redskins to three wins in the final four games. Also look for defensive back Champ Bailey, a top rookie card buy in my opinion, to have the chance to make a statement in the playoffs.

AFC
Jacksonville

Mark Brunnell has already earned his stripes with collectors after guiding then second-year expansion club into the 1996 playoffs. If he's healthy, the Jags will be tough to beat., Jimmy Smith and Keenan McCardell could explode for Jacksonville, and are the two to keep an eye on, as well as running backs Fred Taylor and James Stewart.
Tennessee

Steve McNair emerged as top NFL quarterback this year but real key is third-year veteran Eddie George, the former Ohio State running back who could lead Titans to first-ever Super Bowl. Jevon Kearse (DE), first-ever rookie to win the conference title for sacks, is a player collectors should keep an eye on. Bruce Matthews (G) and Frank Wycheck (TE), who will join Kearse and George in the Pro Bowl, are just a few of the reasons the Titans are the only other team (Rams) to post a perfect record at home.
Indianapolis

If collectors haven't jumped on rookie quarterback Peyton Manning's bandwagon, it may be too late to get in on the inexpensive items. Manning's untested in post season play however, as is running back Edgerrin James, the top rookie in the league this year, both could raise their visibility, and therefore their collectible value, with big playoff performances. Veteran linebacker Cornelius Bennett will have to sit the post season, sidelined with a serious knee injury last week. The Colts will miss his post season experience (former member of championship Bronco and Bills teams), but Indianapolis hopes that rookie Mike Peterson will be able to fill Bennett's shoes. Don't forget the other rookie sensation, Marvin Harrison, who is ranked number one in the NFL for yards receiving. If the Colts can hold their injured defense together, the offensive star lineup could take them all the way.
Miami

Like Dallas, there's no surprise here. Dan Marino, the 17 year veteran, was awful at times this year. This may be his last chance to get a Super Bowl ring, after years of coming close but never capturing the ultimate prize. The number of healthy Dolphins' players will determine how far they will be able to go, notably Sam Madison (CB), Tony Martin (WR), Oronde Gadsden (WR), Yatil Green (WR), still iffy with an ankle injury, and O.J. McDuffie (SE), whose status is still questionable.
Buffalo

Last year, collectors fell in love again with Doug Flutie. In a controversial move this year, the veteran QB has been benched in favor of Rob Johnson who could be a steal for collectors if he leads Bills through playoffs. The depth of Buffalo's offensive power with Eric Moulds (WR), Rookie Peerless Price (WR), Jonathan Linton (RB), Antowain Smith (RB), Thurman Thomas (RB) and Andre Reed (WR) makes the Bills the team to be feared in the AFC. Even though neither Thomas or Reed have been big factors in this years overall scoring stats, their post season experience add great depth to the Bills' overall strategy. Buffalo ranks second in the NFL in defense, with only 14.3 points allowed per game (Jaguars, 13.6). The Bills have two Pro Bowlers, Ruben Brown (G) & Sam Gash (FB).
Seattle

The playoffs will give previously unheralded defensive players like Cortez Kennedy, who has waited for 10 years for his first ever playoff game, a chance at the game of a lifetime. Seattle's offense is sporadic even though they have one of the best coaches in former Green Bay coach Mike Holmgren. With Ricky Watters (RB) appearance in the game on Sunday against Miami still questionable, and a team that can't get their act together consistently, it may be up to rookie running back Charlie Rogers, who leads the league in yardage on punt returns (the first rookie to do so since Saints'Tyrone Hughes in '93), who may be the make or break player if he can catch a lucky bounce and a hole in Miami's defense.

To bid on the cards pictured in this article, go to Current Sports Auction #8991.