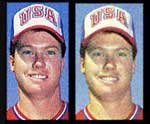 Mark McGwire.
The name that makes pitchers tremble, fans cheer, and card collectors ecstatic, has also brought a negative element into the mix: the card counterfeiter. The McGwire rookie card (Topps '85 #401) has been targeted by those interested in making a quick buck by counterfeiting high-value cards. The example shown here, is such an excellent fake, that you have to really look at the few minor errors made by the cheats in order to spot one.
On the front of the Topps card, there are black lines that surround the picture. The counterfeit card exhibits dot matrix printing (poorer quality), unlike the genuine card. This is the number one key to detecting the fake. The black lines should appear solid and even on genuine pieces.
The color is excellent on the fake cards. There is a tell-tale sign with the color though, its inconsistency on the real cards. On the fakes, the red is always a deep blood red, while on genuine cards there is a greater variance from the deep blood red to lighter and more vibrant shades.
On the counterfeit example, the details are fuzzy in two areas of the card: McGwire's portrait shows minor fuzziness, and on the reverse, the lettering and numbers are clear, but they're not quite crisp enough to match the genuine article.
With a current value of $2900 for the #401 cards, and the increasing skill of counterfeiters, it pays to look closely at your own Topps McGwire cards (and your other important cards, as well) or have someone who knows what to look for, such as a PSA grading expert.