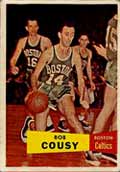 Can you imagine what it would be like if there were only one Mickey Mantle baseball card? What if Ruth, DiMaggio, Musial, and Cobb could only be found in one set? Let's go one more step: what if the prices for these rarities were at super low levels, perhaps 5% to 10% of what they would be in a few years?
Are you thinking this is a total fantasy? For baseball cards, yes, basketball, no. When you consider the rarity and price levels of some of the great basketball players' cards, and a whole world of seemingly infinite potential appears.
There are three major issues that are considered vintage basketball sets: the 1948 Bowman Basketball, the 1957 Topps Roundball, and the 1961 Fleer Inaugural Basketball set. NO other major basketball card set was issued until Topps introduced their first set in 1969.
From the late 1940's until the early 1960's, pro basketball was considered a relatively minor sport by collectors and card manufacturers. Television coverage was minimal, endorsements were almost nonexistent, and the game had little or no history the public could get cozy with. After all, who's going to get excited about a fledgling sport when the big teams from the old National Basketball League (1938-49) were the Akron Firestone Non-Skids and the Sheboygan Redskins?
The game changed in the '60's through the achievements of the most dominant player in the sport ever, Wilt Chamberlain, and an almost unbeatable team, the Boston Celtics.
On March 2, 1962, Chamberlain dunked 100 points in one game while playing for the Philadelphia Warriors. For the 1961-62 season, he averaged an incredible 50.4 points per game. At the same time, the Boston Celtics rose to power, capturing the attention of the nation as they earned 10 NBA championships in eleven seasons from 1959-69.
The early years of pro basketball yielded some great players, many of whom are just beginning to be appreciated by today's sports fans.
Notable Sportscards of NBA's Early Hall of Famers

1948 Bowman

Red Holzman #32 -This is the only major card issued for this Hall of Fame great player-coach. Holzman led the New Knicks to two NBA titles as their coach in 1970 and 1973.
Joe Fulks #34 -Jumpin' Joe Fulks was the first modern jump shot artist. He led the NBA in scoring in 1947 with a 23.2 points per game average.
George Mikan #69-Basketball's first dominant big man, Mikan led the NBA in scoring for three consecutive seasons (1949-51). His card is already the most valuable basketball card ever issued.
1957 Topps
Bill Sharman #5 - Another great player-coach. Sharman led the NBA in free throw percentage seven times, including five years in a row in the mid-1950s.
Bob Cousy #17 - He was the John Stockton of his day, leading the NBA in assists for eight consecutive years (1953-60). This card is his first; therefore, considered to be and collected as his rookie card.
Bob Pettit #24 - This is Pettit's rookie card. Although Pettit is 18th on the all-time NBA scoring list, he was number one when he retired. He is still number five all-time in scoring average per game, behind only Michael Jordan, Wilt Chamberlain, Elgin Baylor, and Jerry West.
Bill Russell #77 - With eight NBA titles in a row, little else need be said about this dominant center for the Boston Celtics. This rebounding giant averaged 24.9 rebounds per game in 165 playoff games over 13 years. This is the Hall of Famer's rookie card.
1961 Fleer
Bob Cousy #10 - Cousy's final card, and Fleer's first basketball card set.
Bill Russell #38 - The second and final cards of this all-time great. Also look for the "In Action" card, #62.
Since the NBA's 50th anniversary in 1997, the amazing growth in the popularity of the game, and the expanding collector base for Pro Hoops cards, the players mentioned above (among many others) are certainly worthy of consideration as you continue to add to your collection.
To check values for cards in your collection, you can look at the Collectors Universe price guide (updated weekly), by clicking on Sports Card Price Guide.