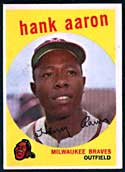 With baseballs flying out of the parks at record rates in recent years, it is sometimes forgotten that this is not the only great era of home run hitters. Forty years ago there was a power display of serious magnitude happening, and the lifetime statistics of the stars from this era are among the greatest of all time.
Of the top seven in career homers, four of them appear in this 572-card set. Peering out through a round frame, the player of the day is nicely highlighted on this 2 1/2" by 3 1/2" card. Here's a look at the home run stars of the 1959 Topps Baseball set:

Hank Aaron, Card #380-This is the all-time leader in career home runs with an amazing 755 dingers in his 23 years in the majors. When he began his great career he seemed to be a highly unlikely prospect to break any home run marks, but he was consistent and durable, chipping away with eight seasons of 40 or more round-trippers. Almost overlooked are his other wondrous statistics, including being the all-time RBI king with 2,297 and third in career hits with 3,771.
From 1954 through 1976 he led the league in runs three times, hits twice, doubles four times, homers four times, runs batted in (RBI) four times, batting average twice, and slugging percentage three times. How good does it get?
PSA/DNA certified the bat Aaron used to hit home run #715 that broke Babe Ruth's mark, along with the ball that sailed over the fence in Atlanta that evening much to the chagrin of pitcher Al Downing.
Willie Mays, Card #50-There's a line in a Clint Eastwood movie that goes: "If Willie Mays were playing today they'd have to give him the whole state of New Jersey." That movie came out 15 or so years ago. Today, no one could pay Willie Mays his due. He'd just have to settle for a million dollars a game or something and go take his place in center field.
Mays is third on the all-time home run list with 660. He was a charismatic leader, a superb fielder with a great arm, had speed to burn, and was a joy to watch. He is perhaps most celebrated for his spectacular catch in Game One of the 1954 World Series, and for being the answer to the most famous of all baseball trivia questions: Who was on deck when Bobby Thomson hit the home run to win the 1951 National League pennant?
Frank Robinson, Card #435 - The Cincinnati Reds gave up on Robinson after the 1965 season because he was "an old 30." In Robinson's first year with his new team, the Baltimore Orioles, he led the league in batting average, home runs, RBI, runs scored, slugging percentage, and on-base percentage. Yep, sounds washed up to me.
Robinson is fifth on the all-time home run list with 586, accomplished in a 21-year career that was the model of consistency. He hit more than 40 homers in a season only once, but hit 28 or more, 14 times, and those kinds of numbers add up. He is the first man to win the MVP award in each league, and he was named to the Hall of Fame in 1982.
Harmon Killebrew, Card #515 - Seventh on the all-time list of long distance blasts, Killebrew led the league in homers six times and hit over 40 out of the park in eight different seasons. He won the MVP award in 1969 when he hit 49 home runs and knocked in 140 runs.
Killebrew's 1,584 career RBI tie him with Rogers Hornsby at #26 on the all-time list. He is also twelfth on the all-time walks list with 1,559.
Mickey Mantle, Card #10 - How can a lifetime .298 hitter who struck out over 1,700 times be one of the most highly regarded players in the history of baseball? Because he was "The Mick", the most awesome switch-hitting slugger in the history of the game. His home runs sailed 100 feet farther than anyone else's did in his day, and he played with constant pain and injury.
Mantle ranks high on the all-time home run list with 536 prodigious shots. He won the Triple Crown in 1956, batting .353 with 52 homers and 130 RBI. He was the home run champ in four different seasons, led the league in runs scored six times, triples once, RBI once, walks six times, and slugging percentage four times. He was the most popular player of his day, and, somehow is even more popular today. Everyone loves the "Commerce Comet."
Ernie Banks, Card #350 - "Let's play two!" Ernie Bank's love of the game was infectious, and fans idolized him. He is the first National League player to win back-to-back MVP awards, and the greatest power-hitting shortstop in the history of baseball.
Banks is tied on the all-time home run list with 512. His five grand slam homers in 1955, remained a record for one season until Don Mattingly came along. He won two MVP awards, even though the Cubbies finished in fifth place both times. He was elected to the Hall of Fame in 1977.
Eddie Mathews, Card #450 - Tied with Ernie Banks on the all-time home run list, Mathews has the unique distinction of having played for the Boston Braves, Milwaukee Braves, and Atlanta Braves. This left-handed slugger led the league in homers twice, and hit 40 or more round-trippers in four different seasons. He knocked in over 100 runs in five different years and scored more than 100 runs eight times.
Mathews and Hank Aaron combined for a record 863 home runs while playing together, a feat of dubious importance but an interesting piece of trivia since most fans would think the record belongs to Ruth and Gehrig or Mays and McCovey.
Stan Musial, Card #150 - One of the greatest hitters in the history of the game, Musial's 475 homers tie him on the all-time list with Willie Stargell. His career numbers are awesome. Three MVP awards, seven batting titles, and two RBI crowns. He led the league in runs scored five times, in hits six times, eight times in doubles, five times in triples, and in slugging percentage, six times. He was a grandfather when he hit .330 in 1962.
In his 22-year career Musial compiled a lifetime average of .331, and he was elected to the Hall of Fame in 1969.
Bonds and Sosa and Griffey and numerous other remarkable players encompass the "now" of baseball, but the late 1950s were a part of a great era as well. It's a delight to look through the 1959 Topps Baseball set and remember some of the greatest summers of our century and the players who made them so special.