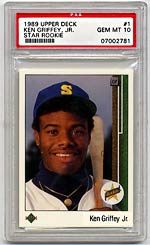 For collectors who were trying to save a little holiday money to invest in some new Ken Griffey memorabilia for next spring, hold on to your money. For now.
Seattle's efforts to unload their superstar centerfielder fell on deaf ears, at this week's annual Major League Baseball winter meetings held in Anaheim, Calif. The trade of Griffey, who at age 30 is considered to be in the prime of his career, was expected to be the major fireworks at the meetings.
The reason Griffey remains wearing his Mariners' cap backwards today is simple: Seattle wanted way too much from suitors who were interested in obtaining Griffey and for now, all deals are off.
The Mariners are in a financial pickle. They have two of the top players, among the most sought after by collectors, in the game today with Griffey and Alex Rodriquez. In a bit of poor planning by Seattle management several years ago, both are eligible to become free agents after the 2000 season.
Griffey jumped the gun on Seattle right after the World Series, asking that he be traded closer to his Orlando, Fla. home, insisting he would not re-sign with the club that originally drafted him in the mid-1980s as a teenager, under any conditions.
Griffey's declaration made it tougher for Seattle to work out a deal with other clubs knowing that if they wait a year, they won't have to surrender any top major league players to the Mariners, only some draft picks to sign him. Sure, the asking price will be high. Some observers believe Griffey can ask, and get, upwards of $17 million a year -- but to get a player of that ability and drawing power, and not affect your major league roster, would be a real coup.
The team with the best chance to get Griffey at the meetings was the Cincinnati Reds, hardly close to Orlando, but close to Griffey's heart. He was born there, and his father Ken Griffey, Sr., is expected to become manager of that club in 2001. Privately he is said to be willing to go to the Reds for less money than he would command on the open market.
But Seattle wanted a minimum of five major leaguers, including promising infielder Pokey Reese, in trade for Griffey. While the Reds, a small market major league team, don't have a big payroll they were not willing to mortgage their future for one extra year of Griffey's service, when they could get him in the free agent pool next winter.
There is a hitch. Griffey is a lame duck in Seattle, who moved into a new ballpark which is far less conducive to his home run swing than the old Kingdome. He wants out now, in part because his home run totals and overall drawing power will deteriorate if he stays in Seattle. He nixed a blockbuster trade to the New York Mets, in part because he doesn't want to deal with the New York media, and still may be pushing for a Reds' deal. St. Louis is also interested, and a collectors' dream duo of Griffey and Mark McGwire would be enticing, but the Cardinals are a long shot in the Griffey sweepstakes.
The Reds and Mariners may still agree on something before spring training, provided the Reds can sign him to a long-term deal and the Mariners come down in their demands.
Cincinnati saw two of their division rivals, St. Louis and the Cubs, improve themselves tremendously in deals the past month. The Reds missed out on the pennant race by just one playoff game loss to the Mets last year, and are eyeing a move into a new stadium. Having Griffey on board would be a great selling tool.
The other team that made the most dramatic improvement at the meetings ironically, was the team closest to Griffey's beloved Orlando, Tampa Bay. They added Greg Vaughn, signing him away from the Reds, and traded for Vinny Castilla. While the Devil Rays, who saw expansion twin Arizona make the playoffs last year after big money moves, aren't likely to challenge the Yankees in 2000, they will be a far more entertaining team. With Vaughn, Castilla, Fred McGriff and Jose Canseco, the line for autographs will be about as long as some of the home runs the quartet are likely to hit next year.
Editor's Note: To read more about Ken Griffey, click on a few of our recent articles, Taking Superstar to a New Level, or Ken Griffey Jr., the Future of Sports.