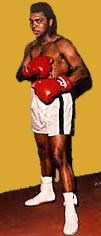 Compare your own Top 100 Athletes list with our noted sports columnist Randy Minkoff's.
We chose to focus on athletes who had the greatest influence on their sports in this week's Top 100 Athletes. Lists are made to be argued with, and this Collectors Universe Sports Page E'Zine's ranking of the top Athletes of the past 100 years, is no different. You are invited to share your own top 100 list with our editors. For the next few weeks, we will include a new list every Friday on the Sports Home Page. You be the judge: are our writers on the mark, or are they swinging with the wrong bat?
Send your own version to us at Sports Editor, and we'll post the top 100 results from our readers' lists. Be sure to write Top 100 Sports - Athletes in the Subject heading of your e-mail message. Upcoming topics will include, the Top 100 Greatest Sports Moments of the 20th Century and the Top 100 Most Coveted Sports Collectibles.
Americans tend to have a short attention span, especially when it comes to making up lists or handing out honors.
Check out the Oscars each year. Most of the films honored were released in the latter part of the year. Sports Illustrated's "man" (woman) of the year is usually someone who accomplished something after May rather than before it.
So it goes with the plethora of top 10, 50, 100 or even 2,000 lists that have popped up all over the place as the millennium nears an end. Never mind that the new millennium and century will both not officially start until the year 2,001 (the year 1 AD through 100 represents 100 years), we're all hungry for lists chronicling everything from the top athletes to the top fast foods of the past century.
The highest profile list was the ESPN top 50 athletes which gets an airing every Friday night. The jingoistic folks at the network owned by the Disney Corp. had to backpeddle halfway through their journey to amend their effort by saying the top 50 "North American" athletes when someone, probably a wise collector, could point to the exploits of Pele or Jean Claude Killy. Neither had an American return address.
In addition to pro-American, the list was very pro male and very pro the latter half of the 20th century. Sure, there was a Babe Ruth, Jim Thorpe and Babe Didrickson, but they were all underrated and buried among some of the latter name superstars. Even Secretariat finished 35th and no matter how anyone explains it to me, there's no way a horse was a better athlete than Wilma Rudolph, Julius Erving or Stan Musial (Editors Note: Three horses were included in that list. The other two were Man o' War, 84th, and Citation, 97th, as if they couldn't think of three more humans).
They should have gone all the way to 100 at least to give more people a fair shake. Admittedly, collectors will have a different bent on the list that follows. Honus Wagner, whose 1910 card help trigger an explosion in baseball collectibles, didn't make the top 50.
So, here it goes, the top 100 as I see it including some non-Americans, more women and more first half of the century performers than most lists. No, I'm not 100 years old but the theme of balance between the first half of the 20th century and the second half is obvious here.
Top Athletes of the 20th Century

Muhammad Ali Most recognized person in world, three-time heavyweight champion.
Jim Thorpe Dominant baseball player, dominant football player, dominant decathlete.
Babe Ruth Made baseball America's game, biggest sports celebrity of first 50 years.
Babe Didrickson All-time Olympic female great, helped found LPGA, greatest female athlete in history.
Jackie Robinson Was great player, but his pioneering of civil rights puts him among elite.
Jesse Owens Olympic hero won gold in shadow of Nazis and Hitler in 36.
Sugar Ray Robinson Best fighter in history, had nearly 20-year career.
Jim Brown Most powerful runner in NFL history.
Michael Jordan Best offensive player in NBA history, baseball bust.
Wayne Gretzky Best offensive player in NHL history.
Wilt Chamberlain Kansas great, NBA great, could have been track and field and volleyball great,too.
Kareem Abdul-Jabbar Could have scored more had he wanted to, UCLA great, all-time NBA leading scorer.
Joe Louis Held heavyweight title for more than a decade.
Hank Aaron All-time home run leader, had great all-around game, too.
Bill Russell Best defensive player in NBA history, did benefit from great supporting cast.
Martina Navritlova Nine-time Wimbledon champ, best womens tennis player in history.
Walter Payton NFL's all-time leading rusher, great blocker.
Jack Nicklaus After Palmer, became dominant golfer of generation.
Arnold Palmer Put golf on map in 60s, cleared way for huge purses.
Carl Lewis Nearly two decades of premier running in Olympics, international competition.
Pele Best soccer player ever, worldwide celebrity.
Ted Williams Possibly greatest pure hitter in game, never won a World Series.
Ty Cobb Horrid personality, lifetime stats hard to ignore.
Red Grange Established NFL, great running back at Illinois.
Gordie Howe Longevity helped his stats but most recognizable hockey star after Gretzky.
Johnny Unitas Best quarterback in NFL history.
Lou Gehrig Stamina, strength, class of Yankees.
Jackie Joyner Kersee Best female athlete of the last half of century.
Bobby Jones Best golfer of first half century.
Larry Bird Great collegian, great Celtic, possibly great coach.
Sandy Koufax Best left hander in history. Period.
Billie Jean King Transformed women's tennis, leader in women's rights movement.
Ben Hogan Would have established unbreakable records had it not been for auto accident.
Joe Dimaggio Higher on most other lists because he played in New York.
Bill Tilden May have been best men's tennis player ever.
Bobby Orr Premier defenseman in hockey history.
Mickey Mantle Icon of the 50s, would have been higher had it not been for bad knees.
Edwin Moses Went years without losing hurdles race.
Magic Johnson Redefined role of guard, helped build Laker champions.
Bob Gibson Dominant fast baller, also played on Harlem Globetrotters.
Julius Erving Michael Jordan of the 1980s.
Chris Evert Rivalry with Navritlova may have been best of any female duo.
Rocky Marciano Undefeated heavyweight champion.
Oscar Robertson Gets nod over West due to all-around aspects of game.
Stan Musial Cardinal great slugger, batted .330 on road and at home.
Jack Dempsey Great heavyweight champion, cultural icon of the 20s.
Joe Montana Established 49ers dynasty..
Elgin Baylor Before there was Dr. J., Baylor was acrobatic NBA star.
Greg Louganis All-time Olympic diving champion.
O.J. Simpson Based only on on-the-field results.
Walter Johnson Big train one of great early pitchers.
Satchel Paige Could have been dominant major leaguer had he been allowed to overcome racial bias.
Wilma Rudolph Overcame polio to become American speedster.
Jerry Rice All-time leading receiver, great in clutch.
Mario Lemieux Would have been more dominant had he not played when Gretzky did.
Jerry West One of the true great shooting guards in NBA history.
Roberto Clemente Could throw, hit, run.
Sammy Baugh Before Unitas, was NFL's greatest quarterback.
Bobby Hull Strongest slap shot in hockey history, helped establish WHA.
Eddie Arcaro A notch above Shoemaker for best all-time hockey.
Willie Shoemaker Held all-time race record till December, 99.
Gale Sayers Would have rivaled Jim Brown had Bears' star stayed healthy.
Althea Gibson First great black women's tennis champing.
Rafer Johnson Olympic decathlon champion.
Dick Butkus Defined role of mean, effective linebacker.
Otto Graham Actually starred for Northwestern, great pro QB.
Kathy Whitworth All-time leading women's golf champ with 88 victories.
Christy Mathewson Third all-time winningest pitcher, dominated before Babe Ruth.
Rod Laver Aussie tennis great, only one in history to win grand slam as pro and amateur.
Cy Young 511 wins may never be topped.
Mark Spitz Seven gold medals in one Olympics, America's greatest swimmer.
Pete Rose Love em or hate him baseball's all-time leader in hits, autographs.
Barry Sanders Would have broken Payton's rushing record had he stayed in game.
Rogers Hornsby Batted .426, great teacher of baseball after retirement.
Al Oerter Olympic discus champ in four Olympiads.
Honus Wagner First great shortstop, would ignite interest in old time trading cards.
Sergie Bubka Russian Olympian, only five-time world record holder in any event.
Josh Gibson Negro League slugger denied entry into Major Leagues.
Bob Beamon His long jump record lasted nearly three decades after Mexico City games
Richard Petty "The King" triggered NASCAR fever.
Patty Berg Golf's all-time leader in major championships won, 16, on women's side.
Lawrence Taylor Great linebacker on field, troubled off the field.
Bonnie Blair Five gold medals in Winter Olympics.
George Blanda Quarterbacked and punted well into 40s, helped launch AFL.
Sadaharu Oh Japanese home run champion.
Paavo Nurmi Flying Finn, first great distance runner of 20th century.
Jean Claude Killy Dominated downhill skiing and made it fashionable for Americans.
A.J. Foyt Four-time Indy 500 winner, drivers not great athletes but he was best of them.
Eric Heiden Five-time Olympic speedskate champion.
Don Budge Tennis champion from roaring 20s into the Depression.
Jack Johnson First great black heavyweight champion.
John Wooden UCLA coach won 10 of 12 NCAA tourneys, was all-American player at Purdue. Hey, coaches are athletes too!
Maurice Richard The Rocket was one of pro hockey's great pioneers.
Bob Mathias Two-time Olympic pole vault champion, helped Wheaties' sales with his picture on the box.
Bo Jackson First two-sport all-star, would have been higher had it not been for injuries.
Ernie Davis One of the great college backs of all time, died before he ever played a down in NFL.
John Elway Part of the great QB class of 1983 also drafted by baseball Yankees..
Jimmy Connors See No. 98 but lasted longer .
Pete Sampras Dominated men's tennis in 90s.
Dan Gable Greatest collegiate wrestler of all time at Iowa State, as coach built Iowa dynasty.
Maureen Connolly Tennis great, lost four matches over four years before injuries fell her.