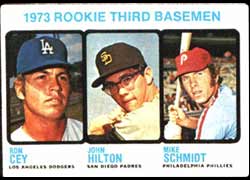 Anyone making a list of the greatest third basemen in history, will have to place Mike Schmidt at or near the top. His lifetime statistics are staggering. He blasted 548 home runs in his 18-year career, ranking him 7th among all-time greats in that category. He led the National League in slugging percentages five times, eight times in homers, four times in RBIs, and four times for bases on balls. He scored over 1,500 runs in his career, and knocked in 1,595. It's easy to see why there's so much interest in this Hall-of-Famer's rookie card.
The 1973 Topps baseball card #615 features Michael Jack Schmidt with two other players, Ron Cey and John Hilton. With this card valued at well over $500 in PSA Mint 9, and over $1,000 in PSA Gem Mint 10, it's a tempting target to counterfeiters.
The card shown here is a photocopy reproduction of the genuine article. It is fairly easy to detect as a counterfeit, as multiple problems are evident under close inspection. On the obverse, the print is grainy, not fluid and bold like the genuine cards. On the reverse, the color is lighter than usual and there is a snowy print defect that does not appear on authentic examples. The fake is also thicker and heavier than the genuine article.
Even with the errors mentioned, the first thing the graders caught was the lack of "factory consistency." That may seem highly subjective, but with years of experience looking at sportscards many hours a day, it's not too difficult to spot a card that "isn't right" before any of the actual specifics are pinpointed.
Since this is a copy of a genuine card rather than a made-from-scratch counterfeit, there are no characteristic flaws like dot-matrix quality printing. For this reason, it escaped detection in the marketplace before making its way to PSA. For more information on counterfeits, or PSA's authentication and grading services, go to the Collectors Universe PSA website. If you have specific questions about a card that you suspect may be counterfeit, send your inquiry to PSA Authentication Experts.