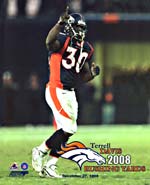 Seldom have the mighty fallen from the penthouse to the outhouse so quickly and so dramatically.
Many collectors probably saw it coming -- the descent of legends. As for protecting one's investment in NFL memorabilia, or predicting what will be "hot" well, collecting in the National Football League can be one big headache.
The four clubs that reached the NFL's version of the "final four" last year have struggled all season long, with only Minnesota having a shot at returning to the playoffs this year. The Vikings' shot at the title may happen, only because Head Coach Dennis Green took a gamble, replacing MVP Randall Cunningham in midstream with under-achiever Jeff George, to pull Minnesota out of the tailspin that hit the other 1998 NFL elite. Few collectors or fans would have dared predict the hot teams going into the playoffs next month would be located in places like St. Louis or Nashville.
Injuries have always been the wild card for collectors who are looking to cash in on hot teams in the NFL, particularly to the quarterback or running back. A team can lose a strong safety or an offensive guard without most fans realizing it. Losing your top offensive weapon can, and in this case did, spell disaster. Especially for clubs without adequate veteran backups -- something Minnesota had but the rest didn't this season. Dynasties, and investments in NFL merchandise, can fall apart quickly and suddenly, as has been the case this year.
The Atlanta Falcons, last year's "Cinderella" team, with a 14-2 record and three playoff wins, are well on their way to earning the worst record for any team appearing in the Super Bowl the previous year. The biggest reason has been the injury to Jamal Anderson, who led the NFC in rushing last year, and was the team's highest profile player. As conventional wisdom goes: "Never put your eggs in one basket."
The New York Jets, who surprised some by reaching the AFC championship game one year ago, have not been a factor this year after their quarterback, Vinny Testaverde, went down with an injury in the first game of the season. The Jets will go from first to last in their division this year, and will again miss out on a return to the Super Bowl, something that hasn't happened to that franchise since Joe Namath won them a championship 30 years ago.
No descent has been swifter, nor harder to take, than that of the Denver Broncos. Collectors could swallow the slide of the other three teams -- Atlanta was listed in the bottom third in NFL collectibles according to the league merchandising survey, and the Jets and Vikings who have both had a roller coaster ride as far as fan enthusiasm in the '90s.
The Broncos, are a different story. Thanks to their great success, John Elway, and a distinctive orange and blue jersey, Denver had been in the top five for NFL collectibles for the past decade. They had reached the Super Bowl four previous times before losing -- and losing badly -- before Elway finally got some running help in Terrell Davis and presto: they win back-to-back Super Bowls.
Elway has been a collectors' dream. He willingly signs autographs, has done numerous public appearances, and had a positive public image that also enhanced the value of his jersey, trading cards and other merchandise. His decision to retire earlier in the year was hardly a shock -- after being drafted out of Stanford in 1983 (originally by the Colts, then traded to the Broncos), and electing to bypass a chance with the New York Yankees in baseball his 37-year old knees were just about shot.
Still, many experts and collectors thought Denver would remain a factor this year. After all, they still had Davis -- the league's top rusher -- and quarterback Bubby Brister, whose rookie card probably won't ever match Elway's in anyone's price guide, had filled in for Elway in 1998, without the Broncos missing a beat. This season's Broncos, with the now-experienced Brister at the helm, was still picked as a serious contender to return to the Super Bowl. However, Brister lost his job in the pre-season to Brian Griese, who infrequently showed any signs of matching his father, Bob, on the field. To heap more misery on Denver fans and collectors, Davis went down with a knee injury in September, taking Denver out of the running.
Davis will return next year although the Broncos' luster has worn off. Denver is in a rebuilding mode for at least another year.
While San Francisco, which used to beat up on Denver in the Super Bowl, didn't make it to the "final four" last year, the 49ers have laid claim to the title, "Team of the '90s" in the minds of most collectors. In every season in the past decade, they posted double digit victories, missing the playoffs only once. But this year, the 49ers this year are woeful and getting worse, due in large part to the concussion suffered by veteran Steve Young. Young has been a darling of collectors since his days in the USFL (a Young USFL card brings a high price on the market), but his replacements have been a ragtag bunch of rejects from other NFL clubs. Not even a future hall-of-famer like Jerry Rice can keep a team winning if he doesn't have anyone to throw him the ball.
Young has thus far resisted doctors' recommendations that he should immediately retire, although the guess here, is that Young has thrown his final NFL pass. The 49ers, also a top 10 merchandising team, look to be in a free fall, and barring someone like a Joe Montana discovering a pro football fountain of youth, San Francisco will probably be rebuilding for several seasons to come.

Editors Note:
What effect will this have on collectors? Players like John Elway, won't suffer from current team slumps, but general team collectibles will lose their attraction somewhat until those teams begin winning again. Long term collectibles should continue to perform.