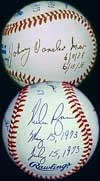 Reprinted with permission from Autograph Collectors Magazine, 11/99
I was the last one who thought I would catch the autograph collecting bug. As a pop music songwriter, I have spent most of the last 15 years writing melodies and words for artists like Celine Dion, Taylor Dayne, Al Green and others. Back in the summer of 1994, when the Major League baseball players went on strike, my wife Jody gave birth to our son, Julian. I thought to myself, if baseball never returns, someday I want Julian to know what a great game it was.
So I started writing to baseball players, asking them everything from famous plays they were involved in to how they first learned the game from their dads. I wrote to about 700 players - the famous and not so famous, the great and the average - and received more than 500 fabulous responses.
Cal Ripken Jr. and Ted Williams wrote back, as did Harmon Killebrew, Whitey Ford, Don Larsen and Bobby Thomson. Dave Stapleton, the guy who should have been sent in to replace a hobbled Bill Buckner in the fabled 10th inning of Game 6 in the 1986 World Series, wrote an amazing letter about how the Red Sox would have won it all if only he had been in the game.
I enjoyed reading and re-reading the letters so much that I thought other people might enjoy them as well. I wrote back to all the respondents and told them that I never meant to write a book, but their letters were so wonderful and heartfelt that I wondered if they would sign a release so I could have them published. Every one of them signed the release. And thus was born my first book, Baseball Letters: A Fan's Correspondence with His Heroes (Kodansha America Inc., 1996).
By delving so deeply into baseball history, I discovered that many of the players who took part in major events were still alive. So I decided to create a collection of "event" and "theme" baseballs.
As an example of an "event" baseball, I had purchased a ball signed by Ken Keltner, the third baseman for the Cleveland Indians in the 1940s. Keltner had signed his name on the sweet spot and written on the side panel, "I needed a police escort out of Yankee Stadium after stopping Joe DiMaggio's streak." I then had Hall of Fame shortstop Lou Boudreau write on another panel "I started the double play to actually end Joe's streak." Finally, I got DiMaggio himself to sign the sweet spot directly under Keltner's signature.
Here's an example of an idea I had for a "theme" baseball. I think one of the most glamorous positions in all of sports is to be the starting shortstop for the New York Yankees. After doing some research, I discovered that almost every man to play shortstop for the Yankees since 1930 was still alive. So I bought a baseball signed by Mark Koenig, the Yankees shortstop from 1925 to 1930. I have been able to add the names of every man who has played the position since, including Frankie Crosetti, Phil Rizzuto, Gil McDougald, Tony Kubek, Tom Tresh, Bucky Dent and Derek Jeter. Even guys like Tommy McDonald, who played the position for just six games, signed the ball.
Here are some of my other favorite theme and event balls I've assembled:
The "Mickey" ball
In my opinion, the name Mickey is the ultimate baseball name. I started with a ball signed by Mickey Mantle and then added the signatures of 18 other "Mickeys" on it. They include Mickey Owen (the Brooklyn catcher who dropped the famous third strike in the '41 World Series), Mickey Vernon, Mickey Morandini, Mickey Hatcher, Mickey Klutts and Mickey Rivers, among others.
The "Color" ball
I created a ball for players whose names represented various colors, and asked them to sign it in that particular color. Thus Dick Green signed in green, Vida Blue in blue, and so on. Also on the ball are Red Schoendienst, Joe Black, Blue Moon Odom, Kevin Brown and 10 others.
The Apollo 11 ball
I had a ball signed by Neil Armstrong. Then one day my wife called me from a convention she was attending in Miami to say that Buzz Aldrin would be speaking there the next day. I overnighted her the ball, and she got Aldrin to sign it. Two down, one to go. I had heard that Michael Collins was one of the most difficult autographs to get. I tried to reach him through NASA and the Internet without success, and had no leads. Since July 20, 1999 was the 30th anniversary of the first lunar landing, I guessed that Collins might be attending some related functions in Washington, D.C. So I called a friend of mine there and sent him the ball and the pen I wanted Collins to sign with.
I figured my chances of getting Collins' signature were less than the Apollo crew reaching the moon and returning safely to earth. But, as luck would have it, my friend followed him through Arlington National Cemetery, where he was attending the funeral of moonwalker Pete Conrad, and got him to sign the ball at a reception following the service. Wow!
Here are some of the other 100 or so theme and event balls in my collection:
The "Great Names" ball: This one is filled with guys who have the most entertaining names, such as Elmer Klumpp, Hilly Flitcraft, Dooley Womack and Cletus "Boots" Poffenberger, among others.
The "Last Home Run" ball: These are guys who hit the last home runs for their fabled franchises. They include Eddie Mathews (Boston Braves), Ransom Jackson (Brooklyn Dodgers), Billy Hunter (Philadelphia A's) and several others.
The "Youngest Players Ever to Play Their Positions" ball: This one is signed by Joe Nuxhall (pitcher), Putsy Caballero (third base) and others.
By the way, on each of these balls I asked the players to write things like "I was the last player to hit a home run for the ..." or "I was the youngest player ever to play third base." I also had them add the date and ballpark where their accomplishments occurred.
I also have a ball signed and dated by the only six players who pitched two no-hitters in one season. The ball includes Nolan Ryan, Allie Reynolds and Johnny Vander Meer.
Then there's the "Most Home Runs in a Decade" ball. On it each player wrote "I hit the most home runs in the decade of the ..." and then added the number of home runs. Ted Williams hit the most in the 1940s (234). From there I got the HR leaders from the '50s (Duke Snider - 326), '60s (Harmon Killebrew - 393), '70s (Willie Stargell - 296) and '80s (Mike Schmidt - 313). I'll have to wait until this season is over before knowing who will be added to this ball.
And the "Worst Trade of All Time" ball. St. Louis pitcher Ernie Broglio for Chicago's Lou Brock wasn't much of a deal for the Cubs. I had Broglio and Brock sign together on the sweet spot. Nobody seems to remember that three other guys were involved in that trade, and they signed the ball as well.
Finally, I have members of the 500 Home Run Club (Mantle, Williams, Reggie Jackson, etc.) on single-signed balls. On each of them I asked the pitchers who gave up each players' first, 500th and final home runs to so indicate on the side panels.
Collecting pieces like these takes a lot of time, hard work and research, but I guarantee that the rewards are much, much greater than if you bought a Babe Ruth game-worn uniform for $200,000.
My advice to autograph collectors is to never forget what collecting means. It doesn't mean acquiring autographs at auctions. (That simply takes writing a check.) Collecting takes imagination as well as determination. That is what makes it fun.