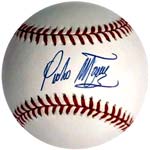 PSA/DNA Authentication Services is working with Global Sports Marketing to combat the current epidemic of sports memorabilia fraud by using a special DNA to identify the authenticity of the autographs recently obtained by Boston Red Sox pitcher Pedro Martinez. The first of several autograph and authentication sessions took place at the Players Choice Awards Friday, Nov. 5 at the Hard Rock Hotel in Las Vegas, Nev., where Martinez took home awards for Player of the Year and American League Outstanding Pitcher.
"In light of the recent scandals surrounding athlete memorabilia fraud and forgery, we're pleased to see Pedro Martinez and Global Sports Marketing being proactive in securing the authenticity of Pedro's autographs by using our services," said PSA/DNA President Jason Meyerson.
PSA/DNA is using its cutting-edge technology to invisibly but permanently tag Martinez's signed memorabilia with a synthetic strand of DNA. The DNA-tagged Martinez items may be verified as genuine any time in the future using a specially-calibrated laser, and their authenticity will be protected for life. The items are also being provided with a serialized, tamper-resistant label and matching certificate of authenticity.
"I chose PSA/DNA because I wanted a well-established company with a great reputation of working with the top athletes. We wanted everyone to know their items were guaranteed authentic, of high value and of limited availability," said Global Sports Marketing President Josh Landis.
PSA/DNA has used this same DNA technology to authenticate many other important sports items including:
Mark McGwire's 70th home run ball, which sold for $3.1 million
Hank Aaron's historic 715th bat and ball
Sammy Sosa and Mark McGwire's home run balls from the 1998 home run competition