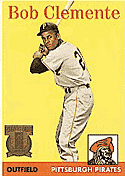 On October 11, at an auction held by Bill Goodwin, one of the nation's top sportscard dealers, several PSA 9's stole the spotlight, including a 1948 Leaf Jackie Robinson which sold for $29,390, a 1963 Topps Sandy Koufax that sold for $9600, a 1953 Bowman Warren Spahn that sold for $5250, a 1956 Topps Roy Campanella that sold for $3500, a 1958 Topps Hank Aaron All Star that sold for $3769 and a 1960 Topps Whitey Ford that sold for $1815.
Volume was conservative in the 27-lot auction, but the quality was superb. Goodwin was obviously pleased with the numbers but was even more encouraged by other signs. "There were just so many new bidders that participated in the auction," Goodwin explained. "When you have more and more participants coming into the hobby, it works out well for everyone. The hobby is definitely on a major upswing and it is a lot of fun to be involved."
Andy Madec, also a leading sports card dealer, followed with an 83-lot auction on October 19. Several high grade cards brought record prices including a 1933 Goudey Babe Ruth #181 graded PSA 8 at $42,900, a 1933 Sport Kings Hagen PSA 8 at $8,073, a 1948 Leaf Warren Spahn PSA 8 at $2,279; a 1954 Red Heart Stan Musial PSA 9 at $8,283; a 1958 Topps Yellow Letter Roberto Clemente PSA 9 at $36,608; and a 1959 Topps Hank Aaron PSA 9 at $6,684.
Bill Goodwin and Andy Madec said they were very encouraged by the activity. In fact, many of the cards were sold for record prices, which may be no surprise when you consider the level of quality that both gentlemen deal with on a regular basis. Many of the cards are rarely offered in such pristine condition.
Madec was quick to point out the keys to the success of the auction. "For one thing, the Sport Kings were phenomenal," Madec explains. "They were the freshest group I have ever seen. The small group had tremendous colors and corners with fresh white borders. The Sport Kings set seems to keep growing in popularity because it depicts some of the century's greatest athletes including golfers and golf is peaking in popularity today." In fact, a Bobby Jones Sport Kings card in a PSA 8 brought $9953 in Madec's auction.
Madec discussed the appeal of some the record-breaking cards, "The 1958 Topps Yellow Letter Clemente, in my opinion, is one of the top rarities in the post-war market," Madec explained. "PSA has been around for nearly 10 years, and this was the first Mint 9 to surface." "The 1933 Goudey Ruth, which sold for $42,900, was the highest price ever paid for a PSA 8 example of the popular #181 card. A high-end PSA 8 brought high-end money, " Madec continued, "The fact that collectors are becoming more educated about quality is a good sign for the hobby. Ruth is probably the greatest athlete of the 20th century when you consider the impact he had on the game, his cards will always be in great demand."
Collectors can stay up-to-date with all the newsworthy events and auctions by checking upcoming issues of the PSA Grading Report. Both Andy Madec and Bill Goodwin are PSA authorized dealers and contact information can be found in the PSA dealer directory. For more information, click on PSA.